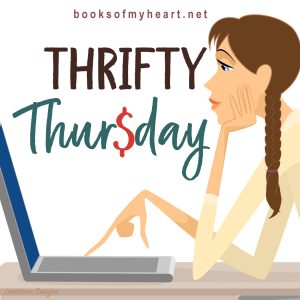 The purpose of Thrifty Thursday is to read a book which was free (at some point).
Kindle freebie on March 30, 2021  (currently $4.99 and in Kindle Unlimited as of writing this post)
Overall rating 4.21 with 2,694 ratings and 171 reviews
Victim
by
Casey Hill
Series:
CSI Reilly Steel #2
on September 23, 2019
Genres:
Mystery
,
Thriller
Pages:
400
Format:
eBook
Source:
Purchased
Goodreads
Amazon




Read the clues. Decode the science. Reveal the murderer. That's Reilly Steel's mantra. Find the answers, solve the crime.

But the Quantico-trained forensic investigator is finding her skills aren't enough when a ferociously intelligent killer strikes Dublin. The modus operandi is as perplexing as it is macabre. What connects two seemingly disparate, high-profile victims?

Their corpses refuse to give up their secrets and the crime scenes prove a forensic investigator's worst nightmare. Reilly soon suspects that she may be dealing with a killer - or killers - who know all about crime scene investigation.

It's only when a third murder occurs - equally graphic and elaborate in its execution - that they discover that this particular killer is using a very specific blueprint for his crimes. Who is the killer's next victim, the real target? And what's his endgame?
I continued the CSI Reilly Steel series  since I had the next book.  While Victim was significantly longer, I somehow felt less character development.  The characters we already know well, Reilly, Chris, Kennedy know each other now but don't seem to work together as much.  At least, they do communicate.
The case is confusing with gruesome ritualistic kills but the team is having trouble figuring out the connection between victims.   The ritual aspect takes up a lot of pages but is not all that interesting to me.  We do get another profiler, and I found him boring, and unhelpful.   But maybe that is just me.
Reilly and her team do a great job with the forensics and trying to connect everything.  Her team does extremely good work.  They are far into the killer's plan before they figure it out.  We get the point of view of the killer, although we don't know who he is,  so we know the end game before them.   The victims are not completely good guys and it is a little hard to sympathize with their torture and death.
Reilly does figure out Chris' medical issue, as he has some more problems in this investigation.  Chris is also having a rough time personally which doesn't help.    I enjoy these mysteries and plan to continue the series.
---
These are only Kindle freebies I get, or ones through author newsletters which anyone can sign up and get for free. I don't include things like Kindle Unlimited or Prime Free Reading (I do have it). Both Tantor and Audible have occasional free audios (to anyone) and I do include those.  Since I one-click on 1-2 freebies a day or probably at least 5 a week, I came up with this feature to make sure I start reading them.
Latest posts by Anne - Books of My Heart
(see all)
Reading this book contributed to these challenges:
Related Posts