Review copy was received from Publisher. This does not affect my opinion of the book or the content of my review.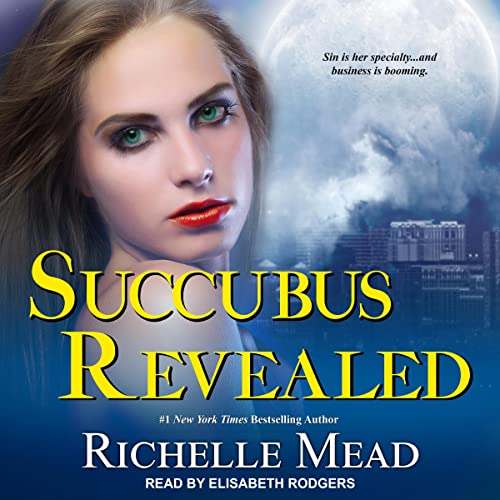 Succubus Revealed
by
Richelle Mead
Narrator:
Elisabeth Rodgers
Series:
Georgina Kincaid #6
Published by
Tantor Audio
on October 26, 2021
Genres:
Urban Fantasy
Length:
9 hours, 46 minutes
Format:
Audiobook
Source:
Publisher
Goodreads
Amazon
, 
Audible
, 
Audiobook
, 
Barnes & Noble
, 
Apple






Georgina Kincaid has had an eternity to figure out the opposite sex, but sometimes they still surprise her. Take Seth Mortensen. The man has risked his soul to become Georgina's boyfriend. Still, with Lucifer for a boss, Georgina can't just hang up her killer heels and settle down to domestic bliss. In fact, she's being forced to transfer operations. . .to Las Vegas.

The City of Sin is a dream gig for a succubus, but Georgina's allies are suspicious. Why are the powers-that-be so eager to get her away from Seattle and from Seth? Georgina is one of Hell's most valuable assets, but if there's any way out of the succubus business she plans to take it, no matter how much roadkill she leaves behind. She just hopes the casualties won't include the one man she's risking everything for. . .
Now we are to the last book in the Georgina Kincaid series.  Since Succubus Shadows ended on a cliffhanger of sorts, I was so happy to be able to read more right away.  Finally, we start to get some answers.  The series gives us all kinds of information throughout but without enough context to understand it.
I've always loved the family of Seth's brother and their 5 girls so I was thrilled to have more time with them in Succubus Revealed but not the reason for it.   I hate the way Hell messed with that family.   Georgina and Seth, and even Carter help out, which make it a bit better.  Seth's mother and brother, Ian, come to also support them.  The mother made sense to me, but Ian was a complete waste of story.
Hell is also sending Georgina to Las Vegas, with a really sweet setup.  It's really too good to be true, and she got notified before Jerome told her about it, which is all weird.  It is a blow to not live in the same place as Seth especially now that his extended family needs them so much.
I can't say enough about how much I felt for Roman. He was originally attracted to Georgina in previous books, and she betrayed him.  Once he came back to town, he really has supported her emotionally and helped her with every problem he could.  He has always had a bad situation being born a Nephilim.  It's not fair both angels and demons want to kill all Nephilim. He risks himself often for Georgina, even though she is obviously with Seth.
I can't get into the details without spoiling but wow, we finally get answers and more of Georgina's history.  I liked Georgina and Seth, even though I didn't like their immaturity and lack of communication at times.  This let others like Maddie be hurt.   It's a very fast-paced and satisfying ending to the series.
Narration:
Elisabeth Rodgers handled the performance well as always.  Her voices for Georgina, Seth, and Carter are easy for me to recognize, along with some of the others.  I was able to listen at my usual 1.5x speed.
Listen to a clip:  HERE
Rating Breakdown
Plot
Writing
Characters
Narration (Audio)
Overall:
Latest posts by Anne - Books of My Heart
(see all)
Reading this book contributed to these challenges:
Related Posts