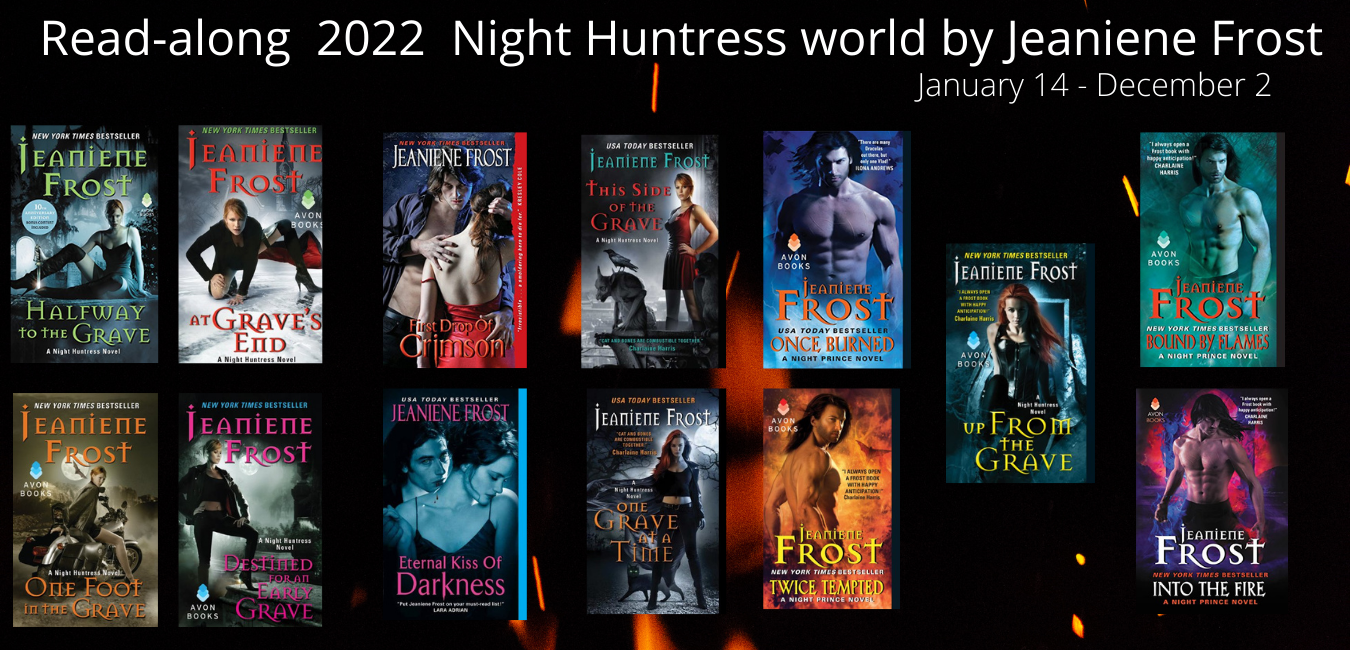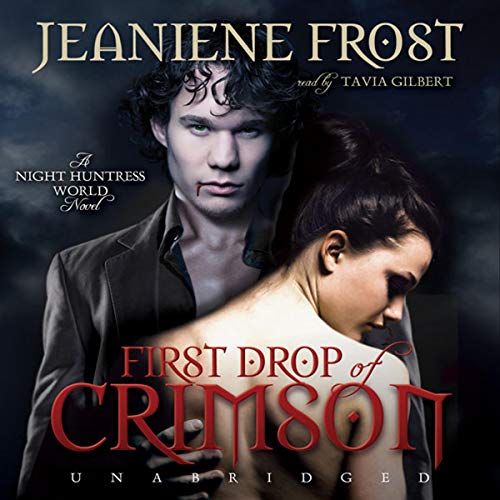 First Drop of Crimson
by
Jeaniene Frost
Narrator:
Tavia Gilbert
Published by
Blackstone Audiobooks
on July 5, 2010
Genres:
Paranormal Romance
,
Urban Fantasy
Length:
10 hours, 6 minutes
Format:
Audiobook
Source:
Library
Goodreads
Amazon
, 
Audible
, 
Audiobook
, 
Barnes & Noble
, 
Apple




The night is not safe for mortals.

Denise MacGregor knows all too well what lurks in the shadows – her best friend is half-vampire Cat Crawfield – and she has already lost more than the average human could bear. But her family's dark past is wrapped in secrets and shrouded in darkness – and a demon shapeshifter has marked Denise as prey. Now her survival depends on an immortal who craves a taste of her.

He is Spade, a powerful, mysterious vampire who has walked the earth for centuries and is now duty-bound to protect this endangered, alluring human – even if it means destroying his own kind. Denise may arouse his deepest hungers, but Spade knows he must fight his urge to have her as they face the demon nightmare together…
Though I love that the Night Huntress world is expanding, I struggled a lot with this book. Spade is perfection, but Denise annoyed me for at least a third of this book. Her and Cat are alike in that they obviously never saw a horror movie in their life and the ability to risk themselves stupidly instead of listen to the men in their lives, that have literally lived hundreds of years, and know how quickly a human can die. That being said, I enjoyed the expansion of the world First Drop of Crimson gives us in regards to the Demon world. The catalyst to Denise's story was quite interesting too.
I enjoyed seeing Denise move from a minor character to someone with an interesting power set. I also like the fact that there seems to be a certain type of Fate that brought Denise into Cat and Bones' life.
Though I was annoyed a lot about how Denise chose to act, I really loved that Frost took the time to explore trauma and guilt in this novel. While thrilling to the romance and action in Cat & Bones life, it's easy to forget about the collateral damage that happens to those around them.  Denise is still haunted by that night, she feels like her husband's death was her fault, her weakness. For Spade, Denise brings up the memories of an old lost love  and he is determined to not have history repeat it self.
The shift to enjoying this book came when Cat, Bones and Ian show up on the scene. It's interesting that Cat & Bones do not dominate this book when they step in. Frost keeps the story fully focused on Spade and Denise .  Some how the narrative of Denise and Spade wasn't as interesting to me on their own because they stayed a bit too long in the pattern of Spade trying to help and Denise pushing him away and putting her self into even more danger.
The humor and camaraderie between Ian , Bones and Spade was enjoyable as well as the reconciliation between Denise and Cat.  The finale of this adventure not only brings a healing to Denise and Spade, but gives Team Cat & Bones another powerful ally. I also loved seeing Denise come into her own and making decisions from a place of power and not fear.
---
Games:
Who said (enter the answer in the Rafflecopter, don't put in the comments)
Who said                              "I want to live without being afraid or used or ashamed. I want a second chance. "
There are other options in the rafflecopter for you to enter discussion questions and quotes to share.
The quote for Who said "I've always loved you. Like a son, in fact." in Destined for an Early Grave is Mencheres.
The villain was Gregor .
---
Share your review/ thoughts on  First Drop of Crimson:
I thought it might be fun to link up reviews so we can find them all easily.  It can be a link to Goodreads or a blog, or wherever you have a review (short or long).
Mister Linky's Magical Widgets — Easy-Linky widget will appear right here!
This preview will disappear when the widget is displayed on your site.
If this widget does not appear,
click here
to display it.
---
Observations and questions you shared from Destined from an Early Grave:
(Thank you  so much for sharing!)  If you can answer any of these numbered questions, you can do so in a comment.
I mean, yeah sure Mencheres was selfish and manipulative BUT his plot's kinda clever and gave us Bones and Cat tandem.
Marie's scheme was clever!
I was so frustrated with Bones for not understanding Cat better. Who would expect her (or most anyone) to sit by while everyone you love could die? Come on Bones!
Was Tate ever sent to the terrorists like Bones asked Don?
Why didn't Patra just use the spell Mencheres used if she really wanted them all dead?
---
Quotes you readers shared from  Destined for an Early Grave:
"The way he said it made me self-conscious. "I didn't fly. I just jumped really high. I don't even know how I did it." Bones gave me a look I couldn't read. Spade opened his mouth to say something, but Mencheres held up his hand. "Not now."
""What just happened?" "Premature Inflammation. Happens sometimes, very embarrassing. I don't want to talk about it."
"The shit's gonna splatter, start buggin', yo."
"Movies. Drinks. Headless chickens. You know, girl stuff."
"If ears could digest verbal calories, my ass would've been getting fat just listening to her."
""Bones has always been smart," I muttered. "His intelligence was just camouflaged under a mountain of pussy."
"All I've got is how I live. How I'll die? That's the problem of the guy who kills me."
" I'm here because you are a friend, and for me friends are much harder to come by than a fuck."
""She can't feel you kicking her," Bones said, no criticism in his voice. "Yeah, well, I can feel it, and I'm enjoying it!"
"Williams"—Vlad gave a nod at my uncle—"farewell. Few people have your determination to walk their road all the way to its conclusion."
"I didn't even spare the time to give my uncle a hug. I was halfway down the hall, tossing a "Thanks, 'bye!" over my shoulder."
""Because I'm happier being the castoff of a whore than I'd ever be as your wife."
"You will never sit and wait for the outcome of a fight involving someone you love before throwing yourself into the mix, no matter how you might promise to change."
"For all but the two years Bones had been in my life, it felt like I'd been alone. No wonder it was such a hard mind-set for me to break. "
"He died saving you, so you will not disrespect his sacrifice by killing yourself. I don't care if you hate what you are every bloody day for the rest of your life, you're going to live because Rodney's earned that."
""Let's see how long someone lasts if they suggest that my wife is not my wife."
""I'm about to be assaulted because of a misassumption."
---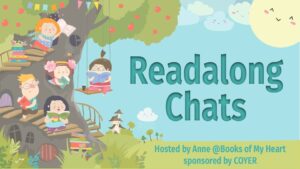 COYER FB Chat – Sunday May 1
Challenge is adopting our Read-along.  You can read about COYER and join that challenge  HERE.   On the Sunday after the review posts, they will host a FB room (like we do for COYER book club) at 12 PT, 2 CT, 3 ET and 9pm Europe, for a one hour chat.  You do not have to join the COYER challenge to participate, only the Facebook group.
If you can't attend, there is also a Facebook messenger chat which has been fun and active, set up following the live chat.
---
Here's your to-do list:
Find your copies of these books, borrow them from a friend, get them at the library or buy them.
Read Book 6, Eternal Kiss of Darkness, by May 20.
Make note of a favorite quote or two as you read the book.
If you haven't read the books before, make a list of questions you have for the discussion. If you have read them, please don't spoil new readers.
Think of some great questions for Jeaniene Frost for the Q & A post!
Link up your review on Goodreads, FB or other site to the post.
Join the COYER book chat on the Sunday following the post.
Enter the giveaways!
---
Schedule:   
We are doing one book every 3-4 weeks, posting on Fridays. We will have a review for the books with the team here at Books of My Heart plus some of our friends.  We are following the author recommended reading order.
Apr 29:   First Drop of Crimson               – Kai @ Fiction State of Mind
May 20:  Eternal Kiss of Darkness         – Jen @ That's What I'm Talkin About
Jun 10:    This Side of the Grave              – Brandee @Unconventional Bookworms
Jul 8:       One Grave at a Time                  –  Lorna 
Aug 5:      Once Burned                                –  Lexxie @Unconventional Bookworms
Sep 9:     Twice Tempted                             –  Angela @ Angel's Guilty Pleasures
Oct 7:      Up from the Grave                      –  Melanie
Nov 4:     Bound by Flames                        –  Sophia
Dec 2:    Into the Fire                                   – Berls @ Because Reading
Q & A with Jeaniene Frost
Miss a post?
Jan 14:    Halfway to the Grave               – Melissa @ Tea & Books
Feb 11:    One Foot in the Grave              –  Victoria @ First of All
Mar 11:   At Grave's End                            –  Kimberly @Caffeinated Reviewer
Apr  1:     Destined for an Early Grave   –  Stephanie @ Once Upon a Chapter  
---
Jeaniene Frost has also been kind enough to commit to a Q & A post.   I will collect questions for her through September 19th.  I will send your questions to her and she will pick 3-5 questions and send me the response.  I will post her answers in the December 2 post.  So think up some great questions for her!
---
Bonus round – Read a Series in a Month  January 2023:
Jan 8:    Shades of Wicked              –  Carole @ Carol's Random Life in Books
Jan 22:    Wicked Bite                        –  Robin
Feb 5:       Wicked All Night             –   Anne
These are Sunday noon posts.      There will be one COYER FB Chat at the end of the series on Feb 5th.
---
Be sure to enter the giveaways!!!
Giveaway: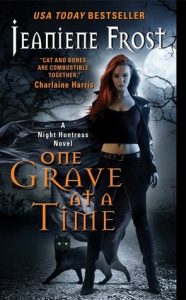 For the US winner, this will be an Amazon digital copy of One Grave at a Time. For Intl from Book depository.
Grand-Prize Giveaway:
For a US winner, this will be 12 digital copies ( your choice of her books) generously provided by Jeaniene Frost  (US only) but they can be from Amazon, Barnes & Noble or Kobo.
For an Intl winner,  it will be $50 at Book Depository.
Latest posts by Anne - Books of My Heart
(see all)
Reading this book contributed to these challenges:
Related Posts