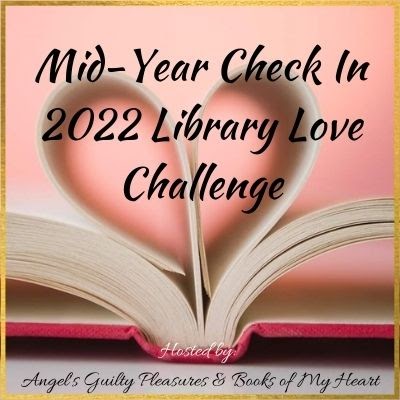 Welcome!  We've reached the mid-year library lovers, and it's time to check in for the 2022 Library Love Challenge!! I hope you've been enjoying your library.
Don't forget your library might offer up online features like Libby, Overdrive, and Hoopla to help you reach your Library Goal for the year. 
Levels: 
Dewey Decimal: Read

12

books

Thrifty Reader: Read

24

books

Overdrive Junkie: Read

36

books

Library Addict: Read

48

books

Library Card on Fire: Read

60+

books 
Link Up Your Progress:
Mister Linky's Magical Widgets — Easy-Linky widget will appear right here!
This preview will disappear when the widget is displayed on your site.
If this widget does not appear,
click here
to display it.
2022 Library Love Mid Year Check-in & Giveaway #LibraryLoveChallenge @angels_gp @BooksofMyHeart #Giveaway
Click To Tweet
---
Enter Mid-Year Giveaway!
One Winner Will Win One Audible Credit ($15 Value). Giveaway ends 7/25.
 The Winner will be notified by email, and will have 48 hours to respond or a new Winner will be chosen.  Winning entry will be verified prior to prize being awarded.  No purchase necessary.  Void where prohibited by law.
---
Anne's Progress:
Now I am a host for the challenge so I don't participate in the giveaways but I'm still tracking my reads and savings.  I have a total of 41 now for the middle of the year.
I use my library extensively for all formats. I take the opportunity to read or listen to earlier books in a series when I am catching up, to try out new series, or for non-fiction research.
All Library books read:
---
Library savings:       $747.57
These are calculated using prices from Amazon for Kindle or Paperback, and Audible for audiobooks.
| | |
| --- | --- |
| 1. State of Grace by Marie Force        | $ 6.99 |
| 2 Happily Never After by Jeaniene Frost                              | $ 1.99 |
| 3. Simply Julia by Julia Turshen   | $32.50 |
| 4. A Psalm for the Wild-Bilt by Becky Chambers 🎧   | $10.39 |
| 5. Now & Then by Justin M. Kiska | $ 0.99 |
| 6. Abandoned in Death by JD Robb | $14.99 |
| 7. Deadly Valor by Kaylea Cross | $11.49 |
| 8. Alaska Mountain Rescue by Elizabeth Heiter | $ 3.99 |
| 9. Spoiler Alert by Olivia Dade 🎧 | $34.22 |
| 10. The Girls on the Shore by Ann Cleeves 🎧    | $ 4.72 |
| 11. Silver Silence by Nalini Singh 🎧    | $38.49 |
| 12. Devil to Pay by Jeaniene Frost | $ 1.99 |
| 13. Ocean Light by Nalini Singh 🎧 | $20.99 |
| 14. Come Together by Marie Force | $ 4.99 |
| 15. Wolf Rain by Nalini Singh 🎧 | $20.99 |
| 16. Undeading Bells by Drew Hayes 🎧 | $20.99 |
| 17. Alpha Night by Nalini Singh 🎧 | $20.99 |
| 18. One for the Money by Jeaniene Frost | $ 1.99 |
| 19. Last Guard by Nalini Singh 🎧 | $20.99 |
| 20. Back of Beyond by CJ Box 🎧 | $27.99 |
| 21. Open Season by CJ Box | $ 9.99 |
| 22. Someone Like You by Marie Force | $ 5.99 |
| 23. Memory Man by David Baldacci 🎧 | $30.79 |
| 24. The Last Mile by David Baldacci 🎧 | $30.79 |
| 25. The Cold, Cold Ground by Adrian McKinty 🎧 | $20.97 |
| 26. The Fix by David Baldacci 🎧 | $30.79 |
| 27. In Plain Sight by Marion Todd 🎧 | $18.54 |
| 28. The Fallen by David Baldacci 🎧 | $30.79 |
| 29. Lies to Tell by Marion Todd 🎧 | $18.54 |
| 30. What They Knew by Marion Todd 🎧 | $18.54 |
| 31. Next in Line by Marion Todd 🎧 | $18.54 |
| 32. Eternal Kiss of Darkness by Jeaniene Frost | $ 4.99 |
| 33. Redemption by David Baldacci 🎧 | $30.79 |
| 34. Walk the Wire by David Baldacci 🎧 | $30.79 |
| 35. Illuminae by Annie Kaufman | $38.50 |
| 36. Jack Reacher: A Mysterious Profile by Lee Child | $ 2.99 |
| 37. The Maid by Nita Prose 🎧 | $31.50 |
| 38. The Blue Diamond by Leonard Goldberg 🎧 | $25.51 |
| 39. The Dancer & the Dark by Elizabeth Hunter | $ 3.99 |
| 40. Renovated to Death by Frank Anthony Polito | $13.57 |
| 41. The Midnight on Library by Matt Haig 🎧 | $28.00 |
Latest posts by Anne - Books of My Heart
(see all)