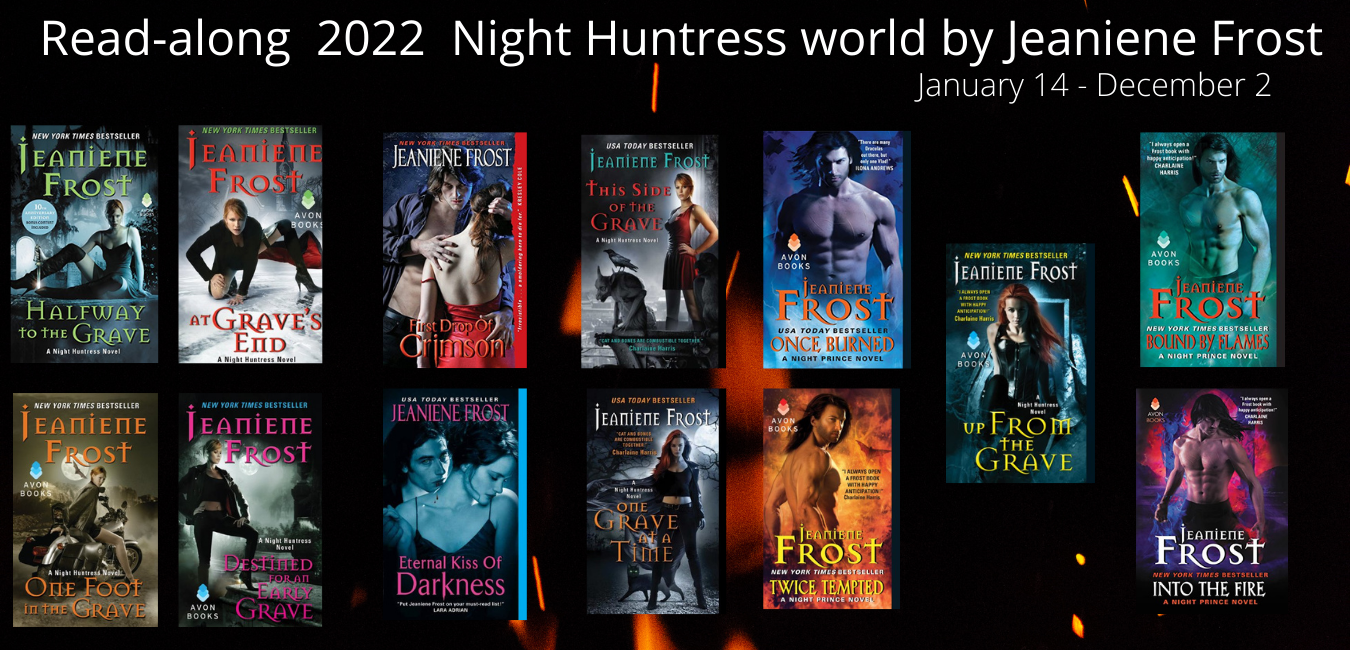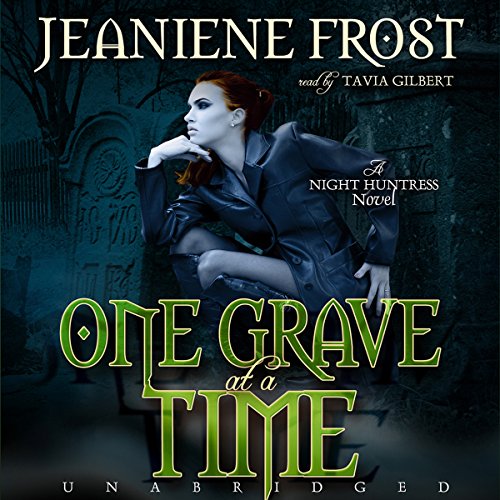 One Grave of a Time by Jeaniene Frost
Narrator: Tavia Gilbert
Published by Blackstone Audiobooks on August 30, 2011
Genres: Paranormal Romance, Urban Fantasy
Length: 9 hours, 6 minutes
Format: Audiobook, eBook
Source: Library, Purchased
Goodreads
Amazon,  Audible,  Audiobook,  Barnes & Noble,  Apple







Having narrowly averted an (under)World War, Cat Crawfield wants nothing more than a little downtime with her vampire husband, Bones. Unfortunately, her gift from New Orleans's voodoo queen just keeps on giving—leading to a personal favor that sends them into battle once again, this time against a villainous spirit.

Centuries ago, Heinrich Kramer was a witch hunter. Now, every All Hallows Eve, he takes physical form to torture innocent women before burning them alive. This year, however, a determined Cat and Bones must risk all to send him back to the other side of eternity—forever. But one wrong step and they'll be digging their own graves.
Cat and Bones. One of my favorite book couples of all time. I first read this series back in 2013 and loved it. This time around, I opted to listen instead and was impressed with Tavia Gilbert's narration so it made it even more enjoyable for me. That's not to say it wasn't already enjoyable because it so was.
The romance between Cat and Bones that began in Halfway to the Grave continues. There's been a lot of growth between the couple now that Cat is a full vampire and not just half as she was in the beginning. Cat has hung up her weapons that she first used to kill unsuspecting vampires and although she has been through many deadly adventures throughout the series, she just wants to be alone with Bones now. The previous adventure had ended with her having to drink blood from Marie Laveau in New Orleans in order to survive.  Because of her connection to the ghouls and ghosts due to this, Cat now has every ghost anywhere nearby camping out close to her. When their ghost friend, Fabian, brings a female ghost to visit, Bones and Cat get involved with killing a homicidal witch hunter, one who is long dead.
Of course there's much more to the story. We meet a medium named Tyler who is very important to the story. I ended up really liking him. Of course, we also see Marie Laveau again this time around. She's quite the supernatural character now. Cat's deceased uncle Don is still a ghost and is very interested in the goings on at the government facility where Cat and Bones once worked and where Don was once the head. There's a lot happening there as well.
There's always a lot happening in these books and that is one of the reasons why this series appealed to me, well that and the humor and sensual times involved.  Frost certainly knows how to keep things moving. If it's not deadly paranormal problems, suspense, or sensual moments between Cat and Bones, then there's always something else happening making the entertainment value of these books off the charts good! Well written, paced and with an intricate premise, I thought this book warranted 4.5 stars.
Narration by Tavia Gilbert was excellent and I rated it also 4.5 stars. She definitely enhanced the listen with her good voices and upbeat manner.
---
Games:
Who said (enter the answer in the Rafflecopter, don't put in the comments)
Who said                              "You're shagging a woman who can turn into a dragon? Blast you, Charles, I am sick with envy!"
There are other options in the rafflecopter for you to enter discussion questions and quotes to share.
The quote for Who said "That does make you the world's freakiest bloodsucker, but there's no law against a vampire feeding from other vampires ."  in This Side of the Grave is Veritas.
The villain was Apollyon.
---
Share your review/ thoughts on  One Grave at a Time:
I thought it might be fun to link up reviews so we can find them all easily.  It can be a link to Goodreads or a blog, or wherever you have a review (short or long).
Mister Linky's Magical Widgets — Easy-Linky widget will appear right here!
This preview will disappear when the widget is displayed on your site.
If this widget does not appear,
click here
to display it.
---
Observations and questions you shared from This Side of the Grave:
(Thank you  so much for sharing!)  If you can answer any of these numbered questions, you can do so in a comment.
Majestic is so mysterious. I'd love to find out more about her background.
Why didn't Patra just use the spell Mencheres used if she really wanted them all dead?
---
Quotes you readers shared from  This Side of the Grave:
"Nitro's biceps bulged almost as much as his gaze when his efforts didn't move my arm so much as an inch. I flashed him a smile as I held my position, mentally counting to ten before I began to edge his arm in a slow, steady arc downward. After all, I didn't want to embarrass him by slamming his hand on the table before he'd even realized what happened. It wasn't Nitro's fault he had no idea I'd been born with unusual strength, or that I still had some of Bones's power in me from drinking his blood. Poor burly vampire didn't stand a chance. "
"Hiding from the evil in this world did nothing to protect me, not then and not other times before, either."
"Tate squared his shoulders , "Because I'm the leader of this team, so if anyone's blood is getting spilled it's mine."
""Ask me if I sparkle and I'll kill you where you stand," Bones cut him off with utmost seriousness."
"You think I look like an angel? Well, Kitten, your hands are my heaven and your eyes are my home."
"You'll never get rid of me, either," I said, and my laughter came out thicker from tears. "No matter which side of the grave we're on. I'll haunt you, chase you all around eternity, whatever it takes, but it's you and me until the stars burn out."
"Your arrogance deserves it own zip code, Drac."
"Eh, I'll be inside," Vlad said with another soft scoff. "For some reason, I feel the urge to watch, Hitman followed by Mr. and Mrs. Smith."
Much slower, I turned around to see Vlad examining his fingernails, as if his hands weren't still ablaze in the flames that had blasted the ghoul's head off moments before. 'what the hell was that?' I gasped. 'Premature inflammation,' He replied. 'Happens sometimes. Very embarrassing, I don't like to talk about it."
---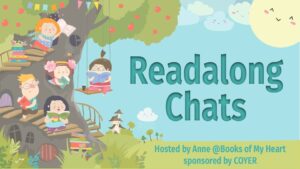 COYER FB Chat – Sunday July 10
Challenge is adopting our Read-along.  You can read about COYER and join that challenge  HERE.   On the Sunday after the review posts, they will host a FB room (like we do for COYER book club) at 12 PT, 2 CT, 3 ET and 9pm Europe, for a one hour chat.  You do not have to join the COYER challenge to participate, only the Facebook group.
If you can't attend, there is also a Facebook messenger chat which has been fun and active, set up following the live chat.
---
Here's your to-do list:
Find your copies of these books, borrow them from a friend, get them at the library or buy them.
Read Book 8.5, Home for the Holidays.
Read Book 9, Once Burned, by August 5th.
Make note of a favorite quote or two as you read the book.
If you haven't read the books before, make a list of questions you have for the discussion. If you have read them, please don't spoil new readers.
Think of some great questions for Jeaniene Frost for the Q & A post!
Link up your review on Goodreads, FB or other site to the post.
Join the COYER book chat on the Sunday following the post.

Enter the giveaways!
---
Schedule:   
We are doing one book every 3-4 weeks, posting on Fridays. We will have a review for the books with the team here at Books of My Heart plus some of our friends.  We are following the author recommended reading order.
Jul 8:       One Grave at a Time                  –  Lorna 
Aug 5:      Once Burned                                –  Lexxie @Unconventional Bookworms
Sep 9:     Twice Tempted                             –  Angela @ Angel's Guilty Pleasures
Oct 7:      Up from the Grave                      –  Melanie
Nov 4:     Bound by Flames                        –  Sophia
Dec 2:    Into the Fire                                   – Berls @ Because Reading
Q & A with Jeaniene Frost
Miss a post?
Jan 14:    Halfway to the Grave               – Melissa @ Tea & Books
Feb 11:    One Foot in the Grave              –  Victoria @ First of All
Mar 11:   At Grave's End                            –  Kimberly @Caffeinated Reviewer
Apr  1:     Destined for an Early Grave   –  Stephanie @ Once Upon a Chapter  
Apr 29:   First Drop of Crimson               – Kai @ Fiction State of Mind
May 20:  Eternal Kiss of Darkness         – Jen @ That's What I'm Talkin About
Jun 10:    This Side of the Grave              – Brandee @Unconventional Bookworms
---
Jeaniene Frost has also been kind enough to commit to a Q & A post.   I will collect questions for her through September 19th.  I will send your questions to her and she will pick 3-5 questions and send me the response.  I will post her answers in the December 2 post.  So think up some great questions for her!
---
Bonus round – Read a Series in a Month  January 2023:
Jan 8:    Shades of Wicked              –  Carole @ Carol's Random Life in Books
Jan 22:    Wicked Bite                        –  Robin
Feb 5:       Wicked All Night             –   Anne
These are Sunday posts.      There will be one COYER FB Chat at the end of the series on Feb 5th.
---
Be sure to enter the giveaways!!!
Giveaway:
For a US winner, this will be one digital copies ( your choice of her books) generously provided by Jeaniene Frost  (US only) but they can be from Amazon, Barnes & Noble or Kobo.
For an Intl winner,  it will be a print copy of Up From the Grave from Book Depository.
Grand-Prize Giveaway:
For a US winner, this will be 12 digital copies ( your choice of her books) generously provided by Jeaniene Frost  (US only) but they can be from Amazon, Barnes & Noble or Kobo.
For an Intl winner,  it will be $50 at Book Depository.
Rating Breakdown
Narration (Audio)
Overall:
Latest posts by Anne - Books of My Heart
(see all)
Reading this book contributed to these challenges:
Related Posts