Review copy was received from NetGalley. This does not affect my opinion of the book or the content of my review.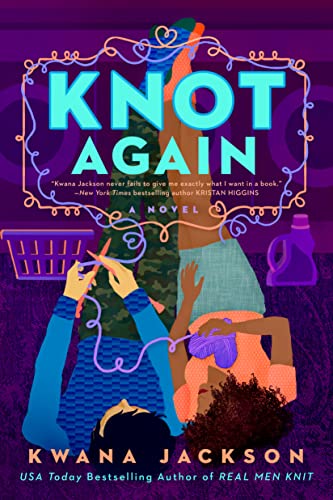 Knot Again
by
Kwana Jackson
Series:
Real Men Knit #2
Published by
Berkley
on July 26, 2022
Genres:
Contemporary Romance
Pages:
336
Format:
eARC
Source:
NetGalley
Goodreads
Amazon
, 
Audible
, 
Audiobook
, 
Barnes & Noble
, 
Apple




Hoping to attract more customers to his family's knitting shop, Lucas Strong participated in an FDNY charity calendar and accidentally became a local celebrity. The only place he can find solace is Scrubs—a 24/7 laundromat where he can disappear for a couple of hours. But Lucas's soapy sanctuary is shaken by an inquisitive little girl with a late-night interest in knitting whose mother is his old school crush.

Sydney Harris-Hughes knows that Harlem is like any other small town, and everyone is probably whispering about how she left such a good man—and a good life—behind to wash and fold laundry by the pound. If only they knew the truth. But Sydney will always put her daughter's happiness first, even if that means moving back to Harlem and facing her past.
I enjoyed Real Men Knit where a knitting shop is owned by four brothers in New York City.  It looks like each book will feature the romance of a different brother.  Continuing the Real Men Knit series,  the next up is Lucas, who is a firefighter.  He has always been caught up in the girl across the street from the laundry Scrubs.
Sydney is the grand-daughter of the laundry owner.  Her mother did everything to get her off to a good school in DC, married to a "successful" man.  She's been living in DC for about 10 years. Now she's divorced and back at Scrubs with her daughter, Remi.  Her grandfather's health has been failing and she is helping him. Plus, she needs to figure out who she is now.
The very beginning of the book was enjoyable and helped develop some of the characters and understand their history and current situations.  Unfortunately, then came the middle section of the book which was a miasma of Lucas' or Sydney's jumbled thoughts or hookups without much character development or progression of the plot.
Finally, at about 80%  Knot Again got back on track.  There were some scenes where things happened.  Lucas and Sydney were honest about their feelings and what they wanted. They each made efforts to head in the right direction for the future. Lucas had primarily emotional issues to resolve and Sydney supported him with them.  Sydney needed to decide on the direction financially how she could support her grandfather and daughter, and have a relationship with Lucas.  She had to work out some problems with her ex-husband.
I really loved the last part of the story and somehow wish some of that progression or analysis of options could have been started earlier.  Probably though, they both needed some time just to relax together and re-connect after being apart 10 years, but I didn't feel that until the last part.  They relaxed together but Sydney didn't seem to allow a connection other than physically.
Excerpt:
Sydney pulled her attention back to her work. She only had a certain amount of time to get it all in. Mr. James's load was on the next phase of the washing cycle, so it was back to the linens for her. Time to focus and get her attention away from the nighttime activities. Speaking of focusing . . . she turned and leaned to look back at the employees' counter where Remi was— or should be. Where did she run off to? Remi knew she had to let Syd know if she was heading to the bathroom or upstairs. Syd looked around, her heart instantly beating a little faster, though she told herself to just stay calm.
"It's so cool, mister. Your hands are moving so fast, I can barely keep up."
What the hell? And "mister"? Who the hell is ""mister"?
Sydney swiveled her head toward the sound of her daughter's voice coming from the far- right corner of the laundromat. Who was she talking to over in the waiting area at this time of night? Just a moment ago she was in the employee area coloring. Sydney dropped the linens in the basket in front of her and stormed toward her daughter's voice.
"Remi," she started, her voice short even to her own ears, "who are you talking to over there?"
"Come look. It's so cool, Mommy. He's going so fast and said I could learn it easy."
Oh yeah. No freaking way! Sydney could only see the two of them from behind. The man wore a bucket cap, but his head was bent down toward his lap and her daughter sat, though not quite next to him, close enough to be considered next to him. Way too close. Not a full connected chair away, the space that separated them was, by Sydney's measurement, not even a full arm's length. Remi knew better. And the man— she didn't care what he knew, just what he was gonna know.
It took all her restraint, and the fact that she knew she couldn't make the jump, not to hurtle herself over the chairs, yank Remi back and drop- kick the guy in the bucket cap.
"What the hell's going on here?" Syd spat out, rounding the chairs at the same time she reached out and pulled Remi harshly toward her.
Remi looked up with shock and fear in her big round eyes. Sydney didn't blame her, but she didn't have time to coddle her either.
Sydney looked down at the guy on the bench as he raised his head, bringing his dark eyes into view as they met hers with a bold challenge. It was Sydney's turn to be shocked. Emotion flipped and doubled back onto her as it seemed to physically hit her in the chest.
Remi continued to point. "We were talking about his knitting, Mommy. Isn't it cool? I want to learn too."
He cocked his head to the side then, the movement so familiar Sydney found herself mirroring it. "Yeah, Syd, we were talking about my knitting," he said. His voice was the same, but deeper now. More manly, with a raspy edge that hadn't been there when they were younger and that she strangely hadn't fully grasped over their video call. But then he shook his head at her as if he were somehow disappointed in her. Then he tsked. Motherfucking tsked!
"Same old Sydney," Lucas Strong said as he looked up at her again now with a raised brow. Then he looked down and smiled. Changed his tone. "Yep, same Syd. Jumping to conclusions and looking down on people," he mumbled.
Sydney grabbed her daughter's hand and turned on her heels, stomping back toward the employees- only section. But mid- stomp his last words overtook her. She looked back at him looking at her. How was it the perfect boy from her past had the nerve to be sitting there looking every bit the perfect man and still give her the same off- kilter feelings he had all those years ago? Making her speechless. Able to do nothing but retreat.
She pointed at him. "And you're still the same old Lucas. Minding other people's business like a know-it-all when you really don't know a damned thing."

Giveaway:
Enter to win a new print copy of Knot Again by Kwana Jackson.  US only
Latest posts by Anne - Books of My Heart
(see all)
Reading this book contributed to these challenges:
Related Posts