Review copy was received from NetGalley. This does not affect my opinion of the book or the content of my review.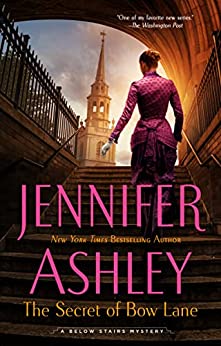 The Secret at Bow Lane
by
Jennifer Ashley
Series:
Kat Holloway Mysteries #6
Published by
Berkley
on August 2, 2022
Genres:
Historical Fiction
,
Mystery
Pages:
304
Format:
eARC
Source:
NetGalley
Goodreads
Amazon
, 
Audible
, 
Libro.fm
, 
Barnes & Noble
, 
Apple






A stranger who appears on Kat's doorstep turns out to be one Charlotte Bristow, legal wife of Joe Bristow, the man Kat once believed herself married to—who she thought died at sea twelve years ago. Kat is jolted by Charlotte's claims that not only was Joe murdered, but he had amassed a small fortune before he died. Charlotte makes the cook an offer she cannot refuse—if Kat can discover the identity of Joe's murderer, Charlotte will give her a share of the fortune Joe left behind.

With the help of Daniel McAdam, her attractive and charismatic confidante, Kat plunges into her own past to investigate. When it becomes apparent that the case of Joe's death goes far deeper than simple, opportunistic theft, Kat and Daniel's relationship is put to the test, and Kat herself comes under scrutiny as her connection to Joe is uncovered. She must race to catch the real killer before she loses her job and possibly her life.
The Kat Holloway series really heats up with this dive into personal mysteries for her and her friends to solve in this upstairs-downstairs historical mystery setting.
The Secret of Bow Lane is the sixth in the Kat Holloway series featuring a Victorian era cook who does some amateur detecting.  There is an ongoing storyline about Kat's personal life rearing her child, hiding her past, and romantic interest with Daniel McAdams along with side stories for Lady Cynthia and Mr. Thanos and her assistant cook so reading the series in order is a must.
In this latest, Kat gets broadsided with two situations.  First, there is Charlotte Bristow who comes to Kat because of Kat's growing reputation for helping the police solve some mysteries and asks her help to find out about Joe's death because he was murdered for a pile of money he supposedly had.  Kat is none too keen, but if there is a missing fortune that Charlotte is willing to split with her, she must do what she can for her daughter, Grace's sake.
Secondly, Daniel assumes they are in a courtship and Kat is so stunned that he considers their friendship a courtship that her reaction is enough to hurt him and she watches him walk away.  She's left analyzing why she didn't respond positively and realizes that after her experience with Joe, she needs to know more about Daniel, but at the same time, she aches for the loss of his presence and companionship especially as she embarks on another detecting adventure into her past.
Unconventional Lady Cynthia has her back and helps by sending people Kat can trust to tell her about Daniel including Thanos and Daniel's 'brother' and they all help with the new case.  But, with both her own past and Daniel's being confronted, she will get to the heart of the Secret of Bow Lane.
In a way, this book was no surprise.  Readers have been curious about Kat and Daniel's separate pasts for a long time and, as they drew closer, the pair of them were going to have to face their pasts and share them with each other if they were to go any further in their relationship.  I also appreciated what the author was showing when she introduced Charlotte into the story and how, compared to her, Kat has gone far since being left destitute and pregnant by a man who wasn't her real husband.  Charlotte's still nursing her woes and looking to someone else to save her while Kat has risen in her trade to save herself and Grace.
The old murder and mystery over a missing fortune drove the plot forward along with the emotional character-driven side.  As a result of both mystery and personal relationship sharing plot, this story read quickly for me because I kept wanting to know more and find out what was going to happen especially in the latter half which got moving much more swiftly.  There was a most satisfying conclusion, though there were little bits that left me wondering about a few things that will likely crop up in the future.
All in all, this latest was full of delicious and fascinating Victorian cooking moments, detecting adventure, and the tension that a well-developed set of characters and series plot can make.  Those who enjoy historical setting with their mysteries should definitely set this series on the stack.
Related Posts