Review copy was received from NetGalley. This does not affect my opinion of the book or the content of my review.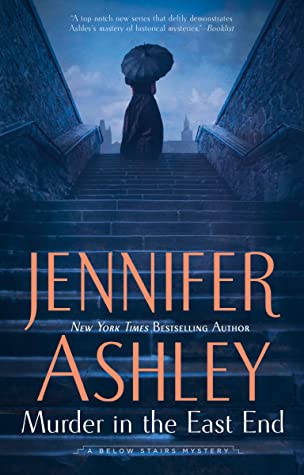 Murder in the East End
by
Jennifer Ashley
Series:
Kat Holloway Mysteries #4
Published by
Berkley
on August 4, 2020
Genres:
Historical Mystery
Pages:
320
Format:
eARC
Source:
NetGalley
Goodreads
Amazon
, 
Audible
, 
Audiobook
, 
Barnes & Noble
, 
Apple




When young cook Kat Holloway learns that the children of London's Foundling Hospital are mysteriously disappearing and one of their nurses has been murdered, she can't turn away. She enlists the help of her charming and enigmatic confidant Daniel McAdam, who has ties to Scotland Yard, and Errol Fielding, a disreputable man from Daniel's troubled past, to bring the killer to justice. Their investigation takes them from the grandeur of Mayfair to the slums of the East End, during which Kat learns more about Daniel and his circumstances than she ever could have imagined.
When orphan children and their nurse disappear from the London Foundling Hospital, Kat joins Daniel and a surprising ally to work against the clock before they disappear for good.  The downstairs, working class situation of the amateur detective heroine in this series grabbed my focus from the start and I love seeing her as a crusader for justice while overcoming her past and learning to trust in a small, but growing circle of friends.
Murder in the East End is the fourth of the Kat Holloway mysteries.  Each mystery is standalone though there is an ongoing series arc for Kat's personal and relationship developments.
At this point in the series, Kat Holloway is an established character as are her growing circle who, like her fellow household servants feel like family and sometimes aid her in slipping away to work on mysteries, or like Lady Cynthia, Mr. Thanos, Lady Cynthia's friends, Daniel and James who all work together on solving the mysteries.
I love that Kat is a cook in an upper class Victorian home and her daily life as cook and the life of that house are a large part of the books.  It's fascinating to me how they lived, but also makes for an interesting amateur detective set up.  I thought her background was a neat mystery in the very first book and that she has to keep her daughter secret and living with friends and only seeing her on her once a week days off because of the rules for servants back then.
Daniel is Kat's growing love interest.  I enjoy this slow burn series thread.  They have been attracted since the beginning of the series and both had their secrets.  Kat's secrets are now known to Daniel, but she has been forced to learn his secrets a little at a time and some of the secrets like who he works for when he takes on personas, disguises, and even trips out of town to do dangerous work, he is not allowed to tell her.  Kat has deep trust issues because of what happened to her and Daniel has a few of his own struggles, let alone they both have to work hard to earn livings so the pace of their relationship works well.  I do love seeing the rise in tension and the deepening relationship as well as amateur detecting partnership.
The mystery in this one doesn't have an imminent feel to it, though with missing children it does have everyone working hard to find them.  There is a sadness for the plight of the vulnerability of the orphaned poor and the author doesn't shy away from describing just how bad it can get for them.  I didn't have an early solution and could only tag along as Kat and the others worked hard to follow the trail.  There is an interesting new player in this one and I hope becomes a recurring character in future books.
All in all, it was another engaging installment in a fabulous historical mystery series.  Those who enjoy good character and relationship development, attention to historical setting and details, and a solid mystery should definitely pick up this book/series.
Related Posts