Review copy was received from NetGalley. This does not affect my opinion of the book or the content of my review.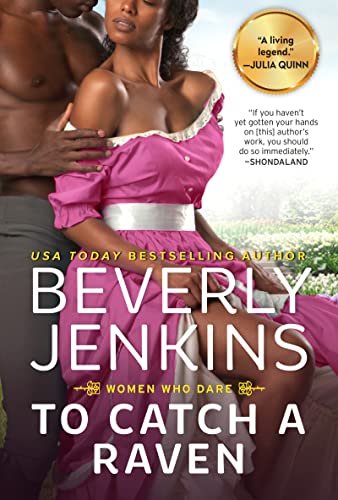 To Catch a Raven
by
Beverly Jenkins
Series:
Women Who Dare #3
Published by
Avon
on August 23, 2022
Genres:
Historical Romance
Pages:
304
Format:
eARC
Source:
NetGalley
Goodreads
Amazon
, 
Audible
, 
Audiobook
, 
Barnes & Noble
, 
Apple




Lying and cheating may be sins to some people, but for Raven Moreaux, it is a way of life. She comes from a long line of grifters and couldn't be prouder…Until she's forced to help the government.

A former Confederate official is suspected of stealing the Declaration of Independence, and Raven, posing as his housekeeper, is tasked with getting it back. Her partner is the too handsome Braxton Steel. Masquerading as a valet/driver, Brax is also supposed to be her "husband." He has his own reasons for doing this job, but when their pretend marriage ignites into fiery passion, they'll have to put everything—including their hearts—on the line.
The enemy of my enemy is… well, not her friend, but she's blackmailed into a job for the Pinkertons all the same and the disapproving man beside her is just an added attraction, erm, nuisance.  As the third in a series about strong, courageous women set in the post-civil war era from an African American perspective, this book was on my must reads this year.
To Catch a Raven is the third in a series, but it is easily standalone.  There are mentions of characters from past series, but the plot, romance, and main characters are all new to this book as far as I know.
Raven Moreaux comes from a long line of shady types who are good at what they do on the wrong side of the law, but she is none too pleased when the Pinkerton Agency, namely a specific agent strong arms her into a job where her skill is required to keep family safe.  And, she's been saddled with a handsome, attractive man who is legit and looks down on her family legacy.
Unfortunately, Braxton Steele's father was not always an upright person and he gets blackmailed into the job right next to Raven because of his father.  They must pose as a married pair to get close to the former Confederate who holds a copy of the Declaration of Independence.  They need to finish the job and Raven wants revenge on that Pinkerton, but somewhere along the way, real feelings and respect develop and meanwhile, an older pair get a second chance at romance.
To Catch a Raven raised certain expectations in me when I read the blurb.  I thought the book would mostly be about them working together in their roles and doing the heist.  And, this does happen eventually.  Just not for a while.  The book opened with attention to the family background and then they spent more time getting ready for the big job and fun banter is exchanged when they are a tad hostile.
I did enjoy this pair.  Raven is loyal to those she loves, strong and feisty, but Braxton is one smoldering gent who knows how to get them both hot and bothered and is also a good, hard worker and protector.  By the time they pose as housekeeper and driver married pair, it was obvious that the fake becoming real was what I was rooting for.
Like with most books by the author, the history is a strong authentic element.  I like learning historical details as part of the overall enjoyment in a historical romance and I appreciate how it is blended into the story.
I've heard rumor this is the last of the Women Who Dare series, which were all excellent stories, but I am not sad because I have the author's backlist and I see plenty more stories from bygone eras within Raven's family alone.  Those who want American History from the African American perspective or simply love a larcenous heroine and sexy hero on a heist, snatch this one for your reading pile.
Related Posts