Review copy was received from NetGalley. This does not affect my opinion of the book or the content of my review.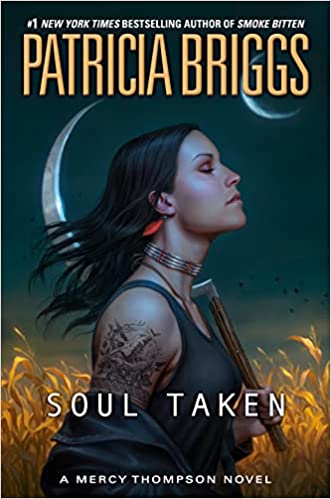 Soul Taken
by
Patricia Briggs
Series:
Mercy Thompson #13
Published by
Ace
on August 23, 2022
Genres:
Urban Fantasy
Pages:
352
Format:
eARC
Source:
NetGalley
Goodreads
Amazon
, 
Audible
, 
Audiobook
, 
Barnes & Noble
, 
Apple






The vampire Wulfe is missing. Since he's deadly, possibly insane, and his current idea of "fun" is stalking Mercy, some may see it as no great loss. But when he disappears, the Tri-Cities pack is blamed. The mistress of the vampire seethe informs Mercy that the pack must produce Wulfe to prove their innocence, or the loose alliance between the local vampires and werewolves is over.

So Mercy goes out to find her stalker—and discovers more than just Wulfe have disappeared. Someone is taking people from locked rooms, from the aisles of stores, and even from crowded parties. And these are not just ordinary people but supernatural beings. Until Wulfe vanished, all of them were powerless loners, many of whom quietly moved to the Tri-Cities in the hope that the safety promised by Mercy and Adam's pack would extend to them as well.

Who is taking them? As Mercy investigates, she learns of the legend of the Harvester, who travels by less-trodden paths and reaps the souls that are ripe with a great black scythe
I chose the Mercy Thompson series for the Read-along in 2020 and it was an amazing reread for me.  With complex plots and mysteries, along with many great characters it was helpful to read from the beginning, all the books close together rather than a year apart.  In 2021, we had a book in the companion series, Alpha & Omega, which features Charles & Anna. So now almost two years later, we continue with Mercy.
She and the pack are dealing with the fallout from her declaring the pack would be the protector, the battle with the black witches including Elizaveta, and the continuing unease of the seethe with Bonorata.   Everything including Sherwood's memory comes to a head with a knockout blow.
The action came swift and brutal.  There are plenty of problems and they all seem deadly.   I don't know if it is because we are in Mercy's point of view but it feels like Mercy drives everything, leads, and solves everything.   Adam is with her and they do communicate well but sometimes it feels he is just there on the side.   Zee continues to provide Mercy with education and insight on both car mechanics and the fae.
The world-building and plot are as detailed and incredible as always.  There's bits of information revealed about Sherwood, things in the pack,  Jesse's situation, the seethe, Zee and Tad, and even Samuel.   As urban fantasy with long on-going plots, I would not start here.  I would read the series starting at the beginning.  I loved the furthering of information and more development of the characters.   There wasn't as much humor as I sometimes find.  But Kyle and Ben never let me down.
"It has not been my experience that owners of new cars read their manuals unless their names are Kyle."
I felt unsettled during my read.  There are many things not resolved.  The pack is in a precarious position with Mercy's claim to protect the area.  Underhill is an ongoing threat.   Sherwood will always be kind of a question mark.  Bonorata is not going to let things go.  As a vampire, he will be there to upset things indefinitely. I don't see easy solutions to the issues, so I'm relieved the author is much smarter than me.
Latest posts by Anne - Books of My Heart
(see all)
Reading this book contributed to these challenges:
Related Posts