Review copy was received from NetGalley. This does not affect my opinion of the book or the content of my review.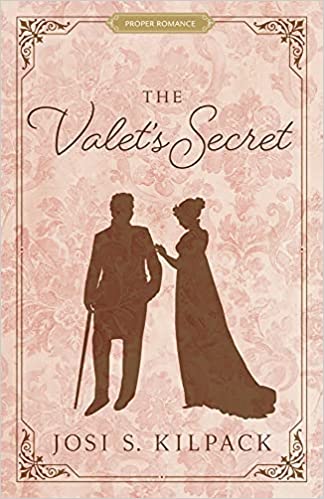 The Valet's Secret
by
Josi S Kilpack
on March 8, 2022
Genres:
Historical Romance
Pages:
288
Format:
eARC
Source:
NetGalley
Goodreads
Amazon
, 
Audible
, 
Barnes & Noble




York, England, 1819

As a once happily married woman, Rebecca Parker had a good life, but now widowed, working for a living, and her only child grown, she feels invisible, tired, and lonely. That is until the day a valet speeding by on a horse nearly runs her off the road. Mr. Malcolm Henry is apologetic, gentle, and handsome. She's instantly drawn to him, which is why, rather than stopping him from kissing her, she kisses him back, reigniting a nearly forgotten passion. But love at first sight only happens in fairy tales—never to an ordinary woman like her.
She sees Mr. Henry again and feels the possibilities growing until, while working in the kitchens during a dinner party, she sees the valet she kissed sitting at the right hand of the baroness. Mr. Henry is not the earl's valet; he is the heir to the earldom—Kenneth Winterton.

Heartbroken, angry, and betrayed, Rebecca does not trust Lord Winterton and refuses to accept his apology. But when Lord Winterton proves he is as kind and gentle as "Mr. Henry" was, she finds herself willing to give him a second chance. But will he take a chance on her? He needs a wife to help him in his place in society, and nothing about Rebeccas life does that . . . except how he feels when she is with him.
A Regency-era subtle Cinderella Retelling captured my attention when I was in the mood for a gently-paced sweet romance.  I've enjoyed a few other works from the author and I was particularly taken with the middle-aged romance pair and a class difference element.
Kenneth Winterton has grown up to the expectation of a country gentry life and, at forty-eight is now a widower and father of two grown sons and alone on his family's small estate.  It was a stunner and not all-together welcome bit of news that due to untimely death, he is now the heir to an earldom and must move to his uncle's estate to learn the dignities of his rise to the aristocracy, but also the running of a vast estate and affairs.  The worst part is that his relations expect him to take a wife to add substance to his new position.  Wanting one last hurrah before he must be constrained by duty, he has a lasting first encounter that leaves him wishing for something- that is someone- he can't have.
Widowed, working class Rebecca Parker was once in service and had a beautiful marriage, but now helps her temperamental, bitter father run his silhouette business.  Her adult daughter is well-established as a local baroness' companion and now Rebecca is feeling unsettled and wanting something different in life than gloomy work with her verbally abusive, drinking parent.  She doesn't believe she can have happiness again until an encounter with a handsome valet makes her want to take a chance on a new dream.  Too bad, he's not what she first thought.
The Valet's Secret is a low-angst, gently-paced sweet romance where the biggest conflict is their class difference.  Kenneth might not have been so high above Rebecca before, but being the next earl means that marriage with a woman who was and is a serving class member isn't to be thought of and Kenneth's family are not above making some threats to keep it that way.  I was glad to see that some fun side characters were on Kenneth and Rebecca's side.
My mind wouldn't let me forget this pair were practically strangers when they fell for each other, but I was able to swallow the little blue pill because that's not untypical of fairytale stories.  Besides, I liked this pair of lonely people and wanted them to find their happy.  I was glad Kenneth's lie about being a valet was out in the open fairly quickly and as was the drama that it stirred up.  I think I was in just the mood for a low-angst and easy going story that was low on conflict and was driving hard to bring a heartwarming finish.
The actual Cinderella aspects weren't in the reader's face until pretty close to the end.  In fact, I'd argue that if I didn't know it was associated with that tale then I might not have twigged to it until that moment.
All in all, I was satisfied and feeling swoony since I love class difference situations and that this Regency was set in Yorkshire and had a mature-aged romance pair.  For those who want sweet and mild in their historical romance.
Related Posts