Review copy was received from NetGalley. This does not affect my opinion of the book or the content of my review.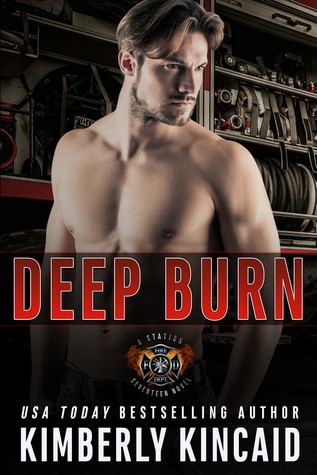 Deep Burn
by
Kimberly Kincaid
Series:
Station Seventeen #2
on June 13, 2017
Genres:
Contemporary Romance
Pages:
328
Format:
eARC
Source:
NetGalley
Goodreads
Amazon
, 
Audiobook





Firefighter Shae McCullough is all-in, all the time. When her reckless response at a fire earns her a two-week penance filing paperwork for the arson investigation unit, the rules and routines are enough to bore her senseless. But the discovery of a possible arson at a murder scene has her instincts fired up, and when Shae is assigned to assist Remington's elite intelligence unit with their investigation, she's all too ready to jump in with both boots first.

To tech and surveillance expert James Capelli, logic isn't just a job requirement, it's a way of life. He's less than thrilled to work with Shae, whose impulsiveness threatens his sanity and whose curves threaten his composure. Despite their differences, they uncover a case bigger than anyone could have expected—along with an attraction that burns deep.

But this killer is no stranger, and Capelli's got a dark past. Can he and Shae outsmart a ruthless murderer, or will his secrets bury them both?
I'm a fan of Kimberly Kincaid and some of her other series. Since I enjoy stories about fire fighters, I decided to try this Station Seventeen series. I enjoy the mystery, the technical aspects and the suspense of them. These are romances, of course, as well.
I bought the first book, Skin Deep, on sale because I was getting an ARC of this one. Then I realized the Hot Ice anthology I bought for fun had Deep Check in it, which is related.  So by this time, I am comfortable with the group at Station Seventeen. When that happens, the humor is better because you know them and their little quirks.
Deep Burn is about Shae, a female firefighter who gives it all she's got. She lives in the fast lane and it sometimes gets her in trouble. She gets sent to fire investigation for two weeks and as usual, puts herself right into things. She works with James, who is a hacker tech, part of the police intelligence unit who works with Isabella.
James is so controlled Shae makes him crazy. I really feel for James. He has had a rough go in life and he blames himself for everything. At first, I had trouble connecting with them, since they are such opposites in style, plus they are kind of extreme in manner. I put it down for a few weeks. Finally, when I came back to it I got far enough to really feel them.
The mystery of the arson cases and the suspense of working against the killer also kept me engaged. I love this group of folks who fights so hard to keep the public safe. Seeing them solve problems and fall in love is a good time! I look forward to more of these stories.
Latest posts by Anne - Books of My Heart
(see all)
Reading this book contributed to these challenges:
Anne: 2017 New Release Challenge
Related Posts