Review copy was received from NetGalley. This does not affect my opinion of the book or the content of my review.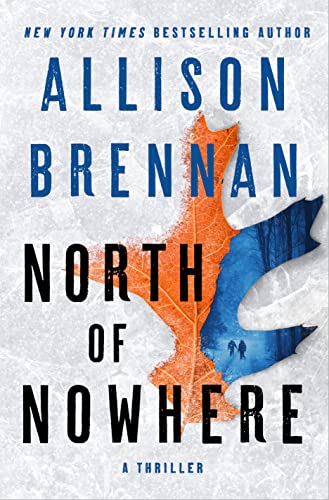 North of Nowhere
by
Allison Brennan
Published by
Minotaur Books
on August 8, 2023
Genres:
Mystery
,
Suspense
,
Thriller
Pages:
368
Format:
eARC
Source:
NetGalley
Goodreads
Amazon
, 
Audible
, 
Libro.fm
, 
Barnes & Noble
, 
Apple





After five years in hiding from their murderous father, the day Kristen and Ryan McIntyre have been dreading has arrived: Boyd McIntyre, head of a Los Angeles crime family, has at last tracked his kids to a small Montana town and is minutes away from kidnapping them. They barely escape in a small plane, but gunfire hits the fuel line. The pilot, a man who has been raising them as his own, manages to crash land in the middle of the Montana wilderness. The siblings hike deep into the woods, searching desperately for safety—unaware of the severity of the approaching storm.

Boyd's sister Ruby left Los Angeles for the Army years ago, cutting off contact in order to help keep her niece and nephew safe and free from the horrors of the McIntyre clan. So when she gets an emergency call that the plane has gone down with the kids inside, she drops everything to try save them.

As the storm builds, Ruby isn't the only person looking for them. Boyd has hired an expert tracker to find and bring them home. And rancher Nick Lorenzo, who knows these mountains better than anyone and doesn't understand why the kids are running, is on their trail too.

But there is a greater threat to Kristen and Ryan out there. More volatile than the incoming blizzard, more dangerous than the family they ran from or the natural predators they could encounter. Who finds them first could determine if they live or die. . .
Wow!  I started this at bedtime and continued to read until I finished just after 3am. I couldn't put it down. North of Nowhere started off fast and just kept running.  When I finished, my jaw was clenched and my whole body was tense.  What a fight between good and evil, with children caught in the middle.
Kristen and Ryan have been hiding out with their godfather for five years. Tony has loved them as his own.  But now their criminal father has found them.  They take off to hide again but it's more than their father after them.  And the approaching blizzard is not going to help anyone's safety.
Luckily, Kristen and Ryan have made friends at the ranch where Tony works.  Nick and his son, Jason head into the wilderness to find them.  He also called their Aunt Ruby, who is retired military, who comes to help with the search.  Ruby left the family when she was about Kristen's age, for similar reasons.
I loved this story of survival in the Montana wilderness.  Nick, Ruby and Kristen are all really smart and capable.  Unfortunately, there are several groups of bad guys.   I was in terror for those kids.  Kristen is 16 and Ryan is 11.  Kristen was already traumatized by their initial escape when her mother was murdered.
Absolutely thrilling, I highly recommend North of Nowhere.  There is some law enforcement but not all of them are good guys. We get the point of views from Tony, the godfather;  Ruby, the aunt; Nick, the rancher; and Kristen mostly.  I will tell you this is not a romance. It's a suspenseful thriller.
Latest posts by Anne - Books of My Heart
(see all)
Reading this book contributed to these challenges:
Related Posts