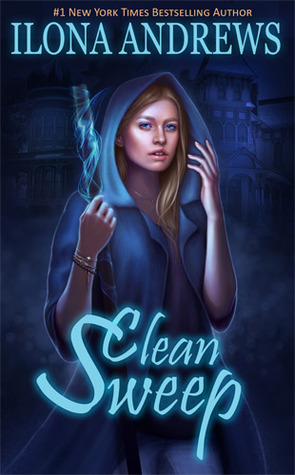 Clean Sweep
by
Ilona Andrews
Series:
Innkeeper Chronicles #1
Published by
Self-Published
on December 2, 2013
Genres:
Science Fiction Fantasy
Pages:
235
Format:
eBook
Source:
Purchased
Goodreads
Amazon
, 
Audible
, 
Audiobook
, 
Barnes & Noble





On the outside, Dina Demille is the epitome of normal. She runs a quaint Victorian Bed and Breakfast in a small Texas town, owns a Shih Tzu named Beast, and is a perfect neighbor, whose biggest problem should be what to serve her guests for breakfast. But Dina is...different: Her broom is a deadly weapon; her Inn is magic and thinks for itself. Meant to be a lodging for otherworldly visitors, the only permanent guest is a retired Galactic aristocrat who can't leave the grounds because she's responsible for the deaths of millions and someone might shoot her on sight. Under the circumstances, "normal" is a bit of a stretch for Dina.

And now, something with wicked claws and deepwater teeth has begun to hunt at night....Feeling responsible for her neighbors, Dina decides to get involved. Before long, she has to juggle dealing with the annoyingly attractive, ex-military, new neighbor, Sean Evans—an alpha-strain werewolf—and the equally arresting cosmic vampire soldier, Arland, while trying to keep her inn and its guests safe. But the enemy she's facing is unlike anything she's ever encountered before. It's smart, vicious, and lethal, and putting herself between this creature and her neighbors might just cost her everything.
ICYMI is a post from my early days of blogging at Yummy Men & KickAss Chicks.   You can see the original review here.  Clean Sweep was the start of the serial free stories by Ilona Andrews  on their blog. This is also more of a foray into science fiction, although it is loosely connected to the Edge series which has a touch of it also.  I had trouble reading along and just bought it when it was finished. Now I read along and can't wait for each new installment, but I still purchase each book.
Kick Ass Chick – Dina Demille
---
Let me begin by admitting I am completely biased towards Ilona Andrews.  I have loved everything I've ever read by them. Nearly everything is in my favorites; they are my favorite of my favorites.  I blame Julie.  This was one of the first authors I read from reading this blog, a few years back.  I tend to get everything at the library, read it and then if it is a favorite I buy it.   I debated months on whether to buy these books in print or on Kindle.  In the end, I bought them for my Kindle because seriously, I need them with me all the time, everywhere.  Plus she is a knitter who favors blue yarn, what's not to love?
Clean Sweep was first offered as a free serial on Ilona Andrews' blog.  It is a bit shorter than a normal book.  Then graphics were added and it was published.  I bought the published version.  I saved this book for a bit, keeping it as a reward for myself, a treat.   My expectations were high and this did not disappoint me.
Why do I love everything by this author?  The words are so well-crafted; it's a pleasure to read. Honestly, I practically whimper and bounce with joy when I start reading.   The world building is amazing with lots of details without being boring.  The characters have spirit and passion whether they are the "good" guys or the "bad" guys or something in-between. Which is another great thing, it's a gray scale, not just black and white.  I can't help but care about them.  There is always an interesting mystery / action / adventure.  Typically, there is a touch of romance. And, my favorite, is the humor.
This book is a new world with the paranormals having some different features.  Dina is an innkeeper.  It's a fun concept I enjoyed learning about it.  There are vampires and werewolves which are a bit different.  Other creatures are also introduced.  As an innkeeper, hosting a variety of creatures as guests, Dina gets to learn about many things all the time.
Dina is smart and funny. I loved her.  She cares about her human neighbors and strives to protect them, even though it causes her a variety of problems.  She is beautiful, inside and out.
Sean Evans is her newish neighbor and a werewolf.  He is a cocky alpha male and just cracks me up.   Arland is a vampire who ends up as a guest at the inn.  They are both HOT with a capital H. Both seem interested in Dina.  This is not a romance; this is the first book in the series.  Each "man" has his own issues and priorities, but they eventually come around to working with Dina.
I really recommend this book and this author highly. I love the graphics in this edition.  I'm getting pickier about reading since I have found so many excellent books lately, but this would be a top priority for me to read in urban fantasy. Go read it now!
Giggle worthy quotes:
"'Sean! Go. Away.'

He locked his jaw. 'I don't know what the hell is going on here, but I'm not leaving until I get it sorted out.'

Of all the rude, arrogant morons. 'Is that so?'

'Yes. You will show that thing to me and from now on, I will deal with them.'

I opened my eyes really wide and fluttered my eyelashes at him. 'I'm sorry, I must've missed your coronation ceremony. 'Silly me.'

'Dina!'

Ha! He remembered my name. I waved my fingers in the direction of the door. 'Shoo. Leave, and don't slam the door on your way out.'

He planted himself, arms crossed, muscles bulging. 'Make me.'

He didn't deserve a warning, but I gave him one anyway. 'I've had about enough. I'm serious, Sean. Leave or there will be consequences.'

'Give me your best shot.'

Fine. 'Your welcome is withdrawn.'

Magic smashed into Sean. He went airborne. The side door swung open just in time and he flew through it and into the orchard. The orchard was a safer bet. The bulk of the house shielded it from the passersby and traffic, I heard a solid thud, then got up, and looked out through the open door. Beast joined me.

Sean lay unmoving on the grass. Ouches."
"'The krahr is eating your horses,' Arland said. His face was grim. 'If I tell you, what guarantees will I have that this knowledge stays in this room?'

'Who would we share it with?' I asked.

Arland looked at Caldenia. She shrugged. 'The inn is my permanent residence, as you may have heard.'

The vampire turned to Sean. 'Yes, I'll take it to the evening news, because I always wanted to be seen as a complete madman. I would enjoy being locked up for the rest of my life. And my parents, who are still on the planet and are still alien, would be so proud.'

'A simple yes would be sufficient,' Arland said."
Latest posts by Anne - Books of My Heart
(see all)
Related Posts