Review copy was received from Publisher. This does not affect my opinion of the book or the content of my review.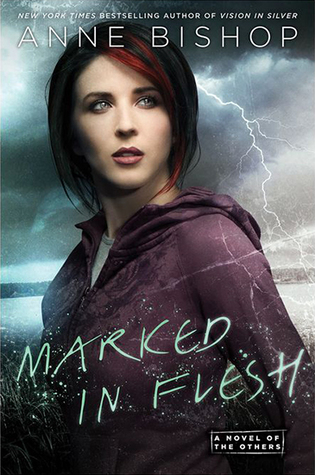 Marked in Flesh
by
Anne Bishop
Series:
The Others #4
Published by
Roc
,
Penguin Audio
on March 8th 2016
Genres:
Urban Fantasy
Length:
15 hrs and 21 mins
Format:
eARC
,
Audiobook
Source:
Publisher
Goodreads
Amazon
, 
Audible




For centuries, the Others and humans have lived side by side in uneasy peace. But when humankind oversteps its bounds, the Others will have to decide how much humanity they're willing to tolerate—both within themselves and within their community...

Since the Others allied themselves with the cassandra sangue, the fragile yet powerful human blood prophets who were being exploited by their own kind, the delicate dynamic between humans and Others changed. Some, like Simon Wolfgard, wolf shifter and leader of the Lakeside Courtyard, and blood prophet Meg Corbyn, see the new, closer companionship as beneficial—both personally and practically.

But not everyone is convinced. A group of radical humans is seeking to usurp land through a series of violent attacks on the Others. What they don't realize is that there are older and more dangerous forces than shifters and vampires protecting the land that belongs to the Others—and those forces are willing to do whatever is necessary to protect what is theirs…


Anne's Thoughts
I have loved every book in The Others series which has a new and unique world premise.  There isn't really romance so much as a development of caring between many types of "people"  and I like that.  Meg is inspiring in her ability to collect friends of all types, which is a very urban fantasy heroine thing to do.
Marked in Flesh is also a departure from the first three books; it's VERY different.  When I had read a third of the way through there were so many people and places.  It's bewildering when trying to organize it all in my head to follow the finer details of the plot.  Previously, the series revolved around Meg and the Lakeside Courtyard.  This is a much bigger picture. Meg is still key but not as present on the page.  
I enjoyed this book and seeing many of those I have cared about in the series.  I sort of expected the things which happened so it wasn't as exciting as the previous books.  I wanted more Meg and more of her working with the other blood prophets.  It will be fascinating to see what happens next, though.  
This book feels like a bridge between the beginning of the series and any future books.  It felt like more details, and confusing details, and fewer emotions because with so many it was harder to care about them. This might be a book which needs to be read again to grasp everything happening.
---

Jennifer's Thoughts
Gods above and below there's lot to remember when getting back into the world that Anne Bishop has built with her The Others series.
Groups/Terms to Remember:
Cassandra Sangue – blood prophet (Meg)
Intuits – gifted humans that live off the land and have premonitions
Terra Indigene or The Others – animals that can shift into humans (Wolfguards, Hawkguards, Crowguards, Bearguard, Sharkgaurd, etc.)
Sanguinati – "vampire" they can turn into smoke and drink blood
Harvester – a soul sucker of sorts (Tess)
Elementals/Ponies – supernaturals that control the elements like wind, water, earth, fire, etc.
The Elders – the oldest and scariest form of the Others. They are the purest form and they are really big!
HFL (Humans First and Last) – stupid ass humans that preach hate against all the other groups or aka Wolf Lovers
I don't know if it's for new this installment, if I don't remember, or if it's because I experiencing this with some of the works I'm reading for school and I'm noticing it more but Marked in Flesh's plot is told a lot through letters, emails, and news articles that give us more POVs from characters that aren't actually on the "page".
While the books in The Others series are geared more toward the Urban Fantasy genre than Romance there's still an underlying tension between Meg and Simon. I don't know that it will ever become anything but it's been fun to watch it develop over time. But because Meg is referenced as being more like a "pup" in maturity and her knowledge of the world she's still a grown woman. There're a few lines in Marked in Flesh that hint at Simon seeing Meg as his mate and even Vlad makes a comment that I don't think Simon got.
I love how the Others in the courtyard (where Meg lives) has grown but still have their quirky animal thoughts. They are so literal…
 "You're pussyfooting around."

Simon stepped back, insulted. "I'm a Wolf. I do not have pussy feet!"
And the letter to "Dear Ms. Know-It-All" from "Balled Wolf", the male wolf that went on a date with a human woman for dinner and some four-play. He didn't understand why it was called four-play when it was just two of them and why she didn't bring toys to play with, and boy did that attempt at a kiss go wrong. LOL!
The Others series is a great and unique series. I highly recommend it and even more so on audio. If you're a reader that has a hard time remembering complex world building and an ever-growing character list then you may want to binge read this series. Waiting a year between releases has me researching some terms and plot points. LOL
Alexandra Harris continues to entertain me with her performance of the characters. So have said that she is too slow but I love her pacing and voices for the characters. I can't picture anyone else doing a better job with the series than Harris does.
Rating Breakdown
Plot
Characters
Overall:
Latest posts by Anne - Books of My Heart
(see all)
Related Posts