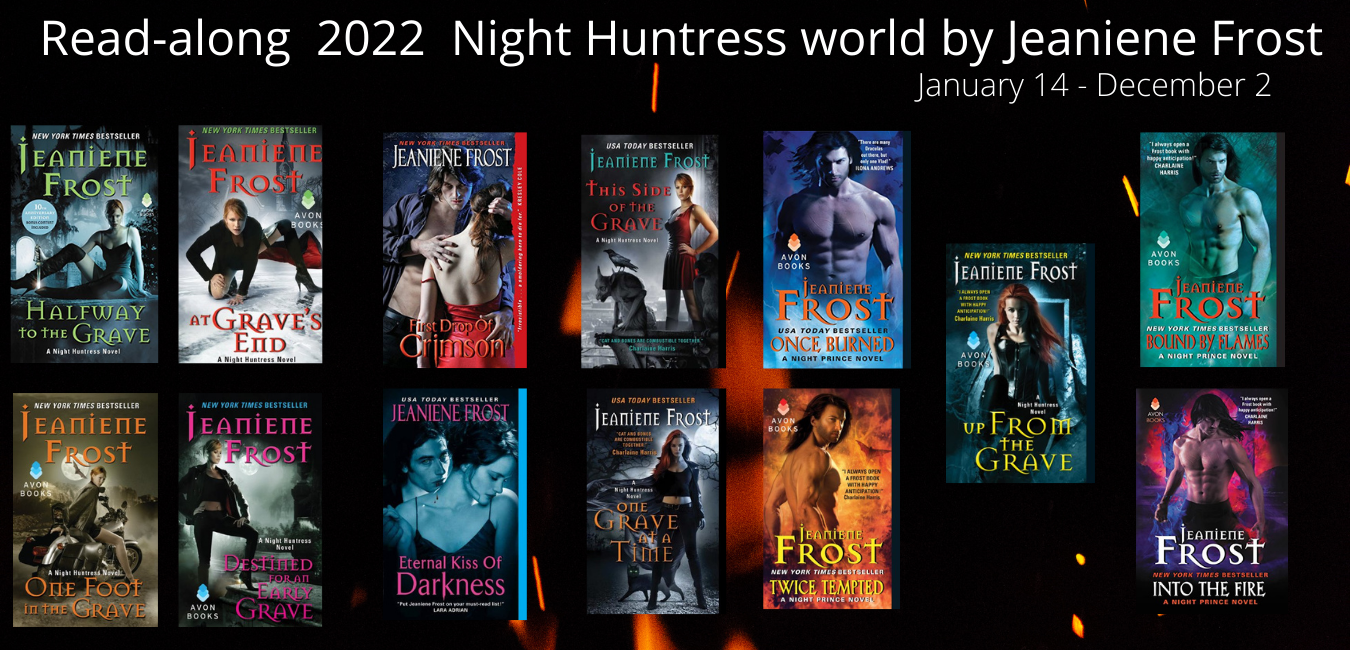 One Grave of a Time
by
Jeaniene Frost
Series:
Night Huntress #9
,
Night Prince #1
Published by
Avon
on June 26, 2012
Genres:
Paranormal Romance
,
Urban Fantasy
Pages:
346
Format:
eBook
Source:
Purchased
Goodreads
Amazon
, 
Audible
, 
Libro.fm
, 
Barnes & Noble
, 
Apple






She's a mortal cursed with dark power....

After a tragic accident scarred her body and destroyed her dreams, Leila never imagined that the worst was still to come: a terrifying ability to channel electricity and to see a person's darkest secrets through a single touch. Leila is doomed to a life of solitude ... until creatures of the night kidnap her, forcing her to reach out with a telepathic distress call to the world's most infamous vampire.

He's the Prince of Night....

Vlad Tepesh inspired the greatest vampire legend of all - but whatever you do, don't call him Dracula. Vlad's ability to control fire makes him one of the most feared vampires in existence, but his enemies have found a new weapon against him: a beautiful mortal with powers to match his own. When Vlad and Leila meet, passion ignites, threatening to consume them. It will take everything they have to stop an enemy intent on bringing them down in flames.
I loved Leila from the first time I met her, and she called herself Frankie. She's a character who's been through a lot, but she took all the lemons life threw at her and made both lemonade and tequila shots!
Vlad is a character who has intrigued me from the first time he showed up in the Night Huntress series, and I was so very happy with what I learned about him in his own story, and in his own words. He's mysterious, he's definitely still very scary, and he has the ability to take care of his people no matter the cost. Betray him, though, and he'll take care of you in the worst way possible!
"This time, his smile widened into a full-fledged, wicked grin that made him almost devilishly handsome. I looked away, not wanting my thoughts to inflate his ego. To distract myself, I concentrated on the scarred hand holding mine. His grip was light, as if I could pull away at any moment, but we both knew better."
Cat and Bones showed up early in the novel, and of course, Bones was able to help Leila wreak some havoc with his advice. Even if Once Burned is fairly dark, with a lot of suspense and mystery, there is humor as well, and this is something I feel that Frost does with gusto.
As the main plot unfolded, Leila had to come to terms with her new life, figure out who she could trust, and deal with people who wanted to hurt her in order to hurt Vlad. Having her father interfere in things he doesn't really understand made things difficult for her, but she still managed to think things through and do what's best for herself.
Reading this whole series again for the Read-along brought me so much pleasure! I noticed some things I hadn't paid attention to when I first read the novels ten years ago, and I still love the characters and the stories as much – if not more – as I did when I first discovered them. 
If you've followed along with the Read-along this year, I'm sure you're just as impatient to get on with the next stories as I am, because Vlad is a character who's worth his own books, and Leila is the woman who can help him with things he never knew he needed.
"He laughed, the sound rolling over me more than once with the echoes in the enclosed hallway. His laughter was so unique – part amused growl, part purr, and all self-assured male. Its effect on me was tangible, turning up my own lips and making me step closer to him before I realized what I was doing."
---
Games:
Who said (enter the answer in the Rafflecopter, don't put in the comments)
Who said                              "No, but with the right incentive, you could get me to wear that short leather skirt and pretend to be. "
There are other options in the rafflecopter for you to enter discussion questions and quotes to share.
The quote for Who said "You're shagging a woman who can turn into a dragon? Blast you, Charles, I am sick with envy!." in One Grave at a Time is Ian.
The villain was  Heinrich Kramer .
---
Share your review/ thoughts on  Once Burned:
I thought it might be fun to link up reviews so we can find them all easily.  It can be a link to Goodreads or a blog, or wherever you have a review (short or long).
Mister Linky's Magical Widgets — Easy-Linky widget will appear right here!
This preview will disappear when the widget is displayed on your site.
If this widget does not appear,
click here
to display it.
---
Observations and questions you shared from One Grave at a Time:
(Thank you  so much for sharing!)  If you can answer any of these numbered questions, you can do so in a comment.
Bones rarely calls Cat "pet" anymore. He only called her "pet" here once.
There's a lot of small things you won't think would cause big plot twists, such as: 1. Cat telling Madigan to study Don's reports on her, lead to Madigan knowing where the cave was and preventing them from trapping Kramer sooner. 2.Chris and the team smoking sage to prevent Kramer from getting to them also lead to Don not being able to warn Justina than Madigan's coming. 3. Cat being annoyed by Kramer after she told him she has witchcraft running through her; they didn't suspect she was the third woman because they just thought he was pissed at her.
Great, interesting, creative and unique intimate scene between Cat & Bones!
Jeaniene referenced the Trojan War twice in this book: 1. Helen of Troy's Garden 2. "I'd have to ask my uncle about their history the next time I saw him. Maybe it was as simple as rivalry over a woman; that had been enough to start the Trojan War, after all."
Can't wait for Madigan to get his comeuppance.
 I was half hoping they'd bring Dexter to Cat's vet ex boyfriend Noah 😂
Cat didn't introduce Spade in her usual "Charles DeMortimer, who renamed himself Spade, the tool assigned to him as a prisoner so he wouldn't forget his helplessness" way.
Cat said on book 1 that she's sentimental, she said it again on this book, where a lot of things from book 1 are reappearing (Timmy, Winston, Bite, the cave, her childhood house, etc.)
Since Kramer can turn to solid form every Hallow's Eve, is there a possibility that he can ruin the trap and escape?
If Bones didn't notice anything suspicious on Sarah, then that must mean Kramer tormented her too like he did to the others. But why would Kramer torment his accomplice, who he needed to do his bidding, when she might end up scared of him like Francine and Lisa?
Cat said that Timmy was a troublesome reporter because of his reports of supernatural. If the team knows about online reports and prevents more people from knowing about the undead, why didn't they, like, shutdown Chris's website or delete Cat's video on it before Madigan found the footage?
Why didn't Justina see Don or heard Madigan's team coming when they were on the RV? Madigan took Chris so that means they went to the RV first and Justina should've felt them and warned Cat and Bones, even if Don couldn't go near her.
I know that Heinrich is imprisoned at the end of the book, but we're just kind of left with that. Does he just stay imprisoned or is there an actual way to kill him?
---
Quotes you readers shared from  One Grave at a Time:
"Pride wasn't the world's worst flaw, and vampire prejudice could be overcome with time. But the lack of a sense of humor was an insurmountable defect, in my opinion."
"That's right, honey, state your claim of Mr. Yummy Pants. I'd do the same if I were you."
"Jeez, looked like no group could totally get along no matter what side of the dirt they were on."
""A Ouija board? That's how you intend to prove we're dealing with a murderous Heinrich Kramer instead of Casper the Friendly Ghost?"
""Just so you know, if I see a bright light while I'm here, I'm running into it without waiting for you to say a damn word,"
""Oh, If you had flesh, I'd beat the ass off you."
""Perhaps others like me cling to our lost humanity more than the rest of them."
"You messed with the wrong White Girl, Motherfucker!"
"For the first time in years, our relationship is solid, no one's actively trying to murder us, and our closest mates are happy. Blimey, Kitten, if I were any more relaxed, I'd need a smoke."
""Bugger me blind and bowlegged!"
"Just last week, I had a woman convinced her trailer was haunted by Tupac, as if he'd want to spend eternity in a double wide that smelled like cat piss."
"We'd always have challenges, but like everyone else, we would tackle them one at a time."
""Meet the vampires."
""This is where you live?" Tyler cast a look around at the steep, forested terrain surrounding our Blue Ridge cabin. "I'm amazed I don't hear banjo music."
"I ignored the quip, reminding myself that near-death experiences were very traumatic for people who weren't used to them."
""You sly matchmaker, you."
"The ghost slapped his face, her hand passing right through. Tyler frowned. "I felt a cold breeze just then. Did she do something?" "She gave a sign of her presence," Bones replied, his lips twitching."
---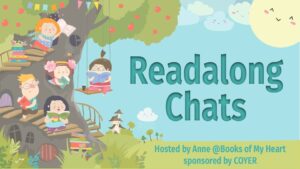 COYER FB Chat – Sunday August 7
Challenge is adopting our Read-along.  You can read about COYER and join that challenge  HERE.   On the Sunday after the review posts, they will host a FB room (like we do for COYER book club) at 12 PT, 2 CT, 3 ET and 9pm Europe, for a one hour chat.  You do not have to join the COYER challenge to participate, only the Facebook group.
If you can't attend, there is also a Facebook messenger chat which has been fun and active, set up following the live chat.
---
Here's your to-do list:
Find your copies of these books, borrow them from a friend, get them at the library or buy them.
Read Book 10, Twice Tempted, by September 9th.
Make note of a favorite quote or two as you read the book.
If you haven't read the books before, make a list of questions you have for the discussion. If you have read them, please don't spoil new readers.
Think of some great questions for Jeaniene Frost for the Q & A post!
Link up your review on Goodreads, FB or other site to the post.
Join the COYER book chat on the Sunday following the post.
Enter the giveaways!
---
Schedule:   
We are doing one book every 3-4 weeks, posting on Fridays. We will have a review for the books with the team here at Books of My Heart plus some of our friends.  We are following the author recommended reading order.
Aug 5:      Once Burned                                –  Lexxie @Unconventional Bookworms
Sep 9:     Twice Tempted                             –  Angela @ Angel's Guilty Pleasures
Oct 7:      Up from the Grave                      –  Melanie
Nov 4:     Bound by Flames                        –  Sophia
Dec 2:    Into the Fire                                   – Berls @ Because Reading
Q & A with Jeaniene Frost
Miss a post?
Jan 14:    Halfway to the Grave               – Melissa @ Tea & Books
Feb 11:    One Foot in the Grave              –  Victoria @ First of All
Mar 11:   At Grave's End                            –  Kimberly @Caffeinated Reviewer
Apr  1:     Destined for an Early Grave   –  Stephanie @ Once Upon a Chapter  
Apr 29:   First Drop of Crimson               – Kai @ Fiction State of Mind
May 20:  Eternal Kiss of Darkness         – Jen @ That's What I'm Talkin About
Jun 10:    This Side of the Grave              – Brandee @Unconventional Bookworms
Jul 8:       One Grave at a Time                  –  Lorna 
---
Jeaniene Frost has also been kind enough to commit to a Q & A post.   I will collect questions for her through September 19th.  I will send your questions to her and she will pick 3-5 questions and send me the response.  I will post her answers in the December 2 post.  So think up some great questions for her!
---
Bonus round – Read a Series in a Month  January 2023:
Jan 8:    Shades of Wicked              –  Carole @ Carol's Random Life in Books
Jan 22:    Wicked Bite                        –  Robin
Feb 5:       Wicked All Night             –   Anne
These are Sunday posts.      There will be one COYER FB Chat at the end of the series on Feb 5th.
---
Be sure to enter the giveaways!!!
Giveaway:
For a US winner, this will be one digital copies ( your choice of her books) generously provided by Jeaniene Frost  (US only) but they can be from Amazon, Barnes & Noble or Kobo.
For an Intl winner,  it will be a print copy of Bound by Flames from Book Depository.
Grand-Prize Giveaway:
For a US winner, this will be 12 digital copies ( your choice of her books) generously provided by Jeaniene Frost  (US only) but they can be from Amazon, Barnes & Noble or Kobo.
For an Intl winner,  it will be $50 at Book Depository.
Latest posts by Anne - Books of My Heart
(see all)
Reading this book contributed to these challenges:
Related Posts