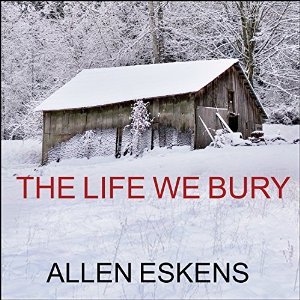 The Life We Bury
by
Allen Eskens
Narrator:
Zach Villa
Series:
Detective Max Rupert #1
Published by
Tantor Audio
on June 9, 2015
Genres:
Mystery
,
Suspense
Length:
8 hours, 24 minutes
Format:
Audiobook
Source:
Library
Goodreads
Amazon
, 
Audible
, 
Audiobook
, 
Barnes & Noble






College student Joe Talbert has the modest goal of completing a writing assignment for an English class. His task is to interview a stranger and write a brief biography of the person. With deadlines looming, Joe heads to a nearby nursing home to find a willing subject. There he meets Carl Iverson, and soon nothing in Joe's life is ever the same. Carl is a dying Vietnam veteran-and a convicted murderer. With only a few months to live, he has been medically paroled to a nursing home after spending thirty years in prison for the crimes of rape and murder.

As Joe writes about Carl's life, especially Carl's valor in Vietnam, he cannot reconcile the heroism of the soldier with the despicable acts of the convict. Aided by his skeptical neighbor, Lila, Joe throws himself into uncovering the truth. Thread by thread, he begins to unravel the tapestry of Carl's conviction. But as he and Lila dig deeper into the circumstances of the crime, the stakes grow higher. Will Joe discover the truth before it's too late to escape the fallout?
As an Audible daily deal, this caught my eye. The Life We Bury is a mystery, suspense story set in Minnesota. I went right to the library to see if it was available. The themes are favorites of mine. There is also a bit of romance. The kicker for me is having lived in Minnesota for 30 years, I can easily see the Crosstown Highway or Blegen Hall, so it was very fun for me to be in this setting.
While this is the Detective Max Rupert series, he is hardly present. The focus is primarily about a college student, Joe Talbert. Joe has a hard life but handles everything with integrity and compassion, and mostly at his own expense.  His family consists of an alcoholic mother and autistic half-brother. Joe has earned what little he has for himself.
Joe digs to learn the truth about the conviction of Carl Iverson for rape and murder, as he works his English class assignment. Joe and Lilah work as amateur sleuths to figure out what happened.  They are mostly smart and careful. But I expected what happened at one point. I'm listening and screaming in my head – "No. No. Don't be stupid."  Luckily, they are both quite capable but it was very close which added to the suspense.
I enjoyed these characters and their progression so much! They mystery had some great twists and there was some heart-stopping action.   Literally, as soon as I finished reading I was so hyped, I checked out the next audio from the library, The Guise of Another.  I am very curious and excited to continue with this series.
Narration:
I listened at 1.0x speed on this one as I forgot to try any other speed. I thought Zach Villa was a perfect voice for Joe. I liked his performance of Jeremy as well as the female characters like Joe's mother and Lilah. Carl also sounded right for his age and illness. I prefer when the narration doesn't take me out of the story and only adds to the emotions. This worked well for me.
Listen to a clip:

Rating Breakdown
Plot
Writing
Characters
Narration (Audio)
Overall:
Latest posts by Anne - Books of My Heart
(see all)
Reading this book contributed to these challenges:
2018 Audiobook Challenge
2018 Library-Love Challenge
Related Posts