Review copy was received from NetGalley. This does not affect my opinion of the book or the content of my review.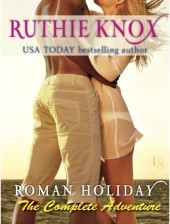 Roman Holiday
Published by
Loveswept
on March 25, 2014
Genres:
Contemporary Romance
Pages:
516
Format:
eARC
Source:
NetGalley
Goodreads
Audible
, 
Audiobook
, 
Barnes & Noble




The wait is over with this eBook bundle that includes all ten episodes of Ruthie Knox's steamy, irresistible serial, Roman Holiday. Like all the greatest road trips, Ashley and Roman's journey is full of unforgettable twists and turns. But what's their final destination?

EPISODE 1: CHAINED
EPISODE 2: HITCHED
EPISODE 3: BLINDSIDED
EPISODE 4: RAVAGED
EPISODE 5: IGNITED
EPISODE 6: MISTAKEN
EPISODE 7: RENOUNCED
EPISODE 8: STRIPPED
EPISODE 9: TRANSFORMED
EPISODE 10: CLAIMED

Ashley Bowman has always been impetuous, but even she is a little shocked when she chains herself to a palm tree in the Florida Keys hours before a hurricane is due to blow in. It's all with the hope of saving her childhood home from a heartless Miami developer. But the moment she meets Roman Díaz she realizes he does have a heart—it's just encased in ice. Ashley's determined to get Roman to crack . . . even if she has to drag him all over the eastern seaboard to do it.

Roman can hardly believe he's been talked into driving across the country with this brazen wild child in a skimpy bikini. He tells himself he had no choice—Ashley insists he meets the elderly snowbirds whose community will be displaced by his career-making development deal. But in truth he knows that there's something about Ashley that makes him want to get a little wild himself . . . and the closer they get, the more tempted he becomes.
ICYMI is a post from my early days of blogging at Yummy Men & KickAss Chicks.   You can see the original joint review here.
Yummy Man – Roman Diaz
Kick Ass Chick – Ashley Bowman
---
I am excited to say I finally got to read all of Roman Holiday by Ruthie Knox, with all ten episodes together in one book,  the complete adventure!   I reread my review of the first episode and I have to say I stand by it.  (You can read my review here.)
I love Ruthie though I find the premise of the rich guy and the poor, young girl off-putting.  I think my own view that fiction should be realistic a bit ridiculous since I read for escape.  But it is as it is.
I came to care about both Ashley and Roman a lot.  I hit the nail on the head when I talked about Roman before.  He was trying to be empty, organized and live to the routine without feelings.  It doesn't mean he doesn't have them, just that he holds them in and doesn't show them.  I SO relate to him.  I have done that often.  I loved the way he felt about Ashley and how honorable he was with all the people in his life.  He grew so much and had so much integrity in being honest with people when it could hurt him deeply.
Ashley was a delight. She is passionate and funny and not sensible.  I recognize myself in her.  I am that passionate and people probably often have thought, and sometimes even told me, my plans were not realistic.  Sadly, so far, when they say that, it only makes it certain I will succeed. While unconventional, Ashley is caring and smart.  She came to terms with many things in her life so successfully.
It was a pleasure to watch Ashley and Roman grow and learn from each other.  I enjoyed their dialogue so much.  I easily crave intimate dialogue even more than sex; I admit it.  Their emotional connection and journey was so satisfying.  So satisfying, I didn't care about the rest of the story as much. The plot details were interesting but some were just beyond my belief.
The other crazy people blurred in the background.  Oh, but there is a connection to Ruthie's Camelot series which is fun since I love that series also.  Ruthie made all the characters real, distinct; I could feel them.  Unfortunately, some of the ideas and sometimes the premise didn't feel so real to me.  I felt Roman's agreement to go with Ashley to be too unrealistic.  Carmen was not very real to me either.  I mean she felt real but I find it hard to believe anyone could live as she did, especially a woman, and the same for Roman, to a lesser degree.
That said, I still really enjoyed Roman Holiday.  If your prejudices aren't as fussy as mine seem to be at this time, and you like books with a strong emotional story blended with wonderfully written characters and you are able to look past some minor questionable plot details, you will enjoy this book too.  Because even with the parts that I found a little too farfetched, I still really loved it.
Latest posts by Anne - Books of My Heart
(see all)
Related Posts