Review copy was received from Publicity team. This does not affect my opinion of the book or the content of my review.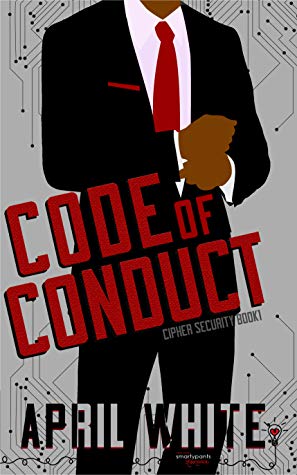 Code of Conduct
by
April White
Series:
Cipher Security #1
Published by
Smartypants Romance
on October 15, 2019
Genres:
Contemporary Romance
Pages:
408
Format:
eARC
Source:
Publicity team
Goodreads
Amazon
, 
Barnes & Noble
, 
Apple





There are three things you need to know about Shane P.I.
1) P.I. is not her last name, it's her job title,
2) Her specialty is catching cheaters, and
3) She's a superhuman - kind of.

Gabriel is a security expert for Cipher Security, and a former UN Peacekeeper with a fierce protective streak that finds its focus on the beautiful P.I.

Their attraction is like an elephant in a room full of breakable things, and figuring out how to trust each other with their hearts, and maybe their lives, is the most fragile thing of all.
Code of Conduct is the first in a new Cipher Security series.  Smartypants Romance is a new group of books, written by different authors, which are sort of like Penny Reid fanfiction but with all professional writers.  The stories are set in worlds Penny Reid has developed.
I've read two Smartypants books and enjoyed them both.  I love Penny Reid's work and it is fun to be back in her worlds.  Cipher Security is Quinn Sullivan's company.  Quinn is the beginning of the world in Neanderthal Seeks Human in the Knitting in the City series.  I would say you don't have to have read that series but it would help. It would also be more fun for you, as those characters are frequently woven into the story.  My only issue is that the characters seem somehow sort of smug, like they are a special group.  They are special and have a great group of friends / family but it seems a little like they know it here.
Gabriel is a nice guy, although too worried about being judged for past work. His family is great.  He treats people well and is competent in his work  Shane is like a skittish colt; she keeps herself to herself, not trusting many.  Her past dealt a real blow to her confidence. She doesn't see herself as the smart, beautiful, and fun woman she is.  Gabriel does, though.
Their connection comes about a bit too easily, not so quickly, but the work they do is solid.  The case is interesting to follow.  I do really enjoy the sense of humor displayed by the various characters. The witty dialogue and Gabriel's sensitive and kind ways are wonderful.  I look forward to seeing more of this beloved world in Smartypants romances.
Excerpt:
I pulled up the audio version of the newest Iron Druid book, turned my phone on speaker, and when the tub was full, I sank into the hot water with a sigh. Luke Daniels could read a shampoo bottle and I'd listen, but my mind kept drifting off of Atticus' and Oberon's adventures, and was instead hopping from rock to rock in the garden of ADDATA, the Quimbys, and Gabriel. I wasn't even annoyed when the phone rang and interrupted the story, because I knew I'd have to go back to the beginning of the chapter anyway.

It was on its fourth ring when I finally dried off my hand and reached to answer it, so I hit the speaker button just as I looked at the screen.

Gabriel's name startled me so much I didn't say anything – I just sat up in the tub and stared at the phone.

  "Please say you're not in the bath." Gabriel's voice was quiet, deep, and had a note of pleading in it.

"What do you want, Gabriel?" I moved again, and the water sloshed around me. I knew he could hear it because he groaned softly.

"Where to begin." It was almost a whisper, and the words sent a shiver through me. He cleared his throat and continued in his normal, beautiful voice. "We had a call from Quimby. He said he'd found you and wondered what we were going to do about it." I didn't say anything, and the silence lasted two long heartbeats. "Are you okay?" he finally asked, quietly.

"He saw me turn from Bryn Mawr onto Sheridan. I lost him in the alleys."

Gabriel exhaled. "Good."

"Aren't you supposed to be finding his money? Or his wife? Or something else he misplaced?"

"Do you have his money or his wife?" he asked

 "No."

"Okay."

"Okay? What exactly do you want from me, Gabriel?" I sat forward and the water sloshed again. I traced the ripples with my fingers as I heard his sigh.

"I don't know. I just know that every time you move, I hear the water in your bath, and I imagine …" He exhaled sharply. "Be careful, darling. I don't trust Quimby not to try to hurt you if he can. Don't let him catch you."

 "You haven't caught me yet, and you're far more resourceful than that little man."

He chuckled softly. "Yet." He hung up the phone without saying goodbye, and Luke Daniels' voice returned, continuing the story as I sank down in the water and let its heat lap over the chills on my skin.
Latest posts by Anne - Books of My Heart
(see all)
Reading this book contributed to these challenges:
Related Posts