Review copy was received from Publisher. This does not affect my opinion of the book or the content of my review.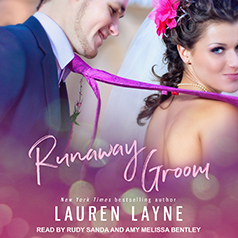 Runaway Groom
by
Lauren Layne
Narrator:
Amy Melissa Bentley
,
Rudy Sanda
Series:
I Do I Don't #2
Published by
Tantor Audio
on February 20, 2018
Genres:
Contemporary Romance
Length:
7 hours
Format:
Audiobook
Source:
Publisher
Goodreads
Amazon
, 
Audible
, 
Libro.fm
, 
Barnes & Noble






For one charming playboy, getting cast on a Bachelor-esque reality TV show is the shock of a lifetime—until he finds love where he least expects it. And now the chase is on!

Gage Barrett's reputation as a ladies' man has been greatly exaggerated, but none of that matters after a drunken bet lands him on Jilted, a reality TV show that matches runaway grooms with wannabe brides. Now he's stuck at a Hawaiian resort with nineteen women competing to drag him back to the altar—and one contestant who's even more miserable than he is. Gage has no idea how feisty, independent Ellie Wright wound up in the cast, but it's obvious she hates his guts. And if there's one thing Gage likes, it's a challenge. . . .

Ellie can't believe she let her best friend talk her into exchanging her dignity for a glorified bikini contest. Still, she could use the exposure—her business is struggling—and she'll probably be one of the first to get eliminated anyway. But Gage isn't the shallow jerk Ellie anticipated—and he's in no rush to send her home. As stolen kisses turn into secret trysts, she finds herself losing track of what's real and what's for the camera. With the wedding finale looming, this runaway groom is tempting Ellie to start believing in storybook endings.
The Bachelor scenario isn't one of my favorite tropes.  Twenty some odd chicks all vying for one man's attention. *gross* I hate almost everything about that situation.  I do admit I've been sucked into a few of the reality shows like it, like Outback Jack (I completely binge watched that show twice) and even a season of the Bachelor *cringe*, but I didn't really think you could make a convincing romance out of it.  However, Lauren Layne proved me wonderfully wrong in Runaway Groom.  
First I'm going to give huge props to Lauren Layne for writing Gage as a guy who sounds like a guy.  I've read other series where the thoughts in men's heads just come off as a dumbed down, sexed up version of a female thought.  But not Gage, he is a guy; he thinks like a guy; he talks like a guy and it was really refreshing.  Gage is also that man who got talked into doing a reality show called Jilted when he lost a bet.
Ellie, on the other hand, is a strong independent woman who just wanted to show a t-shirt on T.V. It isn't any t-shirt but her new fledgling company's product and she thought 'hey this will be easy I'll show up, wear the t-shirt and Gage will send me home early but I'll get my product seen by millions of people'.  Great advertising tactic until the sparks fly between them and it doesn't seem he is inclined to send Ellie home at all.  
Even though there is some chemistry, well a lot of chemistry, Ellie isn't sure Gage is anything close to what she is looking for.  Gage IS Hollywood and her first impression is Hot and Hollow.  But that isn't the real Gage; that is the Gage playing a part and the more time they spend together the more she sees the man behind the name.  
One of the best things about this is the dual PoVs from both Ellie and Gage.  We get to see inside both their heads for the entirety of the book.  This is the only way this romance works, as Gage thinks about the other contestants on the show and the situation he has gotten himself into.  
I loved the way Ellie and Gage were with each other.  She just wasn't what he was used to or expected and he isn't what she thought she wanted but even Ellie can't deny the attraction between them.  I adored the banter between the two and how well they could play off each other.  There are cute little secret meetings between them and they find a few ways to be together off camera that grow hotter as the book goes on.
I've loved Lauren Layne as a Contemporary Romance writer since reading her Sex Love Stiletto series. I have not read the first book of this I Do I Don't series and just jumped into the second, which didn't hinder my enjoyment at all.  Gage and Ellie were a lot of fun so I will be checking out the entire series.
Audio Note:  Amy Melissa Bentley and Rudy Sanda do a fantastic job at narrating the various PoVs of the story.  I enjoyed the delivery of each and Rudy's voice had a wonderful sexy timber to it. So I looked up other books he has narrated so I can have some ear candy on hand in the future.  Wonderfully performed
Notable Quotables:
But once, just once, I want someone I care about to look at the crapshoot that is my life, to take in the Jilted contract and the Killboy movie shoots and the never-ending tabloid rumors and say, "Yeah, that stuff sucks, but Gage is worth it."
I want to be worth it.
Just once.

—Gage Barrett
"Send me home, Gage. Please. It'll be better for both of us."
He studies me. "You really want that?"
"I'm a businesswoman, not a groupie."
He's silent for a moment. "True. You did compare my eyes to avocados."
"Exactly. You usually get, what . . . moss?"
His lips twitch, although the smile doesn't reach his mossy eyes. "Emeralds, mostly."

—Gage Barrett and Ellie Wright
Listen to a clip here;
Rating Breakdown
Plot
Writing
Characters
Dialogue
Narration (Audio)
Overall:
Related Posts