Review copy was received from Publicity team. This does not affect my opinion of the book or the content of my review.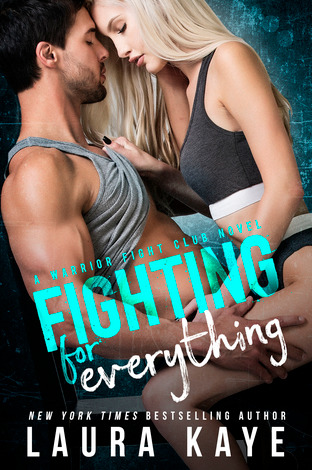 Fighting For Everything
by
Laura Kaye
Series:
Warrior Fight Club #1
Published by
Self-Published
on May 22, 2018
Genres:
Contemporary Romance
Format:
eARC
Source:
Publicity team
Goodreads
Amazon
, 
Barnes & Noble






Home from the Marines, Noah Cortez has a secret he doesn't want his oldest friend, Kristina Moore, to know. It kills him to push her away, especially when he's noticing just how sexy and confident she's become in his absence. But, angry and full of fight, he's not the same man anymore either. Which is why Warrior Fight Club sounds so good.

Kristina loves teaching, but she wants more out of life. She wants Noah—the boy she's crushed on and waited for. Except Noah is all man now—in ways both oh so good and troubling, too. Still, she wants who he's become—every war-hardened inch. And when they finally stop fighting their attraction, it's everything Kristina never dared hope for.

But Noah is secretly spiraling, and when he lashes out, it threatens what he and Kristina have found. The brotherhood of the fight club helps him confront his demons, but only Noah can convince the woman he loves that he's finally ready to fight for everything.
Laura Kaye is a master with ex-military heroes.  Noah and Kristina are exceptional characters in ordinary lives. Fighting for Everything is a fast and furious emotional journey. Both Noah and Kristina show tremendous strength of character and personal growth. I was totally captivated.
Noah with his injuries and struggle to rejoin civilian life has some real issues. Kristina is amazing with him, very caring. But he needs to make his own progress.  I loved the concept and characters of the fight club. I felt bad Noah couldn't accept Kristina's support more quickly. They've been friends for 20 years so she was able to be very patient with him. Kristina was in a better position, with less change in her life, to be honest with herself.
I'm very excited to have more stories in this   Warrior Fight Club series.   The compassionate people involved in the club are uplifting and heart-warming. Fighting For What 's His is the next available in August and is sure to be another winner.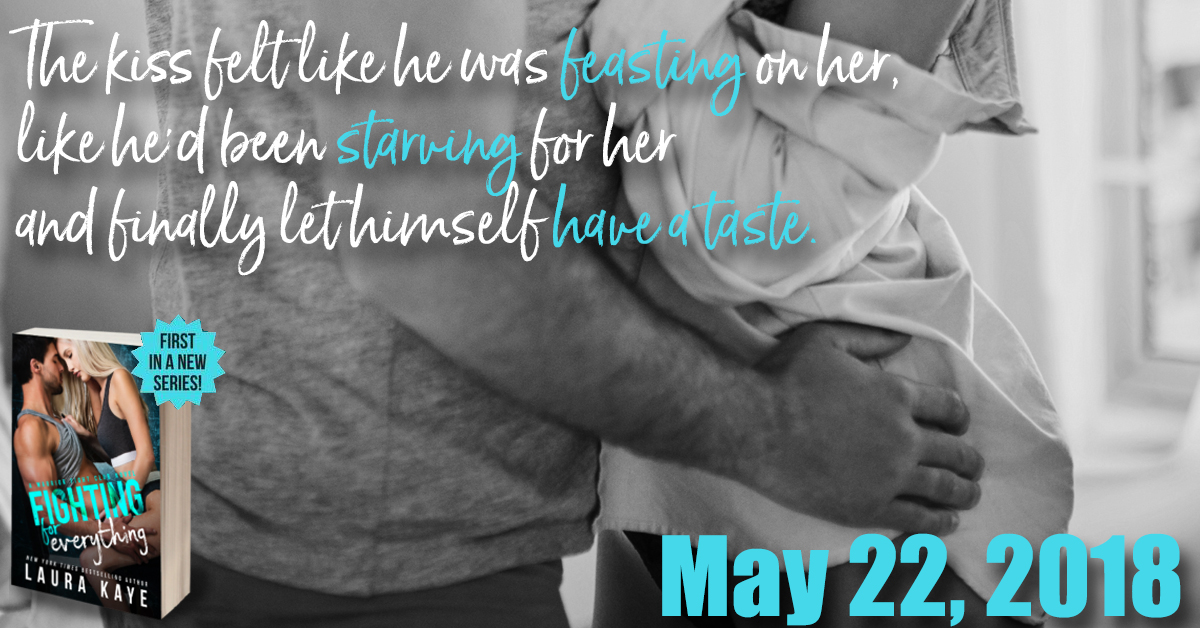 Standing there in the arms of her best friend, Kristina knew she had to stop this…whatever this was.

Tilting her head back, the words were on the tip of her tongue. Her eyes locked with Noah's, and even in the dimness she could see that they were blazing hot and almost predatory in their directness. It stole her capacity to speak, because she was unequivocally sure he'd never looked at her like that. Need roared off of him and through her, spiking her arousal so hard and fast that she became wet between her legs.

From just a look.

Heart pounding like a bass drum, Kristina swallowed hard. What would she do if he kissed her? One kissing experiment aside, she'd never had to ask that in regard to him. Another question followed close behind: what would she do if he didn't?

He didn't give her the space to debate. His hand fisted in the back of her hair. The roughness licked flames through her and sent her heart into a sprint. And then he was guiding her head, bringing them together, bringing his face closer and closer to hers. His gaze dropped to her lips, and a shaky breath caressed her skin.

Noah kissed her.

The first press of his lips against hers was soft and sweet, and she thought she might shatter from the shock of sensation just that light touch delivered. The one that made her want to forget who he was and what he was to her and climb him like a tree.

This is Noah. This is Noah. This is Noah.

Kristina had never wanted anything like this with him. Never before. But now that she'd had a taste, it was like she'd never eaten a meal in her life. His lips skated over hers, and she moaned at the unexpected goodness of it.

And it was like the sound burst some dam inside him. On an answering groan, he planted both hands in her hair and kissed her harder than she'd ever been kissed in her life. His mouth claimed, his tongue penetrated, his body grinded against hers. He pushed her against the opposite side of the door frame, pinning her there with all his muscled strength.

It was stunning. It was glorious. It was so wrong.

This is Noah. This is–

So freaking good.

The kiss felt like he was feasting on her, like he'd been starving for her and finally let himself have a taste. His desire was thrilling. His rough intensity was breath-stealing. His need fueled hers. Against his chest, her nipples ached to be tugged and sucked. She clenched her thighs together, dying for relief from the inferno he'd ignited inside her. She sucked hard on his tongue and ran her hands up the corded muscles of his biceps to grasp his thick shoulders, trying to anchor herself against the storm his desire had unleashed in both of them.

Her brain tried to remind her why she'd come down here, that she'd wanted to confront Noah-her best friend, Noah, but then his hands skimmed down her body-over her breasts, her belly, to her hips-and his clutching, urgent touch chased the thoughts away.

Later. There'd be time for talk, for thought, for consequences…later.
Latest posts by Anne - Books of My Heart
(see all)
Reading this book contributed to these challenges:
2018 New Release Challenge
Related Posts