Review copy was received from Publisher. This does not affect my opinion of the book or the content of my review.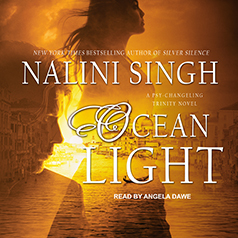 Ocean Light
by
Nalini Singh
Narrator:
Angela Dawe
Series:
Psy-Changeling Trinity #2
Published by
Tantor Audio
on June 12, 2018
Genres:
Paranormal Romance
Length:
12 hours, 51 minutes
Format:
Audiobook
Source:
Publisher
Goodreads
Amazon
, 
Audible
, 
Audiobook
, 
Barnes & Noble





Security specialist Bowen Knight has come back from the dead. But there's a ticking time bomb in his head: a chip implanted to block telepathic interference that could fail at any moment--taking his brain along with it. With no time to waste, he should be back on land helping the Human Alliance. Instead, he's at the bottom of the ocean, consumed with an enigmatic changeling...

Kaia Luna may have traded in science for being a chef, but she won't hide the facts of Bo's condition from him or herself. She's suffered too much loss in her life to fall prey to the dangerous charm of a human who is a dead man walking. And she carries a devastating secret Bo could never imagine...

But when Kaia is taken by those who mean her deadly harm, all bets are off. Bo will do anything to get her back--even if it means striking a devil's bargain and giving up his mind to the enemy...
A tale of underwater changelings and the human who volunteered to be their science experiment.
Bowan has been a character  I've had mixed feelings about in prior books of this Psy-Changeling Trinity series.  I didn't get all of Bo's motivations to put a dangerous experimental chip in his head that protects him from psy manipulation but is also killing him slowly as well.  Ocean Light digs into Bo's head literally and we learn not only why the leader of the human alliance is so committed to the group but what it has cost him.
Kaia is the sweetest sea changeling and takes care of everyone.  She is the mother figure for everyone on the underwater site that Bowan was taken to in hopes of finding a way to save him from the degrading chip in his head.  There is something about the wounded human that calls to her and it is the first time she has felt a pull this strong to another being.
The attraction between the pair starts off really strong and immediately.  Sure, it is a little fast but Bowan might only have weeks to live so there is no time like the present.  As always with this series, the story is heavy on the romance front but there is a bit of action in this more towards the end.  Since this is our first journey under the sea Nalini spends a lot of time on how the culture of the water changelings works and some of the very cool things you can do in an underwater base.
All the action came closer to the end.  It seems some are not happy about some Psy, Changeling and Humans trying to build bonds together and they are trying to sabotage the newly made bonds.  It looks like there might be multiple races working together to bring down The Trinity and it gets a bit nail bitey for a little while.
There are some great but short cameos by series favorites including Mercy, Kit, Vasek and Ivy as well as Kaleb and Sahara.
Ocean Light is the second book of a spin off series to Nalini Singh's Psy-Changling series.  You could also think of it as Psy-Changling #17 instead. While I don't think you need to have read all 16 of the other books to understand or enjoy the story, I do think you should definitely read Silver Silence before starting this journey.
Narration:
For me, Angela Dawe is Psy-Changeling.  I can't think of one without the other after listening to over 17 books with her voice.  She does a fantastic job of conveying the emotion of this series so well. I have liked every performance by her for this series.  
Listen to a clip:

JIAM Giveaway:
This giveaway is described in detail on the Series on Saturday post.  Because of shipping, this will be US only.  I have listed the titles which are available for the giveaway. They are all first in the series.  I will start with picking one winner.  For every five new subscribers to the blog, I will pick another winner. Winners will have some input as to which audiobook they prefer. So tell your friends about the giveaway and the blog!   Any I do not give away this month will be given away at a future date.
Blood of the Earth  by Faith Hunter,  narrated by Kristine Hvam  (MP3)
Clean Sweep by Ilona Andrews, narrated by Renee Raudman  (CDs)
Nice Girls Don't Have Fangs by Molly Harper, narrated by Amanda Ronconi (CDs)
Red Sister by Mark Lawrence, narrated by Heather O'Neill  (CDs)
Skinwalker by Faith Hunter, narrated by Kristine Hvam  (Mp3)
Related Posts