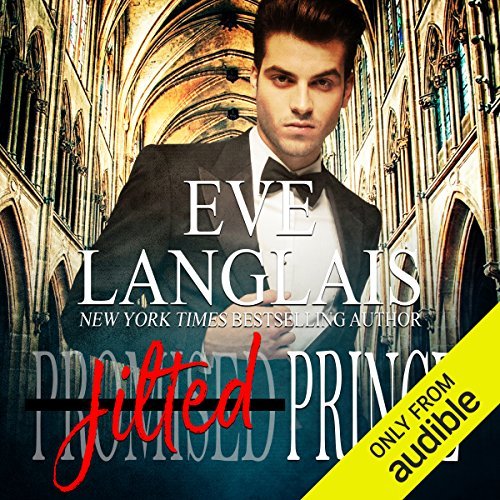 Jilted Prince
by
Eve Langlais
Narrator:
Tyler Donne
Series:
Hell's Son #2
Published by
Audible
on March 29, 2018
Genres:
Urban Fantasy
Length:
7 hrs and 51 mins
Format:
Audiobook
Source:
Publisher
Goodreads
Amazon
, 
Audible
, 
Audiobook
, 
Barnes & Noble
, 
Apple





She left him at the altar, but the Devil is making him keep his promise.

Destiny is calling Chris, yet someone forgot to give him an instruction manual on conquering the world. Being the Antichrist is all well and good, but how is he supposed to know how to bring about Armageddon? He's still waiting for his army of minions, the glory, the riches. And where is the respect?

You'd think any woman would be ecstatic at the thought of marrying the future ruler of the world.

Not Isobel.

She keeps spouting things like "forced to get married," "love me for myself, not because Daddy made you."

It doesn't help that his psychotic mother with a penchant for playing with dead things has taken an interest. However, having her henchman of the apocalypse attempt to kidnap him isn't the way to get in his good graces.

Things are starting to get complicated on Earth. Dark forces are rising, Chris's powers are still developing—and he's pretty sure his dad, Lucifer, wants him dead. What's the destroyer of the world to do?

Point him to the nearest bar. This calls for more beer.

So this is the second book in Eve Langlais' Hell's Son series. It picks up at the end of the first book, Lazy Son. If you aren't familiar with this series, it is set in the same hilarious world as Princess of Hell and Welcome to Hell series. You don't have to have read either of those series to read this one, but you will get some cameos and easter eggs if you've read them.
So this series is told from the POV of Christopher, the Antichrist, son of Lucifer. He wasn't raised by his biological mother, because she was hiding him from Lucifer. He was given to a woman and he was worshiped as the Prince of Hell. The "mother" who raised him is in prison now for murdering her boyfriend (in her defense, the boyfriend tried to poison Chris when he was only 10).
Isobel is granddaughter of the infamous wizard, Rasputin. She is a witch and has been wearing a magical chastity belt. Her grandfather had a bet with Lucifer, and Rasputin has to provide Lucifer with a virgin to wed. Lucifer decides to weasel out of it by making Chris marry her. They both know they are being coerced into a marriage, but neither knows who the other person is. That is until they meet at the end of the aisle and the veil is raised. This does not sit well with Isobel.
This is another really funny addition to this world that Eve has created. I'm a huge fan of Lucifer. He is just great, but I love all the characters around him too. There is some suspense as Chris tries to complete the impossible task which Isobel has put in front of him. His biological mother is messing with things too. Chris is pulled in different directions as people are trying to prevent or cause the apocalypse. I can't wait to see where the series goes from here for Isobel and Chris.
Narration:
This is the second book I've listened with Tyler Donne (the first being Lazy Son). I like his voices for the characters. I think his pacing is great. I just feel like he could bring out the humor in the book more. I'm not sure exactly what it is, but there are narrators who really bring out the humor in a story (Abby Craden and Tillie Hooper have done this for other Eve series). He isn't bad at all. I would just like to see a little more emotion and humor in his telling.
Listen to a clip.
Rating Breakdown
Plot
Writing
Characters
Dialogue
Narration (Audio)
Overall:
Related Posts