Review copy was received from Library. This does not affect my opinion of the book or the content of my review.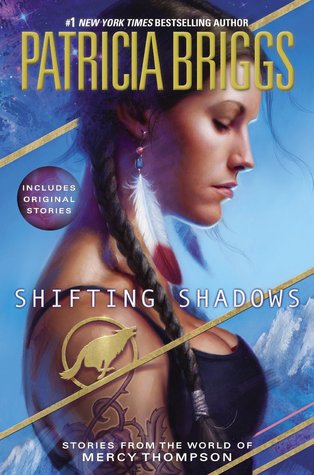 Shifting Shadows
by
Patricia Briggs
Series:
Mercy Thompson
,
Alpha and Omega
Published by
Ace
on 09-02-2014
Genres:
Urban Fantasy
Pages:
464
Format:
eBook
Source:
Library
Goodreads
Amazon
, 
Audible
, 
Libro.fm




Mercy Thompson's world just got a whole lot bigger…

A collection of all-new and previously published short stories featuring Mercy Thompson, "one of the best heroines in the urban fantasy genre today" (Fiction Vixen Book Reviews), and the characters she calls friends…
SHIFTING SHADOWS is a short story anthology in the world of Mercy Thompson and includes the world of Charles & Anna.  Patricia Briggs is a talented and engaging writer and I always have enjoyed everything of hers I have read.  This is no exception.
The short stories included are:  Silver, Fairy Gifts, Gray, Seeing Eye, Alpha and Omega, The Star of David, Roses in Winter, In Red with Pearls, Redemption,  and Hollow. There were also two outtakes, one from Silver Borne and one from Night Broken.  Here are few brief thoughts on my favorites. Which apparently is pretty much all of them!
Silver –  This was a great story to have as it gave us the history of Samuel and Ariana.  I really appreciated it. It included history in a world-building sense, also.
Gray –  This doesn't feel like it is connected to the series very well but I thought it was a wonderful story.   I don't really remember the characters from the series but I liked them.  It connects in a world-building way. It is a Chicago setting with vampires.
Alpha and Omega – This is the beginning novella in the story of Charles & Anna. I read this awhile ago and love, love, love it.  It has a Chicago setting with werewolves.
The Star of David –  The backstory on David who I well remember from Mercy's world.  His history of becoming a werewolf and it tells the effects on his family over the years.
Roses in Winter –  Set in Montana, this has the Marrok and Asil with information on what happens with new wolves, old wolves,  and a bit about pack politics.  That's all good for me.
In Red, with Pearls – Warren tells us about his newish job working with Kyle.  It's in Warren's point of view and other than the people trying to kill people, it's funny.  What more is there to say?  I adore them.
Redemption –  A dear, funny story about Ben at work.  It helps me better understand Ben and how the wolves' pecking order goes.
Hollow – Mercy goes out to help people and puts herself in danger. And this somehow surprises you -how?  She decides what to do about her garage which was demolished in Night Broken.
The short outtakes are a key view into the emotions of characters. The one from Silver Borne is Samuel and Ariana meeting after centuries, and it's got some funny.   The outtake from Night Broken is right after the ending with Adam and Mercy in a fun but tender moment. There's not so much of them in private moments during the books with all the action so I appreciated this intimacy.
SHIFTING SHADOWS is a wonderful addition to the series, not to be missed.
Latest posts by Anne - Books of My Heart
(see all)
Related Posts