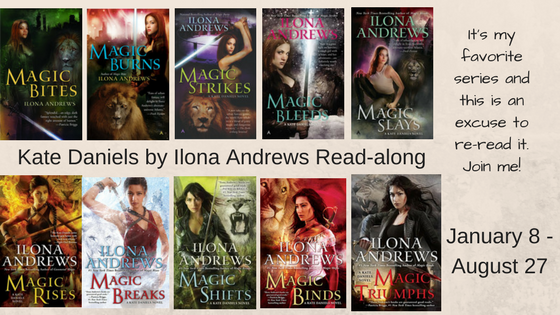 Before we begin, just a reminder this post and its comments will include spoilers for the previous books in Ilona Andrew's Kate Daniels series.  This read-along is for those who have read the books previously and also for those who are new to the series, so please no spoilers for books beyond the one featured in the discussion this week.
Book 8: Magic Shifts
Review copy was received from Publisher, Purchased. This does not affect my opinion of the book or the content of my review.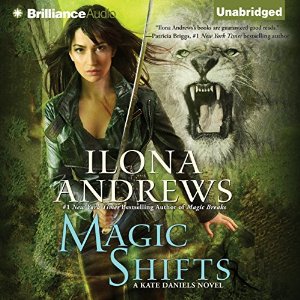 Magic Shifts
by
Ilona Andrews
Narrator:
Renée Raudman
Series:
Kate Daniels #8
Published by
Brilliance Audio
on August 4, 2015
Genres:
Urban Fantasy
Length:
14 hours, 10 minutes
Source:
Publisher, Purchased
Goodreads
Amazon
, 
Audible
, 
Audiobook
, 
Barnes & Noble






When the magic is up, rogue mages cast their spells and monsters appear, while guns refuse to fire and cars fail to start. But then technology returns, and the magic recedes as unpredictably as it arose, leaving all kinds of paranormal problems in its wake.

Kate Daniels is a down-on-her-luck mercenary who makes her living cleaning up these magical problems. But when Kate's guardian is murdered, her quest for justice draws her into a power struggle between two strong factions within Atlanta's magic circles.

The Masters of the Dead, necromancers who can control vampires, and the Pack, a paramilitary clan of shapechangers, blame each other for a series of bizarre killings—and the death of Kate's guardian may be part of the same mystery. Pressured by both sides to find the killer, Kate realizes she's way out of her league—but she wouldn't have it any other way…
"No. Not my circus, not my undead monkeys."
Once again, I slipped right into the world. I was anxious to see how Kate and Curran were adjusting to their recent changes. You would think that life might be a little quieter. Pfft. Nope. This is Kate and life is never dull. I wondered how Gordon and Ilona were going to keep the same intensity and keep Kate and Curran's relationship fresh without a bunch of drama like the tiffs we have previously endured. I should not have worried. This writing team is brilliant. All the changes in Magic Shifts were for the good and I am over the moon excited. They breathed new life into this series allowing for endless story scenarios. Oh yes, there are threats and darkness in our future.
"Try to look casual." I pulled the top book out and put it on the desk.
"Why?"
"Because what I'm doing is illegal without a warrant, and we have about twenty witnesses observing our every move."
Curran crossed his arms, making his biceps bulge, leaned against the desk, and fixed our audience with his stare. Everyone spontaneously decided to look anywhere else but at us. Right. Casual, my foot.
"See," he said. "No witnesses."
As always, there are several different threads to keep us listening and abandoning reality. A case involving a missing person has us battling a new threat. The Andrews tackle Arabian mythology and reanimated metamorphosis. I am talking freaky folks and oh lord they gave me the shivers. The creatures are dark; the battles are gritty and ironically as beautiful as they are dark. No detail is wasted creating a three-D image of the scenes in my mind. Oh and Daddy makes an appearance because Kate's life is not stressful enough. Poor Kate takes a beating and gets herself into some serious trouble pushing her to accept she cannot always be in the thick of things. I love that she is continually growing and evolving.
"DOES EVERYBODY THINK I am an asshole?" Curran asked.

"Only people who know you or have met you."
Despite the changes, we see many of the characters we have come to love as they step into new roles. While in many ways, Magic Shifts could be viewed as a bridge book it still delivered the quality and richness we have come to expect from this writing duo. Brilliant with humor, character growth, interesting developments and tantalizing teasers of things to come. I was completely mind-blown away. I laughed aloud, screamed and became fully engaged in listening.
"Do we have a flamethrower?" Curran asked.
"No."
"We should get a flamethrower."
Magic Shifts was as fresh and exciting as the first book in the Kate Daniels series and I cannot wait to continue listening. Renée Raudman has become synonymous with the name Ilona Andrews and I hope this partnership never ends. She brings the characters to life and makes listening to this audiobook an adventure.
Listen to a clip: HERE
Magic Shifts for the win. Read it, Own it, Love it.

Here is the link to the original view on
Caffeinated Reviewer
:
Who said:
"Your horse is a donkey, your poodle is a giant wolf breed, and your boyfriend is whatever the hell he is. You have problems."
Schedule and wrap up:   
We are doing one book every four weeks, posting on Mondays. We should have a review for most of the books with the team here at Books of My Heart plus some of our blogging friends.
Aug 27:     Magic Binds
Aug 28:     Magic Triumphs (release day!)
---
Miss a post?
Jan 15:  Magic Bites
Feb 12:  Magic Burns
Mar 12:  Magic Strikes
Apr  9:  Magic Bleeds
May  7:  Magic Slays
Jun  4:  Magic Rises
Jul  2:   Magic Breaks
---
The winner of last book's giveaway is:      Mary C.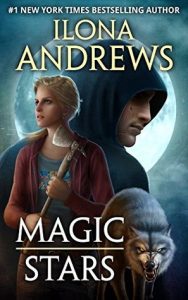 This Book's Giveaway:
Read-along Giveaway: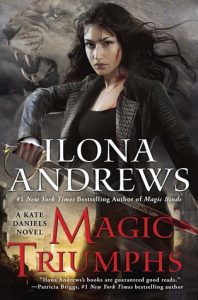 Rating Breakdown
Plot
Writing
Characters
Dialogue
Narration (Audio)
Overall:
Latest posts by Anne - Books of My Heart
(see all)
Reading this book contributed to these challenges:
Related Posts