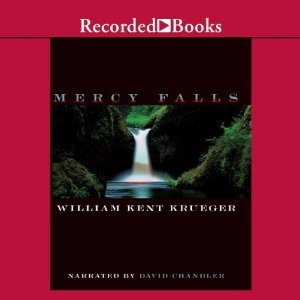 Mercy Falls
by
William Kent Krueger
Narrator:
David Chandler
Series:
Cork O'Connor #5
Published by
Recorded Books
on October 24, 2008
Genres:
Mystery
,
Suspense
Length:
11 hours, 31 minutes
Format:
Audiobook
Source:
Library
Goodreads
Amazon
, 
Audible
, 
Audiobook
, 
Barnes & Noble





"Back on the beat as sheriff of Tamarack County, Cork O'Connor has already seen his beautiful Northwoods jurisdiction through an eventful summer. Now, as the chill of autumn sweeps through the countryside, he's about to face a season of murder, adultery, and deceit that will take him from seedy backwoods bars and humble reservation shanties to the highest and most corrupt echelons of Chicago society."

"Lured to the nearby Ojibwe reservation on what appears to be a routine domestic disturbance call, Cork finds himself the target of a sniper's deadly fire. He has little time to worry about his own precarious situation, however. Soon after the shooting, he's called to investigate a mutilated body found perched above the raging waters of Mercy Falls. The victim is Eddie Jacoby, a Chicago businessman involved in negotiating an unpopular contract between his management firm and the local Indian casino."

"Now Cork must deal with a high-profile murder contaminated with the blood of the rich and powerful. Sparks fly when the wealthy Jacoby family insists on hiring a beautiful private investigator named Dina Willner to consult on the case. But once Cork discovers an old and passionate tie between one of the Jacoby sons and his own wife, Jo, he begins to suspect that the events in Aurora have a darker, more personal motive than he could ever have imagined."

With his life at stake and the safety of his family in question, Cork must squelch the growing suspicion that another man desperately wants his wife, and at the same time resist the passion heating up between himself and Dina. Murder, greed, sex, and jealousy all play a part in the maze of danger and intrigue Cork is caught in. But somewhere, hidden beneath the turbulent depths of Mercy Falls, lie the answers, and Cork is determined to find them.
Read It, Rate It and Record   
A short review to update challenges
I really am loving this  Cork O'Connor series.  It took me almost 3 months to get back to this series which is so frustrating but there are many great things to read. I'm incredibly grateful my library has these on audio.  I continue to wonder at the number of murders in a small, remote area but there are also big power and politics: the casino, the lumber industry, and a tourist industry as well.  The law enforcement does probably cover a larger area with lower populations.
The blurb does an excellent job of stating the situations in Mercy Falls. There is plenty of action, mystery, and plot. I am disappointed in both Cork and Jo, as they exhibit some TSTL actions in the face of current dangers. They also needed to be a bit more protective of their personal relationship. Their desire for the truth has killed the cat.
I hope I can get to more of these soon. I'm glad I have some books to go before I catch up to current. Mercy Falls ends in a cliffhanger, so it's on to Copper River.
Narration:
David Chandler continues to handle the series in a performance which is a pleasure for me. The voices are all comfortable, both male and female. I was able to listen at my newer 1.5x speed.  The Minnesota locations and Indian words were pronounced as I expected.
Listen to a clip:  HERE
Rating Breakdown
Plot
Writing
Characters
Narration (Audio)
Overall:
Latest posts by Anne - Books of My Heart
(see all)
Reading this book contributed to these challenges:
2019 Audiobooks
2019 Library-Love
BTB 2019
Related Posts