Review copy was received from NetGalley. This does not affect my opinion of the book or the content of my review.
Circle of the Moon
by
Faith Hunter
Series:
Soulwood #4
Published by
Ace
on February 26, 2019
Genres:
Urban Fantasy
Pages:
368
Format:
eARC
Source:
NetGalley
Goodreads
Amazon
, 
Audible
, 
Libro.fm
, 
Barnes & Noble
, 
Apple





Nell can draw magic from the land around her, and lately she's been using it to help the Psy-Law Enforcement Division, which solves paranormal crimes. Joining the team at PsyLED has allowed her to learn more about her powers and the world she always shunned--and to find true friends.

Head agent Rick LaFleur shifts into a panther when the moon calls him, but this time, something has gone wrong. Rick calls Nell from a riverbank--he's naked, with no memory of how he came to be there, and there's a dead black cat, sacrificed in a witch circle and killed by black magic, lying next to him.

Then more animals turn up dead, and team rushes to investigate. A blood-witch is out to kill. But when it seems as if their leader is involved in the crime, the bonds that hold the team together could shatter at any moment.
Robin and I discussed our ideas and I am paraphrasing them. I couldn't have done this without her. I really needed to talk things out because there were some confusing aspects.  The Soulwood series is urban fantasy so I would definitely read these in order to not be lost. We debated about whether one needs to read the Jane Yellowrock series (we both have) but I think you could just read the novella Cat Tats,  or read it as part of the anthology of shorts Blood in Her Veins, and it would be fine. Robin had read all the books but not the novellas. I really think one should make an effort to read at least Cat Tats in advance.  Robin and I were both distracted by wondering about certain things on the Jane side, while reading.
As much as we have hated Rick in the past, we almost felt sorry for him. He's having all kinds of problems and it isn't even the full moon.  Once the villains are known, Rick is actually kind to them, protective of them, even when we know they are lying.  With Rick showing a much softer side and not seeming like so much a dick, there is room for the new D I C (Dick in Charge) in Firewind.
The investigation into what is happening with the circles is handled really well considering all the secrets. I mean – way too many secrets. Rick has secrets; Nell has secrets; Margot has secrets. The witches have fled, rather than help. Nell has trouble contacting Jane or the Youngers or anyone who might provide more information.
Nell is also getting ready for Mud to live with her. It means some upgrades to the house. She also needs to find someone to care for her when Nell is at work. I was severely worried about Mud's safety several times because she was NOT safe at Nell's office or home or with the church family. Because of course, some churchmen are still into their way of the polygamous cult. I didn't feel Nell gave this enough attention.
Nell also worried us because she continues to use her own talents without knowing the consequences and does too many things without backup.We both understand how she doesn't want to share her secrets or in some cases cede control but if you are going to be on a law enforcement team, you must have backup.
Nell is broken in a lot of ways due to her childhood growing up in the polygamist church. She is still so innocent in the ways of love and real world courtship, so it is incredibly cute and semi-frustrating, since we just want her and Occam to kiss.  Occam was adorable in his declaration of love for Nell. We loved it and thought it was absolutely perfect. She needed someone to take the reins but also to give her control, since she has never really had that.
Circle of the Moon seems to be a turning point of sorts.   There are changes for Rick, Nell, Mud, Unit 18, and on Jane's side of things.   We're fascinated to see where things will go with cases and how connected they are to Jane.
Faith Hunter And Her Heavy Drinkers
It's no secret that I have a drinking problem. Tea addiction is not always a pretty thing.  Like coffee drinkers, I drag out of bed, stumble down the stairs, and go straight to the pot. Tea pot, not the currently illegal kind. I usually go through a pot of good chai with peri-peri peppers, stevia, and cream (the real stuff, not the powdered or chemical or palm oil stuff, thank you very much) before lunch.  In fact, tea is my breakfast. It's also my desert after supper when I tend to dive into the herbal, non-caffeinated kind. Because I do like to sleep at night.

My characters tend to be heavy drinkers too. It's one of the few ways my characters are like me. There's Jane Yellowrock with her strong, caffeinated tea—the good kind as well as the comfort kind, with Cool Whip or aerosol  whipped cream in a can. It sounds gross, but if you're out of cream, it works. Nell Ingram of the Soulwood series, tends to take after night-time me with a good herbal.

Nell has an appreciation for medicinal herbals, probably she grew up in a polygamous cult where the members (especially the women) saw little modern medical help, and used natural substances to treat their medical complaints.  Nell is also not human anymore, being part tree. Yeah, you read that right. Nell Ingram is part tree, so it makes sense she'd like herbal teas, right? Being part tree doesn't get in the way of her job at PsyLED (the Psychometric Law Enforcement Division of Homeland Security) however, because Unit Eighteen is composed mostly of paranormals, like her coffee-drinking boss, Rick LaFleur, who has moon-called problems of his own.

Rick is Nell's boss, and Jane's ex, and he's pretty much addicted to caffeine in the form of Community Coffee Dark French Roast, and because of his addiction, he's shared that lovely coffee with his team. They all like it, even Nell, when she's pulling an all-nighter.  It's the coffee I used to drink when I had a coffee addiction of my own, because the best coffee is Louisiana coffee. Seriously. It's a gateway drug.

So. Got tea?

Faith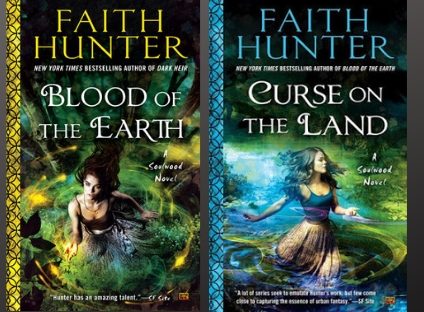 Giveaway:
Five winners will receive the first two Soulwood novels! ( BLOOD OF THE EARTH and CURSE ON THE LAND ) and one $50 Amazon gift card (US residents only)!
Latest posts by Anne - Books of My Heart
(see all)
Reading this book contributed to these challenges:
2019 Releases
COYER WINTER
Related Posts