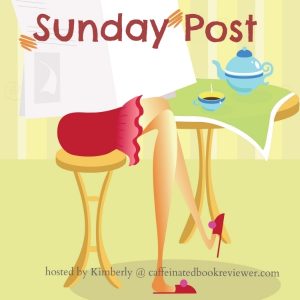 The Sunday Post is a weekly meme hosted by Kimberly  @ Caffeinated Reviewer. It's a chance to share news~ A post to recap the past week on your blog and showcase books and things we have received.
Stacking The Shelves
is also a weekly meme hosted by 
Tynga's Reviews
and Marlene from
Reading Reality.
It's all about sharing the books you are adding to your shelves, may it be physical or virtual. This means you can include books you buy in physical store or online, books you borrow from friends or the library, review books, gifts and of course ebooks!

Don't forget to look at my giveaways on the right sidebar.
I started adding in the review copies I received then noticed the August date and thought I messed up.  How can it be August?   I did so much moving last Thursday – Sunday that I let everything else go. I knew by Saturday night I was going to make it. It's strange to see the old place empty.   Monday was the cleaning and carpet cleaning people, along with my daughter's med appts.  I also had 5 people come by to pick up boxes and packing materials I was giving away.
I forgot to mention last week that both my daughter's computers failed in that last crazy week.  Her new one was from May of 2017.  We took them to my favorite local fixit shop but they said they weren't worth repairing.  So we need to shop.  She is using my old computer which I got Black Friday of 2011 and is still fine. I was using it to convert VHS to digital.    My current computer is from September 2017.  So we will have to shop and get her something before August 15 when school starts.  Sigh.
Tuesday was the first day with nothing scheduled and surprisingly the rest of the week was not very scheduled other than a med appt on Thursday afternoon.   I took the day to catch up on emails, laundry, calling about appointments, and do a bit of unpacking.  I was so far behind on reading, I had a couple days where I read the whole book and wrote the review for the next day.  I'm finally a bit more on track.
Friday I needed to make phone calls about various things I had put off all week. But we also went to the farmer's market and the grocery store.  Friday night, we did some cooking which was fun. I roasted a whole chicken which I had never done previously.  We also made a marinade for chicken wings. The corn we got at the market was fabulous. We also got peaches, tomatoes, broccoli and some herb plants.
Today (Saturday) I am getting some reviews setup and some written finally.  There are so many boxes everywhere but it is a process to unpack them.  Some things are easier as they just go into a bookcase similar to before. But others are more complicated.  The last set of movers didn't follow my directions very well about where the boxes went so I am having to move them to the correct rooms.  Today I'm just trying more to get boxes into groups in the rooms where they should be.
I love this part though- organizing and getting things into their place. But the process is messy.  First I have to take stock of everything in the particular category.  For example, all the stuff for my bathroom – makeup, nail stuff, medications, backup supplies, etc.  Then I break it into subcategories to see how much of it there is.  I sometimes draw sketches of the space breaking it down, say 2 cabinets, 4 shelves, one drawer.  Then based on how much I have of something and how I use it.  I pencil in where it will go.  Next everything is cleaned and put into place.
This next week, I am excited to go to Book Bonanza in Texas and see some friends and meet some new people.  There are also a couple of authors I am excited to meet.  I'll enjoy the travel time to listen to audiobooks too!
So this was an easier week because everything is here and now I just can work in the nice AC house to put things away.  There is still lots to do but mostly doesn't have a deadline.   I do need to figure out today or tomorrow how to run the new lawnmower though.  The weather has been much more comfortable in the upper 80s, any rain wasn't all day.
---
July Reading:  I had a pretty good reading month.  I managed to read 21 books, but I was busy moving.  Audiobooks were easier and will probably be easier in August for travel and unpacking. Some count for more than one challenge.  I listened to 13 audiobooks, read 11 New Releases, 10 library books,  all 21 count for COYER Hunt books, and  9 Beat the Backlist books.
---

Stacking the Shelves is hosted by Tynga's Reviews and Reading Reality.  These are the exciting ARCs I received this week (If you click on the cover, it will take you to the Goodreads entry):
I actually got Shattered Bonds at the end of last week but with all the moving Thursday-Sunday I forgot to include it here.  So excited to get it!  Because You're Mine is an audiobook but I can't find a cover graphics for it yet.
Oh the publishers were so very good to me this week!  Thank you so much  AceRoc, Recorded Books,   MacMillan Audio,  and Berkley Romance.
First I picked my Audible originals for August.
I got a few at the Audible $5 sale.
I pre-ordered this one and also the ebook.    I also got my Prime First read.

Now the really scary one. This is all the Kindle and Audible freebies I grabbed this past week. You can see why I need to do Thrifty Thursday to be sure I read a few at least one each month.
I really meant to cut back on freebies BUT  they are free so I guess that won't be happening.

I'm not including things like reviews posted or upcoming as they are always in the right sidebar. And, my challenge status is also there.
If you like this and want to see me do the Sunday post, as often as I can manage, leave me a comment and let me know.
Anne
Latest posts by Anne - Books of My Heart
(see all)