Review copy was received from Publisher. This does not affect my opinion of the book or the content of my review.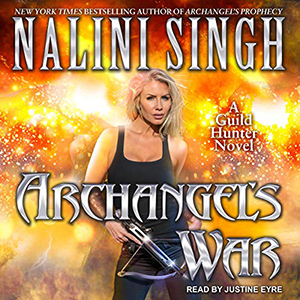 Archangel's War
by
Nalini Singh
Narrator:
Justine Eyre
Series:
Guild Hunter #12
Published by
Tantor Audio
on September 24, 2019
Genres:
Paranormal Romance
Length:
15 hours, 39 minutes
Format:
Audiobook
Source:
Publisher
Goodreads
Amazon
, 
Audible
, 
Audiobook
, 
Barnes & Noble
, 
Apple





Wings of silver. Wings of blue. Mortal heart. Broken dreams. Shatter. Shatter. Shatter. A sundering. A grave. I see the end. I see. . .

The world is in chaos as the power surge of the Cascade rises to a devastating crescendo. In furiously resisting its attempts to turn Elena into a vessel for Raphael's power, Elena and her archangel are irrevocably changed. . .far beyond the prophecy of a cursed Ancient.

At the same time, violent and eerie events around the world threaten to wipe out entire populations. And in the Archangel Lijuan's former territory, an unnatural fog weaves through the land, leaving only a bone-chilling silence in its wake. Soon it becomes clear that even the archangels are not immune to this deadly evil. This time, even the combined power of the Cadre may not be enough. . .

This war could end them all.
Elena and Raphael have come a long way for me since we met them in the first book of this Psy-Changling series. I think I'm one of the few readers that actually liked all of the stories involving other characters more than the main couple. *Shhh* it's my dirty little secret. But that all changed during Archangel's Prophecy when Raphael completely redeemed himself in my eyes and proved just how far he'd go for the woman he loves.

After the cliffhanger of the last book, I was eager to jump in and see how Archangel's War would play out. After spending some quality time with our couple as they emerge, it is time to jump into the crazy conflict with the every creepy and somewhat cray-cray Lijuan. That god-complex Angel is really willing to go to some very extreme lengths that are horrifying to think about.

This was action packed and full of many of the characters we've come to love over the series. Most surprising for me was Mikala, I might just want to read a story with her as a main character after her contributions in this book. But the true heroes came from the corner I always expected they would. Legion, the ancient, yet childlike angels who rose from the depths some books ago have a large part to play in this war and will show us just how far they will go for Raphael and his lady love.
There were only a couple very small issues for me in this installment.  At the beginning, we spend a lot of time with Raphael and Elena as they come out of their stasis; it seemed to go on for quite awhile and this book is mainly fighting in the war.  That means a lot of fighting confrontations. I enjoy when there is a mystery to solve in the story and due to the nature of this one, there just isn't any time for that. Still these are very minor complaints.
This was a book filled with confrontations, as at least half the tale is happening during the war. The people of New York are ready to fight and this time we get help from a few unexpected corners. A really solid way to possible finish out the main overall ARC with her creepiness.
Narration:
Justine Eyre is the voice of this series for me.  Twelve books (more if we are counting novellas) in and she has been there through them all.  I enjoy her performance every time. Justine remains true to the characters and makes each read more enjoyable than if I would have read it on my own.
Listen to a clip:  HERE
Rating Breakdown
Plot
Writing
Characters
Dialogue
Narration (Audio)
Overall:
Related Posts