Review copy was received from NetGalley. This does not affect my opinion of the book or the content of my review.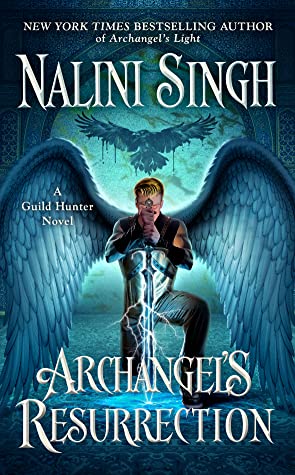 Archangel's Resurrection
by
Nalini Singh
Series:
Guild Hunter #15
Published by
Berkley
on October 25, 2022
Genres:
Paranormal Romance
,
Urban Fantasy
Pages:
400
Format:
eARC
Source:
NetGalley
Goodreads
Amazon
, 
Audible
, 
Audiobook
, 
Barnes & Noble
, 
Apple





For thousands of years, the passion between Alexander, Archangel of Persia, and Zanaya, Queen of the Nile, burned furious and bright, seemingly without end. But to be an archangel is to be bound to power violent and demanding. Driven by its primal energy, Alexander and Zanaya fought as fiercely as they loved. Locked in an endless cycle of devotion and heartbreak, it is only Zanaya's decision to Sleep that ends their love story.

Eons later, it is the Cascade of Death that wakens them both. The passion between them a flame that yet burns, Alexander and Zanaya stand together in one last battle against the ultimate darkness. But even a warrior archangel cannot win every war. Alexander's scream shatters the world as Zanaya falls, broken and silent…only to rise again in a miracle that may be a devastating curse. For is it truly the Queen of the Nile who has been resurrected?

Only one thing is clear: this is the last beat of their passionate, angry dance. The final song for Alexander and his Zani
In the aftermath of the Cascade and a global war, two ancient archangels are key to stopping a growing, quiet threat.  Their history is a tumultuous love through the ages and pasts that bring them together and tear them apart, but now it is for the last time.  Another angelic pair who came from the sidelines as series characters take center stage for a new story in the Guild Hunter world.
Archangel's Resurrection is the fifteenth of a series that works best in order since there are ongoing series plotting, characters, and relationships making up the backbone of this story.
Both the lead characters were introduced during the archangel war and the situation in the present story thread continues from that time.  However, these are ancient archangels with a rich past so Nalini Singh leaves the reader at the point of Zanaya's death and takes the reader back to Alexander's childhood to show why he became who and what he did and introduces Zanaya's story from the moment she enters military training and already has baggage from her childhood, too.  They are attracted and suspect they can be something special together, long before they get their chance.  And then, these two fierce, strong-willed people spend centuries of growing as powers and coming together in great love only for an equally great parting.
Their story is long and rich and involves other established and loved figures in the series.  Alexander's best friend is Calliane and his general is Titus' mother, he is there when Rafael is still making his climb to power and it is Rafael and Elena's love that shows Alexander and Zanaya another way to love.  I enjoyed meeting Zanaya, Queen of the Nile's best friends and how they helped keep her from going cold.  There is also the side story of Alexander's brother, Osiris, and Naasir's connection.
But, at the heart are two powerful, immortal beings who might be all that, but they are flawed and struggle to figure out how to be archangels and have a loving relationship.  Nalini Singh wrote this part so well.  I felt their age and agelessness, but felt the connection to everyday struggles people face, too.
All in all, it was an incredible journey with Alexander and his Zani and I want more Guild Hunters stories.  I always struggle to categorize this series because it feels like urban fantasy and yet there are multiple romances presented in individual books so it could be paranormal romance.  I guess that means it will have a wider audience appeal and I heartily recommend it to both camps.
Giveaway:
Enter to win a new print paperback of Archangel's Resurrection by Nalini Singh.  US only
Related Posts