Review copy was received from Publisher. This does not affect my opinion of the book or the content of my review.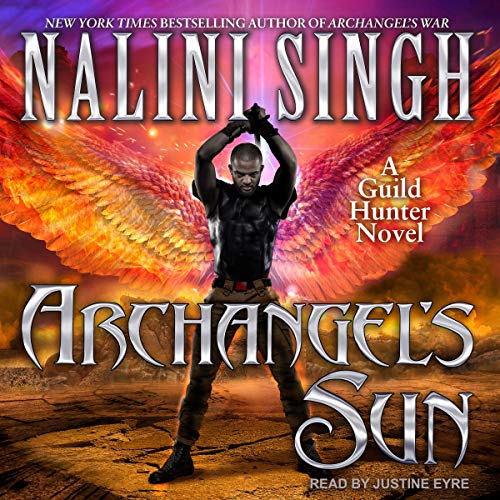 Archangel's Sun
by
Nalini Singh
Narrator:
Justine Eyre
Series:
Guild Hunter #13
Published by
Tantor Audio
on November 23, 2020
Genres:
Paranormal Romance
Length:
13 hours, 30 minutes
Format:
Audiobook
Source:
Publisher
Goodreads
Amazon
, 
Audible
, 
Libro.fm
, 
Barnes & Noble
, 
Apple





The Archangel of Death and the Archangel of Disease may be gone but their legacy of evil lives on—especially in Africa, where the shambling, rotting creatures called the reborn have gained a glimmer of vicious intelligence.

It is up to Titus, archangel of this vast continent, to stop the reborn from spreading across the world. Titus can't do it alone, but of the surviving powerful angels and archangels, large numbers are wounded, while the rest are fighting a surge of murderous vampires.

There is no one left…but the Hummingbird. Old, powerful, her mind long a broken kaleidoscope. Now, she must stand at Titus's side against a tide of death upon a discovery more chilling than any other. For the Archangel of Disease has left them one last terrible gift…
Archangel's Sun is the 13th book in the Guild Hunter series, a series that jumps between a few different couples and a conflict between Angels.  The last two books focused on Archangel Raphael and his consort Elena in their war against devastating forces who wanted to perpetrate horrible crimes.  Now it is the aftermath of that war and there is still a lot of cleaning up to do.
The Hummingbird, Sharine, is known as a great artist and a broken angel.  But she has come out of the fog she lived in for centuries and is starting to pick up all the pieces in her life.  Still slightly fragile, she is asked by Raphael to go and help Archangel Titus in his territory of Africa since everyone else is busy with the devastation in their own regions.  The Hummingbird is ready to spread her wings and see if she can pull herself even more into the real world for this.
Titus didn't understand why Raphael would send him the Hummingbird; she is not known for her fighting skills.  He didn't expect the woman that showed up in her place.  Where is the broken but wonderful angel he has heard so much about?  She isn't what he expected, but she is definitely what he needed.  Never has he thought of claiming a woman for longer than just a tryst, but this woman is one he can see himself being with for much longer.
Besides the romance, which was fun and took some time to gain traction, Titus and Sharine have to deal with new horrors Charisemnon left for them, including a few a new strain of the virus and reborn that are worse than anything seen previously.  As they work together, the heat between them banks and grows until it becomes a fire.
This is a series that must be read in order and after the seriousness of the last two books it was nice to have a new love story.  Titus is cute as he is trying to woo our hummingbird.  There is some seriousness happening but overall the tension is more around the romance than the Angel's conflict.  If you've read the rest of the series, there isn't any reason why this one shouldn't work for you as well.
Narration:
Justine Eyre is a pro and I love her for this series.  She has a dramatic way about her narration that really lends itself well to Romance and PNR.  I've enjoyed all of her performances in this series.
Listen to a clip:  HERE
Rating Breakdown
Plot
Writing
Characters
Dialogue
Narration (Audio)
Overall:
Reading this book contributed to these challenges:
Related Posts