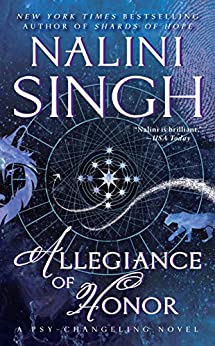 Allegiance of Honor
by
Nalini Singh
Series:
Psy-Changeling #15
Published by
Berkley
on June 14, 2016
Genres:
Paranormal Romance
Pages:
492
Format:
eBook
Source:
Library
Goodreads
Amazon
, 
Audible
, 
Audiobook
, 
Barnes & Noble
, 
Apple





The Psy-Changeling world has undergone a staggering transformation and now stands at a crossroads. The Trinity Accord promises a new era of cooperation between disparate races and groups. It is a beacon of hope held together by many hands: Old enemies. New allies. Wary loners.

But a century of distrust and suspicion can't be so easily forgotten and threatens to shatter Trinity from within at any moment. As rival members vie for dominance, chaos and evil gather in the shadows and a kidnapped woman's cry for help washes up in San Francisco, while the Consortium turns its murderous gaze toward a child who is the embodiment of change, of love, of piercing hope: A child who is both Psy…and changeling.

To find the lost, protect the vulnerable—and save Trinity—no one can stand alone. This is a time of loyalty across divisions, of bonds woven into the heart and the soul, of heroes known and unknown standing back to back and holding the line. But is an allegiance of honor even possible with traitors lurking in their midst?
I picked the Psy-Changeling series a bit hesitantly with its classification PNR (paranormal romance).  The series is really a blend with a romance in each book, at least one, and the overall story arc being urban fantasy.  The combination has been very satisfactory.   Nalini Singh delivered an engaging story with each book.  There is thrilling action, along with tender moments and the heartfelt struggle of personal growth and releationships.
I want to thank everyone who has read-along with me. I have found, particularly in COYER with its book club and now supporting the facebook chats, that I get so much more out of the books in the discussion process and perspectives of others.  In particular,  I love buddy reading with Berls at Because Reading, the blog is also the host of COYER.
Allegiance of Honor is the perfect ending to the series, taking us on a tour of our favorite couples and characters.  It is a love letter to fans.  The scenes with so many we have come to love is endearing.  It was fantastic to get so many vignettes, more than just a mention.  In the ebook, there is a character list at the beginning. Many of the characters are actually new in this book. They are Arrows, who have been strong and silent in the background. Going forward, they will be more known and still strong as the enforcers of law and founders of Trinity.
One character we were particularly happy to hear more about is Stefan.  He was introduced in a novella, Echo of Silence (#2.5), which is included in Wild Embrace anthology.  He has played a small but critical role throughout the series.  He started as an Arrow but couldn't do Silence their way, but was too skilled to rehabilitate.
The plot is not lacking as some have implied. There is the introduction of many new Arrows.  The search continues for the missing Black Sea changelings with some strong efforts and action.  The investigation into the Consortium,  those who would hurt Naya,  and the reigning in of Ming, all moved forward. Some of these plot lines will continue into the Psy-Changeling Trinity series spinoff which has 5 books so far.
There are also key pieces of foundation built for the new Trinity accord, not just in the policies determined but in the working relationships and trust with joint operations.   A major agreement is considered as to how to include everyone in Trinity without letting those who want to destroy it have access to its intelligence and business advantages. Including everyone is hard when you aren't willing to just kill everyone who disagrees with you or is different from you.  I found it incredible, heartwarming and difficult, the integrity in this inclusive aspect of Trinity.
I am so grateful to have chosen and read this series in this community of readers.  Thank you all.  I also want to thank again Berkley Romance and Tantor Audio for providing prizes and support for the Read-along.
---
Games:
Please enter any questions or quotes to share in your comments below.
The quote for Who said ""Someone was counting on us not talking to each other. "." is Selenka .
The villain was Consortium.
---
Share your review/ thoughts on Allegiance of Honor:
I thought it might be fun to link up reviews so we can find them all easily.  It can be a link to Goodreads or a blog, or wherever you have a review (short or long).
Mister Linky's Magical Widgets — Easy-Linky widget will appear right here!
This preview will disappear when the widget is displayed on your site.
If this widget does not appear,
click here
to display it.
---
Observations and questions you shared from Shards of Hope:
(Thank you  so much for sharing!)
No one played games with Kaleb.  (This made me laugh so hard)
I loved finding out more about the BlackSea changelings.
We definitely need a book about the RainFire changeling pack! I need to know more about this diverse pack! And we especially need more JoJo!
I really enjoyed reading more about the Arrows and the issues they have with Silence and the awakening feelings they're trying to process.
---
Quotes you readers shared from  Shards of Hope:
(Thank you for sharing!)
"She says she can feel the pupcubs and they're as happy as pie but, since Riley can't feel what she does…"
"Every white knight needed a deadly black sword at his back."
"Whether we bond or not, your loss would change me forever…. You are written indelibly on my soul, Zaira. Nothing will ever alter what you are to me."
"…the things we hold inside, the nightmares we stifle, have far more power than the things we expose to the light of day. Accept your anger, Zaira, and you'll strip it of its power."
"Yeah, what the hell. We can be remedial alphas together."
"You're the best of us. The best. The strongest, the smartest, and the one with a heart stubborn enough that it resisted Silence and cared for the most damaged among us."
"Aden needed love more than anyone Walker had ever met."
---
Here's your to-do list:
Read 15.1 Rowan, on author's site.
Read 15.2 Baubles and Ben, on author's site.
Link up your review on Goodreads or your site to the post.
Join the COYER book chat on the Sunday following the post.
Enter the giveaways!
---
COYER Challenge is adopting our Read-along.  You can read about COYER and join that challenge or just the Facebook community chat HERE.
Alligiance of Honor chat in a FB room (like we do for COYER book club) is:
December 5 at 12 PT, 2 CT, 3 ET and 9pm Europe, for a one hour chat.
You do not have to join the COYER challenge to participate, only the Facebook group.
---
Interviews with Nalini Singh:
---
Schedule:   
We are doing one book every 3-4 weeks, posting on Fridays. We should have a review for most of the books with the team here at Books of My Heart plus some of our friends.
Dec 3:    Allegiance of Honor   – Anne
Miss a post?
Jan 1:    Slave to Sensation       – Stephanie @ Once Upon a Chapter
Jan 29:   Visions of Heat           – Rachel @ Waves of Fiction
Feb 19:   Caressed by Ice           – Kim @ Caffeinated Reviewer
Mar 19:   Mine to Possess          – KC
Apr 16:   Hostage to Pleasure   – Berls @ Because Reading
May 7:   Branded by Fire             – Kai @ Fiction State of Mind
May 28:  Blaze of Memory          – Sophia
Jun 18:   Bonds of Justice           – Angela @ Angel's Guilty Pleasures 
Jul 16:   Play of Passion              – Robin
Aug 6:   Kiss of Snow                   – Jen from Red Hot Books
Aug 27:  Tangle of Need              – Victoria @ First of All
Sep 17:   Heart of Obsidian        – Linda @ Unconventional Bookworms
Oct 15:    Shield of Winter          – Samantha @ The Book Disciple
Nov 5:    Shards of Hope            –  Jen @ That's What I'm Talking About
---
Grand-Prize Giveaway: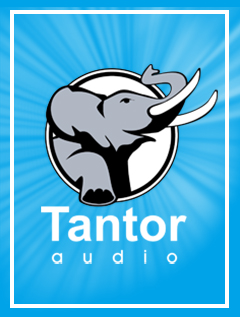 Tantor Audio is generously donating a set of 15 codes for the entire set on audio.  Codes will work US or Intl.
Latest posts by Anne - Books of My Heart
(see all)
Reading this book contributed to these challenges:
Related Posts