Review copy was received from Publisher. This does not affect my opinion of the book or the content of my review.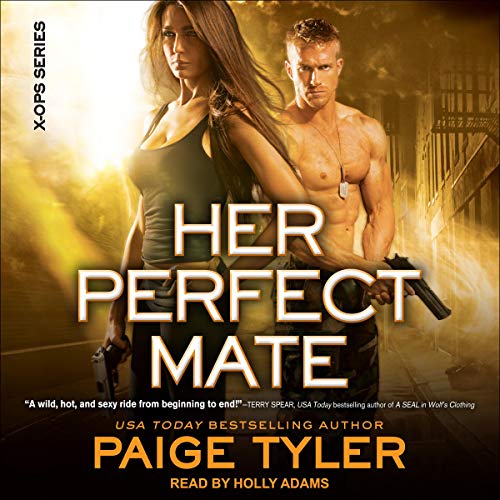 Her Perfect Mate
by
Paige Tyler
Narrator:
Holly Adams
Series:
X-Ops
Published by
Tantor Audio
on December 10, 2019
Genres:
Paranormal Romance
Length:
8 hours, 51 minutes
Format:
Audiobook
Source:
Publisher
Goodreads
Amazon
, 
Audible
, 
Libro.fm
, 
Barnes & Noble
, 
Apple





He's a High-Octane Special Ops Pro
When Special Forces Captain Landon Donovan is pulled from an op in Afghanistan, he is surprised to discover he's been hand-picked for a special assignment with the Department of Covert Operations (DCO), a secret division he's never heard of. Terrorists are kidnapping biologists and he and his partner have to stop them. But his new partner is a beautiful, sexy woman who looks like she couldn't hurt a fly-never mind take down a terrorist.

She's Not Your Average Covert Operative
Ivy Halliwell is no kitten. She's a feline shifter, and more dangerous than she looks. She's worked with a string of hotheaded military guys who've underestimated her special skills in the past. But when she's partnered with special agent Donovan, a man sexy enough to make any girl purr, things begin to heat up...
I've always wanted to read this author so when they started releasing these on audio I requested it for review. The X-Ops series is what I classify as PNR where there is a new couple in each book.
The shifters do not change completely. Their eyes change color and they may grow claws. They always have more strength, better hearing, healing and sense of smell than humans. They are born into human families and have just slight genetic differences. Ivy had a great grandmother who was a shifter but her parents are not shifters.
Ivy works for a government covert group which does black ops- the DCO.  She worked previously at the FBI but wanted more action than desk work. Her previous partners wouldn't work with her or trust her special skills. But now she has a partner secure enough in his own skills to work with her.
Landon came from covert special forces team. He went into the military to escape a horrible family situation and to hopefully help finance his education.  He was leader of his team, and they are all close. Initially, he wasn't thrilled with his new assignment with the DCO but quickly makes a good partnership with Ivy.
I loved their missions and the action. Gathering information and doing surveillance, as well as protection work and taking out bad guys was all fun.  The mystery of figuring out what the main bad guy was doing and where he was taking the kidnapped scientists was a good story.
The romance in Her Perfect Mate was a bit less appealing.  It wasn't insta-love, more like insta-lust, but then with the life or death style of their work, it quickly became a clear connection.  I felt it happened a bit too quickly but this type of suspense situation tends to produce high emotions. There was also a bit of a love triangle with another guy interested in Ivy.  Audible classifies it as erotica and there were definitely some smoking sexy times.
Both Ivy and Landon were good-hearted people with excellent skills. They made a great team, supporting each other so each could be their best.   I'm excited to read the next in the series.
Narration:
This was my first experience with Holly Adams. I really enjoyed her approach to male and female voices. The chapters alternated between Ivy and Landon's point of views which I also appreciate.  The voices for the non-dialogue parts in the chapter were also more male or female depending on whose chapter it was. That makes sense since it is often their stream of thoughts. I can't recall hearing others do it, though.  I really liked it.  I listened at my usual 1.5x speed.
Listen to a clip: HERE
Latest posts by Anne - Books of My Heart
(see all)
Reading this book contributed to these challenges:
2019 Audiobooks
2019 Releases
COYER Friends
Related Posts