Review copy was received from Publisher. This does not affect my opinion of the book or the content of my review.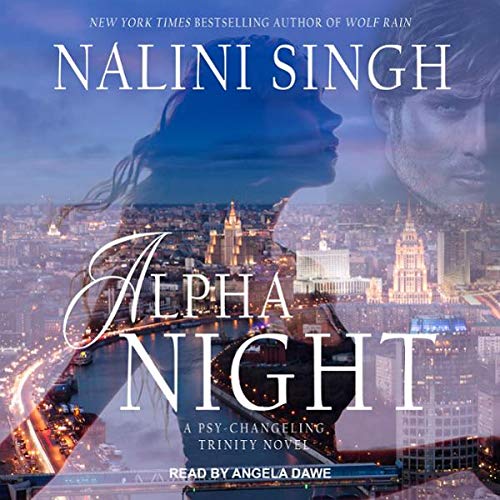 Alpha Night
by
Nalini Singh
Narrator:
Angela Dawe
Series:
Psy-Changeling #19
,
Psy-Changeling Trinity #4
Published by
Tantor Audio
on June 9, 2020
Genres:
Paranormal Romance
Length:
11 hours, 19 minutes
Format:
Audiobook
Source:
Publisher
Goodreads
Amazon
, 
Audible
, 
Audiobook
, 
Barnes & Noble
, 
Apple






Alpha wolf Selenka Durev's devotion to her pack is equaled only by her anger at anyone who would harm those under her care. That currently includes the empaths who've flowed into her city for a symposium that is a security nightmare, a powder keg just waiting for a match.

Ethan Night is an Arrow who isn't an Arrow. Numb and disengaged from the world, he's loyal only to himself. Assigned as part of the security force at a world-first symposium, he carries a dark agenda tied to the power-hungry and murderous Consortium. Then violence erupts and Ethan finds himself crashing into the heart and soul of an alpha wolf.

Mating at first sight is a myth, a fairytale. Yet Selenka's wolf is resolute: Ethan Night, broken Arrow and a man capable of obsessive devotion, is the mate it has chosen. Even if the mating bond is full of static and not quite as it should be. Because Selenka's new mate has a terrible secret, his mind surging with a power that is a creature of madness and death…
Alpha Night was everything I've come to expect from Nalini Singh in her series set in a world with Humans, Changelings and Pys (Humans tapped into a mental web plain). The Psy-Changeling Trinity series is side step from the main Psy-Changeling series, meaning it is a good entry point for new readers who didn't want to commit to the 15 other books in the series that cover one overlapping arc. Each book is written as a self-contained romance and so you can read them out of order or miss one or two and be okay. But I still recommend reading the series in order to get the full impact.
Ethan is part of an elite force called the Arrows. As a child raised in a world without emotion, he was kept separated and exposed to horrors and tortured under the old regime. Now he is a broken man on the verge of cracking, he knows he is broken and will probably not be able to live much longer if his mental state keeps deteriorating.
Selenka is the Alpha of a wolf pack. No one was more surprised than she was when her wolf decided on the spot that Ethan was her mate and shoved the mating bond on him. She wonders what it is about this man that made her wolf identify with him so quickly and why the bond feels like there is some static in the way. She will not let her mate go easily, even if he thinks it will be for the best if he spirals.
Selenka and Ethan will have to figure out their bond while also trying to get to whoever is trying to sow discord between the wolves and bears and is also trying to kill off members of Selenka's pack. There is something not quite right in the net and Ethan is one of the only people in the world that can see it. He is going to need to hold it together if the Psy-Net is going to make it through the strange new attacks being placed on it.
I always get so drawn into these stories. They are like m&m's and I just want to eat them all up by the handfuls. I was so happy to see some of my favorite characters from the past make cameo appearances. I loved how well Selenka and Ethan really fit together with things that they could bond on from their pasts. By the end it was clear to see why the two belonged together and how Ethan fit in her life.
Narration:
Angela Dawe has voiced all of the Psy-Changeling books and is the voice of the series for me.  I had a great time with her yet again and really liked the Russian accent she provided for Selenka.  Angela did a wonderful job yet again and I can't imagine anyone else narrating the series.  I listened at my usual 1.5x speed.
Listen to a clip:  HERE
Rating Breakdown
Plot
Writing
Characters
Dialogue
Narration (Audio)
Overall:
Reading this book contributed to these challenges:
Related Posts