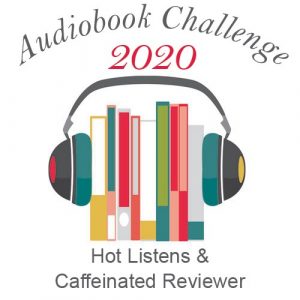 These reads were all audiobooks, which I purchased.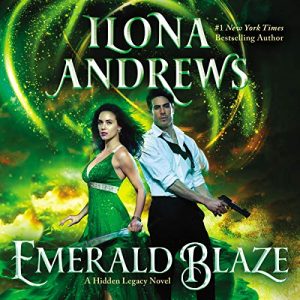 Emerald Blaze
by
Ilona Andrews
Narrator:
Emily Rankin
Series:
Hidden Legacy #5
Published by
HarperAudio
on August 25, 2020
Genres:
Urban Fantasy
Length:
12 hours, 41 minutes
Format:
Audiobook
Source:
Purchased
Goodreads
Amazon
, 
Audible
, 
Audiobook
, 
Barnes & Noble
, 
iTunes






Catalina Baylor is looking forward to wearing her maid of honor dress and watching her older sister walk down the aisle. Then the wedding planner gets escorted off the premises, the bride's priceless tiara disappears, and Rogan's extensive family overruns his mother's home. Someone is cheating, someone is lying, and someone is plotting murder.

To make this wedding happen, Catalina will have to do the thing she fears most: use her magic. But she's a Baylor and there's nothing she wouldn't do for her sister's happiness. Nevada will have her fairy tale wedding, even if Catalina has to tear the mansion apart brick by brick to get it done.
Set in a world of magical houses Emerald Blaze is the fifth book in the Hidden Legacy series and second full length novel following Catalina, a Prime with Siren powers who has taken over as head of the house.  She must figure out who killed a man involved with a reclamation project in what equates to a magical swamp.  There is something creepy lurking in the swamp different than anything Catalina has ever seen.  Teamed up with the boy who broke her heart, they will try to figure out where all the magical constructs are coming from and how to stop them.  They might even make up in the process.
Ilona Andrews are my favorite UF writers and this series does not disappoint.
Narration:
Emily Rankin fits the voice of the younger Catalina fantastically.  She does a great job of bringing all of the characters to life.  I listened at my normal 1.5x speed.
Listen to the clip: 

---
LIFEL1K3
by
Jay Kristoff
Narrator:
Erin Spencer
Series:
Lifelike #1
Published by
Listening Library
on May 29, 2018
Genres:
Science Fiction
,
Fantasy
Length:
12 hours, 27 minutes
Format:
Audiobook
Source:
Purchased
Goodreads
Amazon
, 
Audible
, 
Audiobook
, 
Barnes & Noble
, 
iTunes






On a floating junkyard beneath a radiation sky, a deadly secret lies buried in the scrap.

Eve isn't looking for secrets—she's too busy looking over her shoulder. The robot gladiator she's just spent six months building has been reduced to a smoking wreck, and the only thing keeping her Grandpa from the grave was the fistful of credits she just lost to the bookies. To top it off, she's discovered she can destroy electronics with the power of her mind, and the puritanical Brotherhood are building a coffin her size. If she's ever had a worse day, Eve can't remember it.

But when Eve discovers the ruins of an android boy named Ezekiel in the scrap pile she calls home, her entire world comes crashing down. With her best friend Lemon Fresh and her robotic conscience, Cricket, in tow, she and Ezekiel will trek across deserts of irradiated glass, infiltrate towering megacities and scour the graveyard of humanity's greatest folly to save the ones Eve loves, and learn the dark secrets of her past.

Even if those secrets were better off staying buried.
I'm at a loss for words on how to describe LIFEL1K3.  It is a little like The Wizard of Oz meets Pinocchio and runs away to iRobot, just to make it all the more different.  Best friends, Eve and Lemon Fresh, live in the Yousay, a few wars and some fall out from now.  It is a pretty hard life, just scraping along to get by fighting bots in the battle dome to make some extra scratch.  But everything changes when Eve destroys a huge bot and everyone sees her destroy the components of it with her mind.  Now people she doesn't remember are coming for her and the Brotherhood gangs want her dead for being a Deviate.  With the help of a Lifelike boy and her bestie she will uncover the secrets of her past, revisit the place her life all changed and figure out who she really is.  It might just destroy her though when everything is revealed.
Narration:
Erin Spencer brings a lot of fun to the cast of characters in this series and the slang Jay Kristoff created for them.  I was able to listen to this at 1.5x speed.
Listen to the clip:

---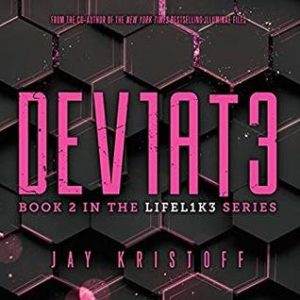 DEV1AT3
by
Jay Kristoff
Narrator:
Erin Spencer
Series:
Lifelike #2
Published by
Listening Library
on June 25, 2019
Genres:
Science Fiction
,
Fantasy
Length:
11 hours, 57 minutes
Format:
Audiobook
Source:
Purchased
Goodreads
Amazon
, 
Audible
, 
Audiobook
, 
Barnes & Noble
, 
iTunes





Lemon Fresh has seen better days.

After the climactic battle in Babel, she finds herself separated from Ezekiel and Cricket in the wastelands. Lemon's abilities to manipulate electricity mark her as a deviate, and deadly corporate operatives are hunting her to use as a weapon in the war between BioMaas Incorporated and Daedelus Technologies. Instead, Lemon finds herself falling in with a group of fellow deviates—a band of teenagers with astonishing abilities, led by an enigmatic figure known as the Major, who may hold the secrets to Lemon's past.

Meanwhile, Cricket finds himself in possession of the puritanical Brotherhood, a religious cult set for a head-on collision with the Major and his band. Searching for Lemon, Ezekiel finds a strange ally in an old enemy, and uncovers a plot that may see him reunited with his beloved Ana.

And inside Babel, a remade Eve hatches a plan to bring an end to the world.
Things I know about Jay Kristoff.
① – He isn't afraid to take chances with his characters and stories.
❷ – He probably is sustained by the tears of his readers.
③ – He write friendships really well.
❹ – He really seems to enjoy worlds with a lot of devastation due to over pollution.
⑤ – Just because you think you know where the story is going, don't get too comfortable because things are about to change
Dev1at3 starts out just after the events of Lifel1k3 and our characters have ended up in some precarious situations. Evie might has lost her mind, Ezekiel has definitely list his heart, Cricket might have gained a body but he lost his mistress and Lemon, well Lem has lost her bestest which felt like the biggest loss of all. Can these once friends and lost loves ever find a way back to each other?
Narration:
Erin Spencer did another great job with all the characters and their stories.  I was able to listen to this at 1.5x speed.
Listen to the clip:

---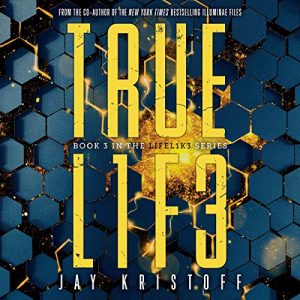 TRUEL1F3
by
Jay Kristoff
Narrator:
Erin Spencer
Series:
Lifelike #3
on June 30, 2020
Genres:
Science Fiction
,
Fantasy
Length:
13 hours, 25 minutes
Format:
Audiobook
Source:
Purchased
Goodreads
Amazon
, 
Audible
, 
Audiobook
, 
Barnes & Noble
, 
iTunes





Best friends have become enemies. Lovers have become strangers. And deciding whose side you're on could be the difference between life and death. For Eve and Lemon, discovering the truth about themselves - and each other - was too much for their friendship to take. But with the country on the brink of a new world war - this time between the BioMaas swarm at CityHive and Daedalus' army at Megopolis - loyalties will be pushed to the brink, unlikely alliances will form, and with them, betrayals. But the threat doesn't stop there, because the lifelikes are determined to access the program that will set every robot free, a task requiring both Eve and Ana, the girl she was created to replace. In the end, violent clashes and heartbreaking choices reveal the true heroes...and they may not be who you think they are.
TRUEL1F3 is the finale of the LIFEL1k3 trilogy which is a mash-up of the Wizard of Oz, Pinocchio and i-Robot which some fun new language added in just to make it all pop. The big showdown is coming between super corps Daedalus and BioMass but don't count out the side players or Gabriel with team Lifelike who want to destroy humanity or the Deviates that are trying to find a way to save what is left of it.
Narration:
Erin Spencer did another great job with all the characters and their stories.  I was able to listen to this at 1.5x speed.
Listen to the clip:

---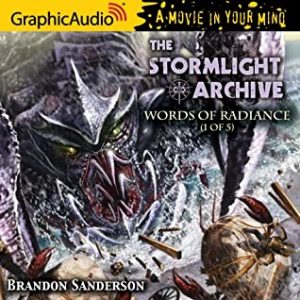 Words of Radiance
by
Brandon Sanderson
on September 19, 2016
Genres:
Fantasy
Length:
6 hours, 34 minutes
Format:
Audiobook
Source:
Purchased
Goodreads
Amazon
, 
Audiobook
, 
Barnes & Noble






Expected by his enemies to die the miserable death of a military slave, Kaladin survived to be given command of the royal bodyguards, a controversial first for a low-status "darkeyes." Now he must protect the king and Dalinar from every common peril as well as the distinctly uncommon threat of the Assassin, all while secretly struggling to master remarkable new powers that are somehow linked to his honorspren, Syl.

The Assassin, Szeth, is active again, murdering rulers all over the world of Roshar, using his baffling powers to thwart every bodyguard and elude all pursuers. Among his prime targets is Highprince Dalinar, widely considered the power behind the Alethi throne. His leading role in the war would seem reason enough, but the Assassin's master has much deeper motives.

Brilliant but troubled Shallan strives along a parallel path. Despite being broken in ways she refuses to acknowledge, she bears a terrible burden: to somehow prevent the return of the legendary Voidbringers and the civilization-ending Desolation that will follow. The secrets she needs can be found at the Shattered Plains, but just arriving there proves more difficult than she could have imagined.

Meanwhile, at the heart of the Shattered Plains, the Parshendi are making an epochal decision. Hard pressed by years of Alethi attacks, their numbers ever shrinking, they are convinced by their war leader, Eshonai, to risk everything on a desperate gamble with the very supernatural forces they once fled. The possible consequences for Parshendi and humans alike, indeed, for Roshar itself, are as dangerous as they are incalculable.
Stormlight Archives is my absolute fantasy series of all time so far and Words of Radiance was even better than Way of Kings.  The world building and character development continues to amaze along with the complexity of the story.  Sanderson writes some of the best magic systems out there in my opinion and is great at building moments that stick with you.  This was my fourth listen of this 40 hours audio and I always pick up something new each time. If you like Epic Fantas,y I hope you give this series a try
Narration:
Graphic Audio with the music and full cast adds something even more special to the series for me.  There are so many climactic scenes made even greater by the emotions the added effects help produce.
Listen to the clip:

---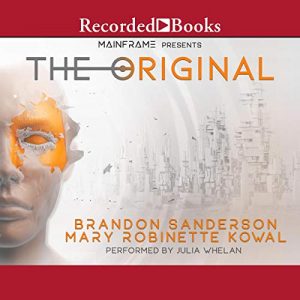 The Original
by
Brandon Sanderson
,
Mary Robinette Kowal
Narrator:
Julia Whelan
Published by
Recorded Books
on September 14, 2020
Genres:
Science Fiction
,
Thriller
,
Mystery
Length:
3 hours, 30 minutes
Format:
Audiobook
Source:
Purchased
Goodreads
Audible
, 
Audiobook





In the near future, humans choose life - for a price. Injectable nanite technology is the lifeblood that flows through every individual wishing to experience the world through the lens of their own theme. While death from mortal wounds is still possible, life is made easier in a socially liberated society where automation and income equality allow passion pursuits to flourish over traditional work. Renewal stations are provided to every law-abiding citizen for weekly check-ins, which issue life-sustaining repairs in exchange for personal privacy. But what becomes of those who check out, of those who dare to resist immortality and risk being edited under the gaze of an identity-extracting government surveillance system?

When Holly Winseed wakes up in a hospital room, her memory compromised and a new identity imposed on her, a team of government agents wastes no time stating their objective. With intent to infiltrate and defeat the terrorist group ICON, the agents tell Holly that she is now a Provisional Replica and has one week to hunt down and kill her Original for the murder of her husband, Jonathan. If she succeeds, she'll assume her Original's place in society. If she fails, her life will end. Holly's progress is monitored by an assigned contact that feeds her information as she confronts the blank, robotic world around her, discovering that others view life through the theme of their own choosing.

With her newly implanted combat and deduction skills, Holly fends off both attacks by terrorists and doubts about her own trustworthiness as clues lead her to her Original - and to the truth about Jonathan. In the end, one body remains and one walks away. Although questions persist, one thing is certain: Life will never be the same.
Nanite technology has taken the human race to the next level. They limit sickness and change your perceptions of everything surrounding you. Don't like the noise level at your apartment. There is a filter for that. Like muted tones more than bright ones – there is a filter for that. Don't like the way you look – you can change how you let the world around you see you. It is so engrained into the population, no one really realizes how much the world around them is not what it seems.
Holly wakes up and finds out she is a clone of herself and has four days to find her Original and kill her. If she does this, then she gets to continue living, if she doesn't then her nanites will shut down and she dies.  This is a little bit of a crazy ride as the details of the world and her life are teased out.  With only 3.5 hours of audio, it is action packed and keeps you guessing until the end.
Narration:
Julia Whelan performed this sci-fi adventure fantastically and I was able to listen at my usual 1.5x speed.
Listen to the clip: HERE
Reading this book contributed to these challenges: