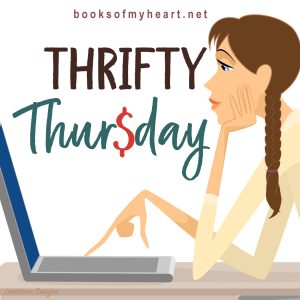 The purpose of Thrifty Thursday is to read a book which was free (at some point).
I always pick my Thrifty Thursday books on a variety of criteria. I look to find something in the genre I am wanting and the overall ratings. Sometimes, I try to find one to fit a reading challenge. This time of year, I was reading for the Valentine Read-a-thon for COYER.
Chef SugarLips
by
Tawna Fenske
Series:
Ponderosa Resort Romantic Comedies #2
Published by
Self-Published
on May 18, 2018
Genres:
Romantic Comedy
Pages:
214
Format:
eBook
Source:
Purchased
Goodreads
Amazon
, 
Audible
, 
Audiobook
, 
Barnes & Noble
, 
Apple





Sean Bracelyn can whip up a saffron-laced lobster risotto in his sleep, but relationships? That's one recipe he hasn't nailed. Not that he has time, between launching a new restaurant and building a luxury resort with his awkwardly-blended family. But when his dream girl nearly knocks him unconscious with a dead turkey, it's all Sean can do to keep his eyes on the gazpacho and off Amber King's perfect curves.

Amber's done with guys propping her on a pedestal. Transforming her family's reindeer ranch into a country chic wedding venue is consuming enough, and the last thing she needs is an extra serving of love drama. So what is it about the stupid-sexy chef that gets her desires bubbling like a pot of hot spaghetti?

Keeping their distance is tough enough before Sean and Amber get tossed together by wacky weddings, lingerie mishaps, and a surly three-legged cat. When Sean's mom shows up to dish out huge helpings of family drama, a big secret threatens to spread faster than a kitchen fire.

Can Sean and Amber find the right blend of sugar and spice, or will love fall flat as a burnt soufflé?
Kindle freebie on March 21, 2019 
(currently $4.99 at Amazon and Barnes & Noble as of writing this post)
Overall rating 4.19 with 1,052 ratings and 170 reviews
I read the first in the Ponderosa Resort series as part of my Holiday freebie reads.  So it worked to continue them as part of this LOVE edition.  I don't know how but I managed to get nearly all of these free over the years.
I love the characters with their quirky town and fascinating businesses.   I love the sexy banter, somewhat ridiculous humor, and often hilarious situations.  I really enjoy the business and marketing aspects.  It may not be quite realistic but I'm delighted reading them.
Sean is a chef, so that's yummy to read.  Amber is the marketing sister for the reindeer ranch.   They are lovely people with relatable issues but also have to work on themselves like everyone.   I liked seeing that growth.
There is also a Chef Sugarlips Bonus epilogue novella which isn't on Goodreads but somehow I managed to get, probably from the author newsletter or something.   I enjoyed having that additional peek into their relationship a year later.
---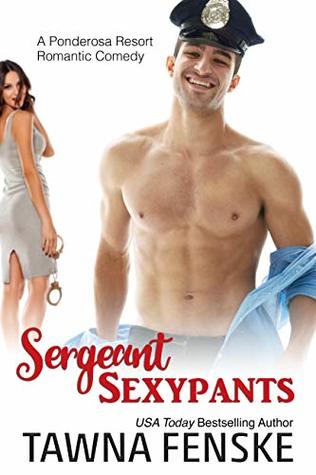 Sergeant Sexypants
by
Tawna Fenske
Series:
Ponderosa Resort Romantic Comedies #3
Published by
Self-Published
on October 6, 2018
Genres:
Romantic Comedy
Pages:
228
Format:
eBook
Source:
Author
Goodreads
Amazon
, 
Audible
, 
Audiobook
, 
Barnes & Noble
, 
Apple





Bree Bracelyn doesn't date cops. It's a personal rule that quavers when Austin Dugan flashes his baby blues—and his badge—at Ponderosa Resort's grand opening. Bree's the family fixer, running the resort's PR and her siblings' lives with cheerful efficiency. But one thing in Bree's past can't ever be fixed, which is why she's staying the hell away from Officer Hottie.

Austin's heart tacks up a wanted poster with Bree's name the instant he lays eyes on her. Okay, the no-cops rule is an obstacle, but not impossible for a guy ambitious enough to be a shoo-in as the next police chief. Besides, he knows Bree's into him, whether they're flirting over weird flatware or getting frisky in the front seat of his vintage Volvo.

As Bree and Austin bond over cupcakes and hot springs hookups, Bree knows it's a matter of time before the skeletons in her closet topple into a messy heap on Austin's squeaky-clean life. Is there hope for a happy ending, or will their love end up DOA?
Author giveaway on May 24, 2019  (currently $4.99 at Amazon and Barnes & Noble as of writing this post. )
Overall rating 4.32 with 482 ratings and 95 reviews
The Ponderosa Resort series continues with Sergeant Sexypants.  The previous two books featured the two women running the reindeer ranch hooking up with guys involved in the Ponderosa Resort. Now the resort is just opening for business.
Bree is the sole female of the Bracelyn relatives involved in the resort and the head of marketing.  Her half brothers are the chef Sean, the maintenance man Mark, and the lawyer James.  We get to know the brothers only a little but Sean was a main character in Chef Sugarlips so we know him already.
The Bracelyns mostly did not live here growing up but only came to visit sporadically.   Bree's past is one of being in boarding school, mostly ignored by her parents.    At the open house for the resort, Bree meets Austin Dugan who is a sergeant with the local PD and his father is sheriff in the county.  They are very attracted but Bree has an aversion to cops.
Austin is a golden boy, almost too perfect.  He is the only boy among sisters.  He is kind, honest, hard-working and fast rising in his career.  He does manage to be patient with Bree and works to show her he can be trusted.  I cried with what he did for her to relieve her teenage guilt.
---
These are only Kindle freebies I get, or ones through author newsletters which anyone can sign up and get for free. I don't include things like Kindle Unlimited or Prime Free Reading (I do have it). Both Tantor and Audible have occasional free audios (to anyone) and I do include those.  Since I one-click on 1-2 freebies a day or probably at least 5 a week, I came up with this feature to make sure I start reading them.
Latest posts by Anne - Books of My Heart
(see all)
Reading this book contributed to these challenges:
Related Posts