Review copy was received from NetGalley. This does not affect my opinion of the book or the content of my review.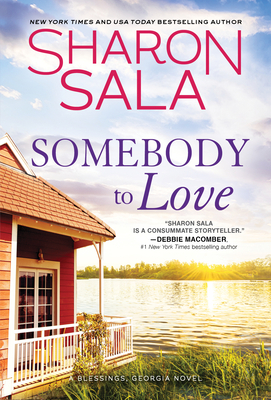 Somebody to Love
by
Sharon Sala
Series:
Blessings Georgia #11
Published by
Sourcebooks Casablanca
on February 23, 2021
Genres:
Contemporary Romance
Pages:
303
Format:
eARC
Source:
NetGalley
Goodreads
Amazon
, 
Barnes & Noble
, 
Apple




Fifteen years ago, a family member stole the money Hunt Knox had saved for college, while three of his siblings and his father hid the truth and told him to get over it. Betrayed by their lies and thievery, Hunt joined the army and wound up flying Apache helicopters in Iraq. Now, he's a chopper pilot for an oil company in Houston, Texas, his father has been dead for six years, and he's finally returning home to Blessings at his mother's dying request.

Ava Ridley, the little girl his mother used to babysit, has grown up and is a nurse at his mother's bedside when he arrives. Ava is overjoyed to see the man her childhood crush has become. And as the two spend more time together, Ava's crush grows to be even more.

Hunt never expected to fall in love, but just as it appears he and Ava are headed for a happy ever after, she becomes a victim of violence at the hospital ER in Blessings, and suffers an injury that could cost her life. Through secrets, lies, family betrayal, and difficult choices, Hunt's not sure he and Ava can ever make a home together in Blessings. Or if life will once again lead them onto different paths...?
Returning to the Blessings, Georgia world is like visiting a special magical place where the residents wave, greet you by name, and look after you when you're down. In this latest, a runaway comes home to fulfill his dying mother's last request and discovers a little girl with a crush has grown up. Comfy southern small town romance at its best.
Somebody to Love is the eleventh of the series of standalone romances that can be read out of order, but are enjoyed more when read as a connected series.
Margaret Knox is dying and is setting her life in order with a desire to right a long-time wrong so she sends for Hunt, the son who left and never came back after his family betrayed him. Hunt is there in time to reassure her he will execute her will and keep his promise to her. He ignores his four younger siblings who are part of the betrayal of stealing his college money and closing ranks to hide who did it. He will bury his mother, fix up her house to sell, divide up the money and get out of Blessings as fast as he can. He's lived a lifetime since he left as an Army combat helicopter pilot and now flying chopper service to the oil rigs. The plan is good until he lays eyes on his mom's perky, cute nurse and he realizes that little Ava Ridley has grown up and just the sight of her soothes him down to his soul.
Ava had a crush on Hunt Knox since she was a kid. He was always her hero against skinned knees, bullies, and tough homework. She never stopped missing him when he left town and her heart twists to see that nothing has been the same since for the Knox family who let him go and are standoffish even now. What happened? She's always wondered. But, she wonders more what will happen because this adult version of Hunt still has her heart and he doesn't push her away when she takes a risk and lets him see it.
Somebody to Love is a heartwarming story that has some sadness to balance out the sweet and romantic. The focus of the story is on Hunt and Ava's romance and the Knox family secret, but like with past books, there are other side stories going on around the town. Some of the stories are lovely while at least one, breaks the reader's heart. The town rallies to the Knox family and others in need.
I'm a low-angst fan for the most part and this series continues to be a go to when I want uncomplicated, straight-forward romance with the conflict mostly being either that of a character's personal issue or the conflict is from without. Hunt and Ava fall in love quickly and deeply. It's a little far fetched, but I was happy to swallow the little blue pill. Their romance is one of the story threads along with each Knox sibling, and another situation involving another family's tragedy and a fire for one of the town businesses. Ruby and Peanut get to work rallying the town for that.
The Knox family mystery was driving me nuts with curiosity and I liked the way the author built the suspense and revealed it in a lovely scene. My heart was brimming over when the truth came out. I had my suspicions and I was partly right. Hunt was an amazing guy through it all and Ava was a solid support showing how well they are as a couple already.
All in all, it was another comfy visit to Blessings and spending time with the people at all the familiar places and I was well-satisfied with the new romance pair and the family stories that unfolded. Those who want gently-paced heartwarming contemporary romance should definitely try this series.
Related Posts