Review copy was received from Publicity team. This does not affect my opinion of the book or the content of my review.
The Gravedigger's Son
by
Darynda Jones
Series:
Charley Davidson #13.6
Published by
1001 Dark Nights Press
on May 11, 2021
Genres:
Urban Fantasy
Pages:
103
Format:
eARC
Source:
Publicity team
Goodreads
Amazon





The job should have been easy.

Get in. Assess the situation. Get out. But for veteran tracker Quentin Rutherford, things get sticky when the girl he's loved since puberty shows up, conducting her own investigation into the strange occurrences of the small, New Mexico town. He knew it would be a risk coming back to the area, but he had no idea Amber Kowalski had become a bona fide PI, investigating things that go bump in the night. He shouldn't be surprised, however. She can see through the dead as clearly as he can. The real question is, can she see through him?

But is anything that's worth it ever easy?

To say that Amber is shocked to see her childhood crush would be the understatement of her fragile second life. One look at him tells her everything she needs to know. He's changed. So drastically she barely recognizes him. He is savage now, a hardened—in all the right places—demon hunter, and she is simply the awkward, lovestruck girl he left behind.

But she doesn't have time to dwell on the past. A supernatural entity has set up shop, and it's up to them to stop it before it kills again.

While thousands of questions burn inside her, she has to put her concern over him, over what he's become, aside for now. Because he's about to learn one, undeniable fact: she's changed, too.
The Gravedigger's Son is a great novella giving us more of this world with further development of some supporting characters.  It has the hilarious t-shirts and bumper stickers of the original series.  There is also the heart and passion I enjoy.
The setting is about 5 years after Amber was in college and she is a PI, following in her "Aunt" Charley's footsteps.  I didn't recall Quentin disappearing in the original series. I do remember him not knowing his family.
Amber and Quentin show up at the same murder scene and they are both trying to figure out what happened and why.   I don't want to spoil this delightful tale.  So I will say they learn more about each other and what they have been doing over the years.  I'd love to see more of this couple and this world.
Excerpt:
"Intruder!" Kyle said from behind him, a day late and a dollar short. 

Quentin glared at him, and Kyle stepped back reflexively. Then he refocused his glare on Amber. 

"What?" she asked, her hackles rising as hackles are wont to do. 

"What are you doing here?" Again, his signs were sharp with irritation. 

As Amber sat in utter astonishment—He Who Must Not Be Named was literally the last person on Earth she'd expected to see today—she used the break to take him in. 

How much could a guy change in five years? 

If Quentin Rutherford was any indication, a hella lot. 

She barely recognized him. He'd hardened—in all the right places. His shoulders had widened more than most twenty-seven-year-olds. He'd always been muscular, even when they were kids, but either he'd been hitting the gym, or he'd been magically photoshopped. The hills and valleys that covered his body to exquisite perfection could be seen through the long-sleeved T-shirt he wore, his biceps stretching the seams to their limits. And the jeans, the ones with a few holes here and there, were not a fashion statement so much as a favored pair of work pants. 

"Ms. Kowalski?" Kyle said. 

Quentin turned to him, and Amber caught a glimpse of two things: the profile of his steely buttocks that had developed as much as the rest of him, and a particularly well-placed rip in the worn jeans that showed part of the indentation in his left ass cheek. The fact that he wasn't wearing underwear was a bonus. How could anyone she hated so much be so startlingly drop-dead sexy? Life was not fair. 

Then she realized something. He'd heard Kyle. Quentin had turned when Kyle spoke, and she wondered if he'd finally gotten a pair of hearing aids. They'd never helped him that much before, so he never wore them, but technology had advanced a lot since then. Maybe they had more powerful aids now that could help him hear. 

She snuck a glance but didn't see any mechanical earpieces. Interesting. 

When he turned back to her, she couldn't get over how much he'd changed. His hair was shorter now and a little darker but still a rich, tawny blond. And he'd either started wearing it spiked, or he had bedhead. Either way, he was even more gorgeous than before. Full mouth. Straight nose. Deep blue eyes like the cobalt on a ceramic bowl. 

Damn it. 
Review copy was received from Publisher. This does not affect my opinion of the book or the content of my review.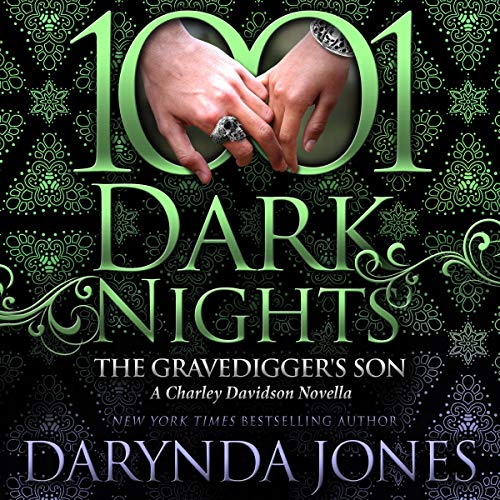 The Gravedigger's Son
by
Darynda Jones
Narrator:
Lorelei King
Series:
Charley Davidson #13.6
Published by
Brilliance Audio
on May 11, 2021
Length:
3 hours, 20 minutes
Format:
Audiobook
Source:
Publisher
Goodreads
Audible





Narration:
Lorelei King is the voice for this series.  She does an amazing job with all the characters, infusing their personality.  I was able to listen to this at my normal 1.5x speed.
Listen to the clip:  HERE
Rating Breakdown
Plot
Writing
Characters
Narration (Audio)
Overall:
Latest posts by Anne - Books of My Heart
(see all)
Reading this book contributed to these challenges:
Related Posts