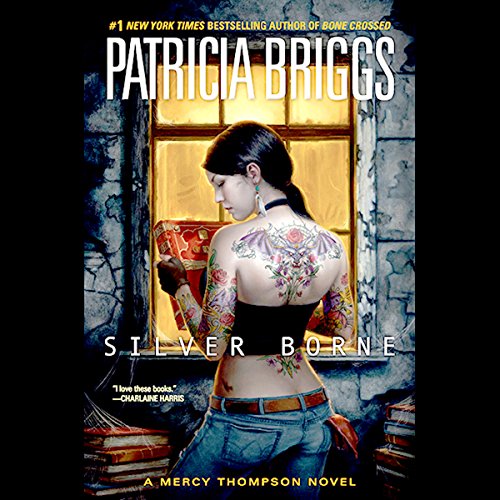 Silver Borne by Patricia Briggs
Narrator: Lorelei King
Series: Mercy Thompson #5
Published by Penguin Audio on March 30, 2010
Genres: Urban Fantasy
Length: 9 hours, 5 minutes
Format: Audiobook
Source: Library
Goodreads
Amazon,  Audible,  Libro.fm,  Barnes & Noble,  Apple






Being a mechanic is hard work. Mercy Thompson, for instance, just spent the last couple of months trying to evade the murderous queen of the local vampire seethe. And now the leader of the werewolf pack, who's maybe-more-than-just-a-friend, has asked for her help. A book of fae secrets has come to light and they're all about to find out how implacable - and dangerous - the fae can be.

OK, so maybe her troubles have nothing to do with the job. But she sure could use a holiday..
This is my second time reading 
Silver Borne
, 
though it's my first time doing the audio version. And I still love it!
I loved reading the development in Adam and Mercy's relationship and the changes in her bonds to the pack, as well as the mating bond. I had forgotten the pack drama! I find myself picking up on details that I had completely overlooked (or maybe just forgotten). Mercy is healing from the events of Bone Crossed, and it's leaving its mark on their relationship.
I think the real treat, though, was reading this after having read the short story Silver! The book makes sense without it, but I understood things involving the fae, the silver borne and Samuel so much better because of having read Silver. If you haven't read it, I recommend you take the time to, it's not long.
Noticeably absent in Silver Borne are the vampires. Immediately following a book where they were front and center, it was kind of shocking that they aren't in it even a little. But I didn't miss them that much either, maybe Stefan a bit.
Narration:
I love Loreli King as a narrator and she's absolutely perfect for this series. I listen at 2x speed easily, still able to pick up on her great voices, inflection, and ability to pull the characters off the page. Couldn't recommend the audio enough!
Listen to a clip:

---
Games:
Who said (enter the answer in the Rafflecopter, don't put in the comments)
" I guess I'm not much for following orders as written. I prefer the spirit to the letter of the law."
There are other options in the rafflecopter for you to enter discussion questions and quotes to share.
---
Share your review/ thoughts on Silver Borne:
I thought it might be fun to link up reviews so we can find them all easily.  It can be a link to Goodreads or a blog, or wherever you have a review (short or long).
Mister Linky's Magical Widgets — Easy-Linky widget will appear right here!
This preview will disappear when the widget is displayed on your site.
If this widget does not appear,
click here
to display it.
---
Observations and questions you shared from Bone Crossed:
(Thank you  so much for sharing!)
---
Quotes you readers shared from Bone Crossed:
(Thank you for sharing!)
"Only you could go to Spokane and get bitten by the one vampire in the whole city."
"Better Warren as second than a coyote in the pack," said Aurielle tightly."
"One of the oddest things about being grown-up was looking back at something you thought you knew and finding out the truth of it was completely different from what you had always believed." – Mercy
---
Schedule:   
We are doing one book every 4 weeks, posting on Fridays.
Apr 24:   Silver Borne – Berls at Because Reading
May 22:  River Marked: Rachel at Waves of Fiction
Jun 19:   Frost Burned   –  Jonetta at the Blue Mood Cafe
Jul 17:    Night Broken – Jennifer the Book Nympho (now at That's What I'm Talking About)
Aug 14:   Fire Touched – Robin
Sep 11:    Silence Fallen – Sophia 
Oct 9:     Storm Cursed  – Angela at My Guilty Pleasures
Nov 6:    Smoke Bitten   –  Anne
Miss a post?
Jan 3:    Moon Called – Anne
Jan 31:   Blood Bound  – Melanie
Feb 28:   Iron Kissed – Carole at Carole's Random Life in Books
Mar 27:   Bone Crossed – KC
---
Be sure to enter the giveaways!!!
Giveaway:
Digital or Paperback copy of River Marked from Amazon (US )  or Paperback copy of River Marked from Book Depository (open Intl):

Grand Prize Giveaway:
I am still developing the complete grand prize package which I will update here as we go along in the Read-along. I know it will contain the MP3 audio versions of the books from Brilliance Audio, probably signed as I intend to go see Patricia Briggs at a conference or two this year.  It will also contain swag from those events.  There will be a Mercy Thompson enamel pin from AceRoc.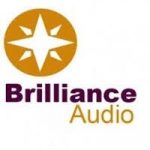 Rating Breakdown
Narration (Audio)
Overall:
Latest posts by Anne - Books of My Heart
(see all)
Reading this book contributed to these challenges:
Related Posts