Review copy was received from Publisher. This does not affect my opinion of the book or the content of my review.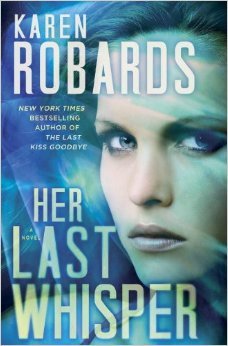 Her Last Whisper
by
Karen Robards
Series:
Dr. Charlotte Stone #3
Published by
Ballantine
on August 26, 2014
Genres:
Romantic Suspense
,
Paranormal
Pages:
333
Format:
Hardcover
Source:
Publisher
Goodreads
Amazon
, 
Audible
, 
Audiobook
, 
Barnes & Noble
, 
Apple



Madness and murder invaded Dr. Charlotte Stone's life when she was just a girl - and made her a woman determined to save others from the horror she survived. An expert in the psychology of serial killers, she's faced down more than her share of human monsters. But Charlie can also communicate with the spirits of those who die violently, an extrasensory skill that has helped the FBI bring lethal predators to justice. Now, after narrowly escaping death a second time, Charlie's ready to step away from the edge... before her luck runs out.

Too bad Charlie is too dedicated for her own good - and too devoted to federal agent Tony Bartoli to say no when he asks her to ride shotgun on yet another risky mission. Of course, she already has her hands full with Michael Garland: the handsome, roguish ghost with whom she's hopelessly in love - a spirit who depends on Charlie to keep him from slipping forever into the dark side of the afterlife. But in the mortal world, beautiful single women are vanishing from Las Vegas hotels at night. All signs indicate that a psychopath is on the prowl in Sin City, and Bartoli's FBI colleague Lena Kaminsky has reason to fear that her missing sister may be just the killer's type.

In a town full of fast players and few rules, flushing out a smooth-talking stalker like the Cinderella Killer might be a loser's game. But for Charlie, the only way to cage her quarry is to plunge back into the homicidal hell she vowed to leave behind - and may not leave alive.
ICYMI is a post from my early days of blogging at Yummy Men & KickAss Chicks.   You can see the original joint review here.
Yummy Man – Michael Garland
Kick Ass Chick – Charlotte (Charlie) Stone
---
Her Last Whisper is the third book in the Dr. Charlotte Stone series by Karen Robards.
I loved the first two books of this series enough to call them 5 star favorites. This book has different paranormal aspects than my usual urban fantasy reads. Charlie (Charlotte) sees dead people and after her ordeal in book 2, now she hears them even if they aren't with her. She is a doctor and studies serial killers. Tony, an FBI guy, pulls her into some of his cases, because he likes her, but he gets her nearly killed each time.
Charlie's best friend, Tam Green, is a psychic. We see more of her in this story. I like her. She seems mostly smart and funny. She is a real psychic, not some fake game. The other characters are ok but Ijust don't connect to them as I do Michael and Charlie.
Michael, her ghost, tries to keep her away from Tony and out of the cases. At great personal risk and agony, he continually protects Charlie. I understand Charlie not wanting Michael telling her what to do, but it is hot when he's bossy. And she is bordering on TSTL. As I said in my review for book two (which you can read on Goodreads here), I LOVE Michael.
Charlie, I am starting to find a bit annoying. She's a smart, educated, capable woman. She tries to talk herself out of how she feels. I find that stupid. You feel what you feel, own it. You can't control your feelings, only your actions and your responses. She seems to have limited emotional, relationship experience and hopefully she is growing throughout this series. I'm finding it more painful than she is, I think. That's probably why I love Michael – he tells it like it is.
This book continues on similar to the first two books, in that there is a big case with Charlie helping out the FBI. It's ok. I like mysteries and the details they go through to follow clues and catch the killer, that's all fine. I guess I just like more romance and less of the mystery. There was romance here but Charlie was being all stupid, so it wasn't as satisfying as it could be. There was sex and it was hot. Michael is HOT. And he's funny too.
We did learn a little more about Michael and his past at least, and I really enjoyed that. I would like more about him and Charlie, as far as their lives, relatives, etc. And most of all, I want more time and dialogue with them together. Not necessarily sex, but conversations between them.
My other big problem here is this. Michael was in jail, convicted of murder. He says he is innocent. He died. Why isn't Charlie doing more to research his case and prove him innocent? She believes he is innocent. THAT is the book I want. She did have the DNA retested and it is his. So either he has been framed or he has a twin? Also, I hope the title of this book has meaning going forward.
The ending is a bit of a quick twist which I am thinking sets up the next book. I'm hoping this leads down the past of proving Michael's innocence. And Tam needs to help her figure out how to have a life with Michael, even if he is a ghost.
So I'm not realistic? I want what I want. This is FICTION; the author can make up her own rules. I have high hopes for the next book and will keep reading. I wouldn't read Her Last Whisper without reading the first two books but they are worth it. They are both strong 5 star reads for me. Unfortunately, this one did not quite live up to them.
Giggle worthy quote –

"Tony continued, 'And as for the illicit love affair Ms. Green mentioned – well, that isn't me, either.'
At that pointed remark, Charlie felt guilty. A reflexive glance in the mirror at the cause of her guilty feeling – that would be Michael, whom she forgot she couldn't actually see that way because his reflection didn't show up in mirrors – revealed Lena and Buzz exchanging uncomfortable glances.
In other words, in that car, for that moment, there was a whole lot of guilt going around.
'Dudley's talking about Pebbles and Bam-Bam back here, not you and me.'  Michael's voice was dry. He could see her through the mirror even if she couldn't see him. 'Jesus, babe, don't ever play poker.'"
Latest posts by Anne - Books of My Heart
(see all)
Related Posts