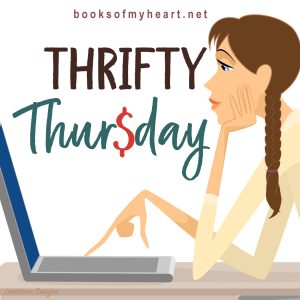 The purpose of Thrifty Thursday is to read a book which was free (at some point).
Kindle freebie on July 13, 2021  (currently free at Amazon and Barnes & Noble as of writing this post)
Overall rating 4.05 with 6,438 ratings and 601 reviews
This book may be unsuitable for people under 17 years of age due to its use of sexual content, drug and alcohol use, and/or violence.
A Week in New York
by
Louise Bay
Series:
Empire State Trilogy #1
Published by
Self-Published
on October 21, 2014
Genres:
Contemporary Romance
,
Erotica
Pages:
117
Format:
eBook
Source:
Purchased
Goodreads
Amazon
, 
Audible
, 
Barnes & Noble
, 
Apple





Anna Kirby is sick of dating. She's tired of heartbreak. Despite being smart, sexy, and funny, she's a magnet for men who don't deserve her.

A week's vacation in New York is the ultimate distraction from her most recent break-up, as well as a great place to meet a stranger and have some summer fun. But to protect her still-bruised heart, fun comes with rules. There will be no sharing stories, no swapping numbers, and no real names. Just one night of uncomplicated fun.

Super-successful serial seducer Ethan Scott has some rules of his own. He doesn't date, he doesn't stay the night, and he doesn't make any promises.

It should be a match made in heaven. But rules are made to be broken.
A Week in New York is a sexy, fun read.  It reminds me of the days when I was younger and the term was yuppies. I knew some who would throw a dart and then go where it landed for the weekend.  The timeframe was also after the pill was easily available and before HIV, so sexual relationships were carefree.
Anna was taking a vacation to have fun after a breakup and even better she can go with her best friend.  I'm uncertain what she does for a living.  However, she and Leah met in law school.   They live in London.
Ethan is a lawyer.  He is confidant and fun.  He lives in New York but his sister lives in London so I could see what might happen there.
The characters are pretty well developed, although they don't have much growth in a week, but they do talk a lot and it is not constant sex as the blurb might indicate.   They do meet each other's friends and everyone gets along.   The story ends with Anna leaving at the end of the week to go back to London, not expecting to see him again.
I enjoyed this and look forward to reading the other two books in the series.  They are just over 100 pages each,  so together they make a regular size book.   The trilogy is in Audible Plus as one audiobook, so I have added it to my library to listen to Autumn in London, and New Year in Manhattan.
---
Kindle freebie on August 8, 2020 (currently $4.99 at Amazon and Barnes & Noble as of writing this post)
Overall rating 3.97 with 14,754 ratings and 1,494 reviews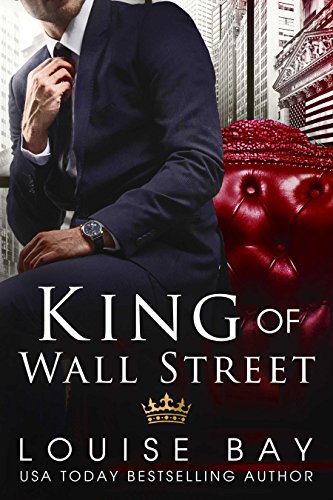 The King of Wall Street
by
Louise Bay
Series:
The Royals #1
Published by
Self-Published
on August 22, 2016
Genres:
Contemporary Romance
,
Erotica
Pages:
308
Format:
eBook
Source:
Purchased
Goodreads
Amazon
, 
Audible
, 
Barnes & Noble
, 
Apple





I keep my two worlds separate.

At work, I'm King of Wall Street. The heaviest hitters in Manhattan come to me to make money. They do whatever I say because I'm always right. I'm shrewd. Exacting. Some say ruthless.

At home, I'm a single dad trying to keep his fourteen year old daughter a kid for as long as possible. If my daughter does what I say, somewhere there's a snowball surviving in hell. And nothing I say is ever right.

When Harper Jayne starts as a junior researcher at my firm, the barriers between my worlds begin to dissolve. She's the most infuriating woman I've ever worked with.
I don't like the way she bends over the photocopier—it makes my mouth water.
I hate the way she's so eager to do a good job—it makes my dick twitch.
And I can't stand the way she wears her hair up exposing her long neck. It makes me want to strip her naked, bend her over my desk and trail my tongue all over her body.

If my two worlds are going to collide, Harper Jayne will have to learn that I don't just rule the boardroom. I'm in charge of the bedroom, too.
King of Wall Street is another fun read with sexy times. I don't think it is very realistic but I enjoyed it anyway.   Max and Harper are smart, well educated and have had fairly good childhoods.  Harper has a lot of hurt and anger from her absentee biological father and it comes to a head with her first job.
Max seems like an asshole to Harper but he is really a pretty decent guy.  He is a caring parent to his daughter and they have a good relationship.  He is only cold and brief with Harper because he is so attracted to her.  Harper is kind of immature in her first professional job.  But Max could have provided more constructive learning for her. If he had arranged that, she might have had less hurt and been more productive.  He did later in the book.
Their sexual attraction is huge.  They give in and it just brings in the emotions and further complicates the working relationships.  They get to know each other better but neither one is experienced with having a relationship.  With the support of Max's daughter and sisters, and Harper's friend Grace,  they manage to put things together with just one major blow up.
I enjoyed reading, even if it wasn't too authentic. I did appreciate how Max and Harper did learn and grow. There's some sweet, hot times and it didn't seem too much of the page time.   It looks like the next book Park Avenue Prince features Harper's friend, Grace. I'd like to see how things go for her and maybe another peek at Max and Harper.
---
These are only Kindle freebies I get, or ones through author newsletters which anyone can sign up and get for free. I don't include things like Kindle Unlimited or Prime Free Reading (I do have it). Both Tantor and Audible have occasional free audios (to anyone) and I do include those.  Since I one-click on 1-2 freebies a day or probably at least 5 a week, I came up with this feature to make sure I start reading them.
So I have thought about doing a Thrifty Thursday Challenge someday. For now,  what I think would be fun is if you have read and reviewed  a freebie, link up to your review (Goodreads, blog, facebook or wherever) below.
---
Add your review link here: 
Mister Linky's Magical Widgets — Thumb-Linky widget will appear right here!
This preview will disappear when the widget is displayed on your site.
If this widget does not appear,
click here
to display it.
Latest posts by Anne - Books of My Heart
(see all)
Reading this book contributed to these challenges:
Related Posts