Review copy was received from Publisher. This does not affect my opinion of the book or the content of my review.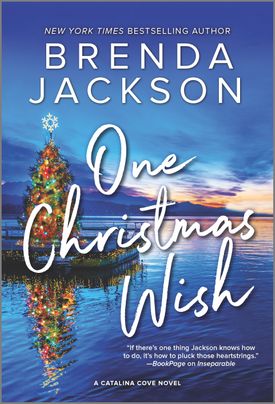 One Christmas Wish
by
Brenda Jackson
Series:
Catalina Cove #5
Published by
HQN Books
on October 26, 2021
Genres:
Contemporary Romance
Pages:
384
Format:
eARC
Source:
Publisher
Goodreads
Amazon
, 
Audible
, 
Audiobook
, 
Barnes & Noble
, 
Apple




Vaughn Miller's Wall Street career was abruptly ended by a wrongful conviction and two years in prison. Since then, he's returned to his hometown, kept his head down and forged a way forward. When he is exonerated and his name cleared, he feels he can hold his head up once again, maybe even talk to the beautiful café owner who sets his blood to simmering.

Sierra Crane escaped a disastrous marriage—barely. She and her six-year-old goddaughter have returned to the only place that feels like home. Determined to make it on her own, Sierra opens a soup café. Complication is the last thing she needs, but the moment Vaughn walks into her café, she can't keep her eyes off the smoldering loner.

When they give in to their attraction, what Sierra thought would be a onetime thing becomes so much more. Vaughn knows she's the one. Sierra can't deny the way Vaughn makes her feel, but she's been burned before. With Christmas approaching, Vaughn takes a chance to prove his love, and it will be up to Sierra to decide if her one Christmas wish—true happiness—will come true.
A small town for the holiday is just the sort of comfy, heartwarming romance setting I crave.  Brenda Jackson has brought her readers back to Catalina Cove for a new lovers getting a second chance surrounded by friends, family, and community that makes the magic of the holidays a delicious extra to an already engaging story.
One Christmas Wish is the fifth in a series of standalone romances.  There are mentions of previous couples and updates with them, but there is no trouble jumping in with this one like I did.
Catalina Cove is a small hamlet on the gulf coast of Louisiana with a rich history of Creole, southern, and, oh yes, a pirate finding romance founded the town.  A wealthy business owner has put up low interest business loans to help draw back former residents and revitalize the town business district.  This ends up revitalizing several lonely people who find love and home in Catalina Cove.
The latest pair to discover an attraction have complicated painful pasts to overcome.
Vaughn Miller went to prison for a crime he didn't commit and was exonerated, but the damage had been done in some quarters like his fiancé who took off and wouldn't believe in his innocence.  He has been afraid to give love a second chance until he encounters a lovely woman who attracts him on all levels.  She is more hesitant than he is, but he decides she's worth it and settles in for the long game of coaxing Sierra Crane into giving happily ever after a chance.
Sierra once had a marriage, that on paper, would be the envy of all until she caught her husband cheating and realized he would make her choose between him and her late best friend's orphaned child since he wanted no children to gum up his life.  Opening a soup and sandwich shop in her hometown and focusing entirely on six year old Teryn and her business is all she wants.  Never again will she take a chance with her heart even for a man who makes her feel like she never felt before.  She gets one Christmas wish according to her goddaughter so what should she use it on?
For the most part, this was a lovely, gentle low-angst holiday romance against backdrop of a town celebrating the holidays with some bedroom spice and a southern style.  Oh sure, there are some exes to contend with and Sierra did hold out a long time and even chose to blow up some drama because she got cold feet after she did open up, but yes, it was a sure heart-warmer.  Another favorite part of this fab holiday romance was that it left me craving all sorts of home-made soups, sandwiches, and regional holiday cooking.
So, a small town Gulf Coast holiday romance hit the spot and left me craving more Catalina Cove.  Those who enjoy a slightly spicy low angst romance should add this one to the holiday reading pile.
Related Posts