The Sunday Post is a weekly meme hosted by Kimberly  @ Caffeinated Reviewer. It's a chance to share news~ A post to recap the past week, and showcase books and things we have received.
---
Don't forget to look at my giveaways on the right sidebar.
Sunday, I did my normal visiting.  The weather was another oddball and got up to mid 60s (19C).  So Lulu and I enjoyed a longer route.  I've been checking out more new recipes and I was trying to come up with a menu plan.  I hadn't tried Harris Teeter curbside pickup, so I did an order for Monday.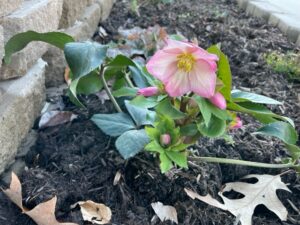 Monday, was windy and 20 degrees colder, in the 40s.  I went to pick up a couple RX for my daughter and the Harris Teeter order. By then it was late afternoon, the wind had died down and with the sun it was actually a nice walk.  Lulu was so excited, it was like she was skipping.  I tried a new recipe. I saw a broccoli quiche but I wanted to use spinach and then I added diced onions and garlic.  It was good. I was tired of the same food and that's one I could make even once a month and change up the veggies.  I picked the snow peas but decided to use them later. I got a better shot of the Lenten Rose blooming.
Tuesday, it's one of the coldest days this week. 40F (5C). I decided to stay inside so I could wear pj pants all day. But the sun was shining and it wasn't so windy so I didn't. Lulu and I did a shorter walk.  I finished my audio and then wrote some reviews.   I made clam chowder for dinner.
Wednesday, another day I didn't get up very early.  The weather was warmer 53F (12C), wind from the south,  and Lulu and I took one of the longer walks in the neighborhood.
Thursday,  the weather is about like yesterday and I got going a bit earlier.  I worked on some upcoming meme posts and wrote some reviews.  Lulu and I walked another longer route.  My daughter and I were relaxing and watched several episodes of Hell's Kitchen after dinner.
Friday, the wind turned so it was from the north and gustier, but it was still nice, so Lulu and I walked a longer route.  Lulu is yawning and saying, it is time to fix dinner now and I'm tired of waiting.
Saturday, I don't seem to be able to get up before 10 this week.  I need to dial that back and get up earlier next week.   I'm doing dishes and laundry, and charging my power banks, just in case, we lose power when we get snow / freezing rain.   Lulu and I only walked to the corner and back.  It was 40F / 5 C and the wind from the north but not too bad.  I was just really cold. Facebook is being weird and not letting me share book deals.  So I did a bunch of post setups. I'm trying a new soup recipe tonight.

Stacking the Shelves is hosted by Reading Reality.  These are the exciting ARCs I received this week (If you click on the cover, it will take you to the Goodreads entry):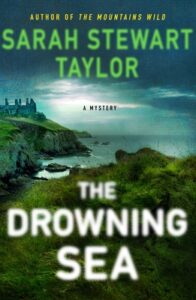 Thanks to Penguin Audio (the audio is being released 3 months before the ebook novella),   Harper Audio, and Minotaur Books.                           
(If you click on the cover, it will take you to the Goodreads entry)

Now the really scary one. This is all the Kindle and Audible freebies I grabbed this past week. You can see why I need to do Thrifty Thursday to be sure I read a few at least one each month.
I really meant to cut back on freebies BUT  they are free so I guess that won't be happening.

I'm not including things like reviews posted or upcoming as they are always in the right sidebar. And, my challenge status is also there.
Anne
Latest posts by Anne - Books of My Heart
(see all)