Review copy was received from Publisher. This does not affect my opinion of the book or the content of my review.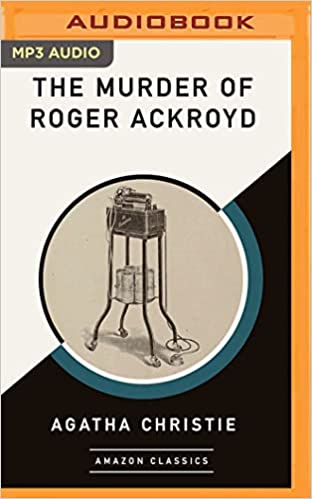 The Murder of Roger Ackroyd
by
Agatha Christie
Narrator:
Tim Bruce
Series:
Hercule Poirot #4
Published by
Brilliance Audio
on January 11, 2022
Genres:
Mystery
Length:
7 hours, 43 minutes
Format:
Audiobook
Source:
Publisher
Goodreads
Amazon
, 
Audible
, 
Audiobook





Hercule Poirot thought that retiring to a small village to do some gardening would bring his detective career to a halt. But when Roger Ackroyd's body is found in his study with a knife stabbed into him, Poirot takes on the case. Ackroyd, whose wealthy fiancee had just recently committed suicide, is hosting a dinner party for a swathe of guests one night when a friend comes to him in confidence and reveals that someone had been blackmailing his late fiancee. That is the last time anyone saw Mr. Ackroyd alive.

Join one of Agatha Christie's most notable characters in this entertaining and surprising murder mystery.
Hercule Poirot retires to the country and lives in a little village where gossip is an Olympic sport, but little ever happens.  Or so it seems, then there is a suicide, followed by a murder, to get the tongues of King's Abbot wagging and Poirot out of retirement.  Of the many Agatha Christie stories, this has been one of my favorites and I was delighted to get a re-listen on audio with new to me narrator, Tim Bruce.
Agatha Christie has a particular style to her writing, but her books are in no way formulaic.  Take The Murder of Roger Ackroyd, for example, the whole story is told within the pages of the local doctor, James Sheppard's journal.  In fact, for a great deal of this book, James is the central figure and Poirot barely appears until at least a third of the way in.  Wry and witty, yet observant James and his hilarious snooping sister, Caroline, were hot on the trail to get answers now that something exciting has happened in their quiet village.
For the most part, the household of Roger Ackroyd is the main setting and provides the bulk of the characters.  His murder draws the police who are not exactly impressed with Poirot's quirky methods and what catches his focus.  He is taken up by the little inexplicable things and the 'psychology' behind actions and words.  James Sheppard became his detecting side kick.
I enjoy how Christie provides a large cast of characters, some side trails to muddy the water a bit, and then that twist which comes with the reveal.  Of course, one feels they should have seen it coming especially since she is generous with her hints in retrospect.
All in all, this mystery set in the English countryside of the past, clever plot, and distinct characters was just as fabulous this latest encounter as it was in the past.  Those who enjoy classic British mystery should definitely give this one a go.
Narration:
Tim Bruce was an excellent narrator and caught the tone and accents of each character well.  Class, nationality, gender, age, and personal mannerisms all shone forth.  I was easily able to sink into his storytelling and appreciate the mystery all the better.
Listen to a clip: HERE
Rating Breakdown
Narration (Audio)
Overall:
Related Posts