Review copy was received from NetGalley. This does not affect my opinion of the book or the content of my review.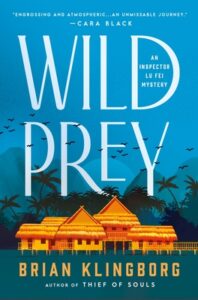 Wild Prey
by
Brian Klingborg
Series:
Inspector Lu Fei #2
Published by
Minotaur Books
on May 17, 2022
Genres:
Mystery
,
Thriller
Pages:
304
Format:
eARC
Source:
NetGalley
Goodreads
Amazon
, 
Barnes & Noble
, 
Apple






The search for a missing girl sends Inspector Lu Fei undercover into the wild corners of Myanmar, and the compound of the deadly and mysterious woman warlord responsible for the illegal trafficking of exotic animals and possibly more, in the next book from Brian Klingborg, Wild Prey.

Police Inspector Lu Fei has an unfortunate talent for getting himself into hot water with powerful and well-connected people. Which is why he's been assigned to a backwater town in a rural area of Northern China and quietly warned to keep his head down. But while running a sting operation on the sale and consumption of rare and endangered animals, Lu comes across the curious case of a waitress who has gone missing. Her last known whereabouts: a restaurant frequented by local elites, owned by smooth-talking gangster, and known for its exotic -- and highly illegal -- delicacies.

As usual, Lu's investigation ruffles some feathers, resulting in his suspension from the police force. Lu figures he's reached a dead-end. Then he's contacted by a mysterious government official in Beijing who wants him to go undercover to track down the mastermind behind an illegal animal trafficking network -- and hopefully, the answer to the fate of the missing waitress. The mission will require Lu to travel deep into the lawless wilds of Myanmar, where he will risk his life to infiltrate the hidden compound of a mysterious and ruthless female warlord in a bloody and nearly hopeless quest for justice.
Everything I said in my review of the first book, Thief of Souls, is still true.  I like Inspector Lu and his integrity is solid.  He is the point of view for our view into this unfamiliar country, China, its culture and politics.  Lu cares about people and treats them with respect.  He is not interested in power and politics but they often get in the way of his job.
It's an interesting world culturally. There are so many dangers and severe consequences with few upsides available. Dictatorship with oligarchy has all downsides unless you are at the top. You either have to be born there or extremely ruthless. I'm not thinking one can work their way up. One could get favors maybe but those would be pretty limited and at anytime one could be cut off.
For the current case of a missing young women, a nobody except to her younger sister, he works to determine what happened to her and if she is still alive.  Unfortunately, those who are powerful either don't care, or prefer her dead.  It's a good thing Inspector Lu has skills and fortitude because stepped in it here.  He was in extreme danger most of the time.  People around him died and he could have easily died as well. The pace was frenetic!
To the displeasure of some in power, he investigates with meticulous efforts, slowly progressing to the truth.  Truth can be a dangerous thing, but he perseveres. More than one person tries to disable him to stop him from finding the young women or her body and uncover unsavory truths. Fortunately, he has a few friends but he easily makes new enemies.  The political situation is oppressive and he barely manages.
Personally,  he continues to pursue a relationship with the widow, Yanyan.  He seems to make a bit of progress.  I worry about her business and safety if Lu continues to pursue the truth instead of caving to politics.  I look forward to continuing to read the Inspector Lu series.
Latest posts by Anne - Books of My Heart
(see all)
Reading this book contributed to these challenges:
Related Posts