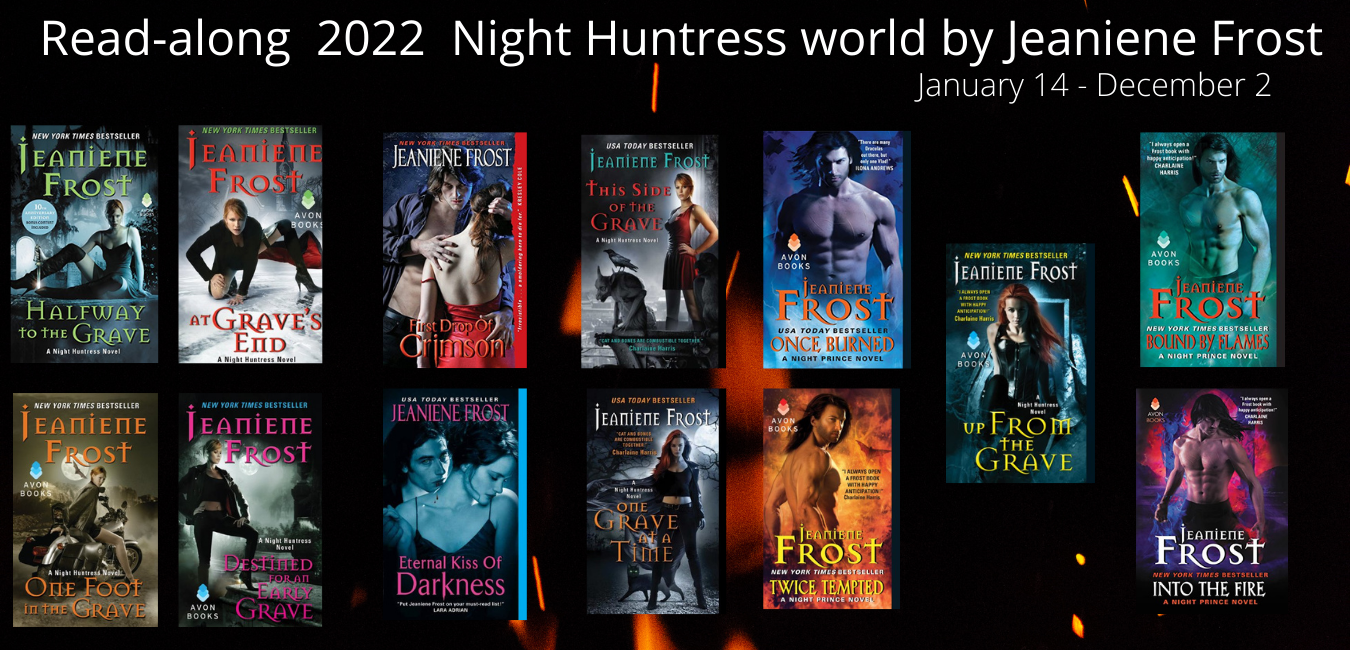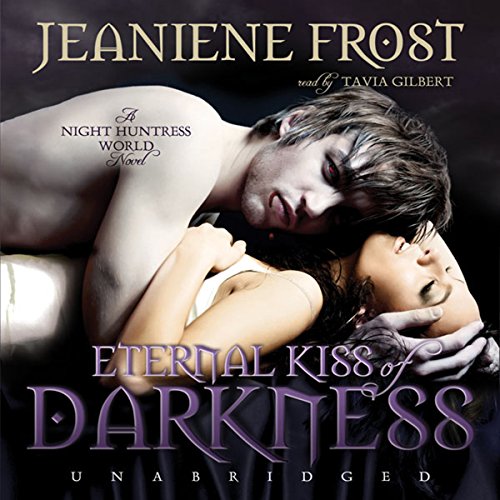 Eternal Kiss of Darkness
by
Jeaniene Frost
Narrator:
Tavia Gilbert
Published by
Blackstone Audiobooks
on August 23, 2010
Genres:
Paranormal Romance
,
Urban Fantasy
Length:
10 hours, 25 minutes
Format:
Audiobook
Source:
Library
Goodreads
Amazon
, 
Audible
, 
Audiobook
, 
Barnes & Noble
, 
Apple





Chicago private investigator Kira Graceling should have just kept on walking. But her sense of duty refused to let her ignore the moans of pain coming from inside a warehouse just before dawn. Suddenly she finds herself in a world she's only imagined in her worst nightmares.

At the center is Mencheres, a breathtaking Master vampire who thought he'd seen it all. Then Kira appears—this fearless, beautiful . . . human who braved death to rescue him. Though he burns for her, keeping Kira in his world means risking her life. Yet sending her away is unthinkable.
I am excited to participate in Anne's Read-along again this year. I listened to the Night Huntress books back circa 2015 and enjoyed them. Eternal Kiss of Darkness is one of two standalone romances that feature supporting characters and an HEA. I enjoyed my re-read tremendously, and found my original thoughts on the book hold up.
Eternal Kiss of Darkness centers on Bones's co-ruler and grandsire, the powerful Mencheres. In a previous book, we learned that Mencheres lost his ability to see visions of the future, but what we didn't know until now, is that he sees the endless darkness of death. We also learn that Mencheres has been in a millennia-old feud with a fellow Egyptian vampire, who feels Mencheres received the gifts of power that should have been his. Tired of this feud and ready to end his life, Mencheres thinks the best thing for his people and Bones is to die, so he allows a group of ghouls to kill him. That is until Kira accidentally discovers the beat down and tries to save Mencheres. However, once it's apparent that she's seen too much and he can't wipe her mind of the events, Mencheres must take Kira with him until he can figure out how to make her forget what she knows. What he doesn't count on is feeling something for her – the first woman to effect him in nearly 3,000 years.
Right from the start, I throughly enjoyed Eternal Kiss of Darkness. Kira is a wonderful character: smart, independent, kind, spunky, and everything I love about a PNR/UF heroine. Mencheres and Kira are a perfect match; she allows the kindness and generosity he long ago buried to shine. I love that from the start there is a strong mutual attraction; however, neither will act on it because he's holding her captive. My only complaint is that the ending is very sudden and abrupt.
In the end, Eternal Kiss of Darkness is a wonderful paranormal romance, full of drama, but not dramatic. I enjoyed the Egyptian mythology and learning more about the vampiric powers and politics. I'm so glad I took the time to re-read this fabulous story.
Narration: 
The story is shared via the alternating third person POVs of Kira and Mencheres. Ms. Gilbert uses a neutral female voice to narrate both POVs, altering dialogue for all characters. She utilizes a vast array of accents and tones to fit the multitude of vampire and human characters. She adjusts for age, gender, and background to create a cast of dozens. Her males are generally deeper and come across as if different actors are performing. My personal favorite is the heavily Romanian-accented Vlad, who sounds just as I imagine the famous vampire would speak. Additionally, Ms. Gilbert excels at inserting non-speaking sounds and conveying strong emotions in her narration.
Listen to a clip:  
Story: A-
Narration: A-
---
Games:
Who said (enter the answer in the Rafflecopter, don't put in the comments)
Who said                              "Vampires like you piss me off, leaving a trail of bodies for humans to be suspicious over when there's no need to kill to feed. Ever had a mob of villagers armed with torches and pitchforks burn your house down while screaming 'death to the wampyre!'? I have, and it's irritating beyond belief."
There are other options in the rafflecopter for you to enter discussion questions and quotes to share.
The quote for Who said ""I want to live without being afraid or used or ashamed. I want a second chance." in First Drop of Crimson is Nathanial.
The villain was Raum.
---
Share your review/ thoughts on  Eternal Kiss of Darkness:
I thought it might be fun to link up reviews so we can find them all easily.  It can be a link to Goodreads or a blog, or wherever you have a review (short or long).
Mister Linky's Magical Widgets — Easy-Linky widget will appear right here!
This preview will disappear when the widget is displayed on your site.
If this widget does not appear,
click here
to display it.
---
Observations and questions you shared from First Drop of Crimson:
(Thank you  so much for sharing!)  If you can answer any of these numbered questions, you can do so in a comment.
There is a fantastic hot shower scene~
Ian was a lot of fun in this book.
How did Denise keep demon powers with the demon dead?
Why didn't Patra just use the spell Mencheres used if she really wanted them all dead?
---
Quotes you readers shared from  First Drop of Crimson:
"Ah, darling, you're burning me in the sweetest way,"
"If we hadn't been mates for over two centuries, I'd be tempted to knock you on your arse."
"Lucifer's bouncing balls, that's why you're acting like a nutter! You're gone and fallen in love with her. Bloody hell, If I didn't see it on your face myself, I wouldn't believe it."
"Silver? How interesting."
"Why don't you swim around until you find a shark? Then you can discuss how much the two of you have in common,"
"With your body that should count as entrapment."
"If ever there was a good cause for breaking up with someone, turning into a four-legged creature is it."
"I'm a vampire, my closest friends are vampires and ghouls, and there's a ghost floating right outside this room. I've dealt with demons, black magick, wraiths and zombies in the past two years alone, so IK'm afraid your shapeshifting isn't going to send me fleeing away in fear."
"I'm sorry I can't give you the normal life you wanted, but I promise to adore you every day for the rest of your new one."
"You look like a Dracula porn movie reject. "
---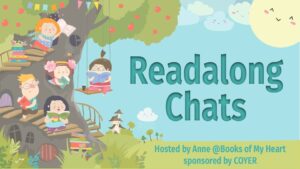 COYER FB Chat – Sunday May 22
Challenge is adopting our Read-along.  You can read about COYER and join that challenge  HERE.   On the Sunday after the review posts, they will host a FB room (like we do for COYER book club) at 12 PT, 2 CT, 3 ET and 9pm Europe, for a one hour chat.  You do not have to join the COYER challenge to participate, only the Facebook group.
If you can't attend, there is also a Facebook messenger chat which has been fun and active, set up following the live chat.
---
Here's your to-do list:
Find your copies of these books, borrow them from a friend, get them at the library or buy them.
Read Book 7, This Side of the Grave, by June 10.
Make note of a favorite quote or two as you read the book.
If you haven't read the books before, make a list of questions you have for the discussion. If you have read them, please don't spoil new readers.
Think of some great questions for Jeaniene Frost for the Q & A post!
Link up your review on Goodreads, FB or other site to the post.
Join the COYER book chat on the Sunday following the post.
Enter the giveaways!
---
Schedule:   
We are doing one book every 3-4 weeks, posting on Fridays. We will have a review for the books with the team here at Books of My Heart plus some of our friends.  We are following the author recommended reading order.
May 20:  Eternal Kiss of Darkness         – Jen @ That's What I'm Talkin About
Jun 10:    This Side of the Grave              – Brandee @Unconventional Bookworms
Jul 8:       One Grave at a Time                  –  Lorna 
Aug 5:      Once Burned                                –  Lexxie @Unconventional Bookworms
Sep 9:     Twice Tempted                             –  Angela @ Angel's Guilty Pleasures
Oct 7:      Up from the Grave                      –  Melanie
Nov 4:     Bound by Flames                        –  Sophia
Dec 2:    Into the Fire                                   – Berls @ Because Reading
Q & A with Jeaniene Frost
Miss a post?
Jan 14:    Halfway to the Grave               – Melissa @ Tea & Books
Feb 11:    One Foot in the Grave              –  Victoria @ First of All
Mar 11:   At Grave's End                            –  Kimberly @Caffeinated Reviewer
Apr  1:     Destined for an Early Grave   –  Stephanie @ Once Upon a Chapter  
Apr 29:   First Drop of Crimson               – Kai @ Fiction State of Mind
---
Jeaniene Frost has also been kind enough to commit to a Q & A post.   I will collect questions for her through September 19th.  I will send your questions to her and she will pick 3-5 questions and send me the response.  I will post her answers in the December 2 post.  So think up some great questions for her!
---
Bonus round – Read a Series in a Month  January 2023:
Jan 8:    Shades of Wicked              –  Carole @ Carol's Random Life in Books
Jan 22:    Wicked Bite                        –  Robin
Feb 5:       Wicked All Night             –   Anne
These are Sunday noon posts.      There will be one COYER FB Chat at the end of the series on Feb 5th.
---
Be sure to enter the giveaways!!!
Giveaway:
For the US winner,  this will be a digital copies ( your choice of her books) generously provided by Jeaniene Frost  (US only) but they can be from Amazon, Barnes & Noble or Kobo.  For Intl, a print copy of Once Burned by Jeaniene Frost from Book depository.
Grand-Prize Giveaway:
For a US winner, this will be 12 digital copies ( your choice of her books) generously provided by Jeaniene Frost  (US only) but they can be from Amazon, Barnes & Noble or Kobo.
For an Intl winner,  it will be $50 at Book Depository.
Rating Breakdown
Narration (Audio)
Overall:
Latest posts by Anne - Books of My Heart
(see all)
Reading this book contributed to these challenges:
Related Posts