Review copy was received from Publisher. This does not affect my opinion of the book or the content of my review.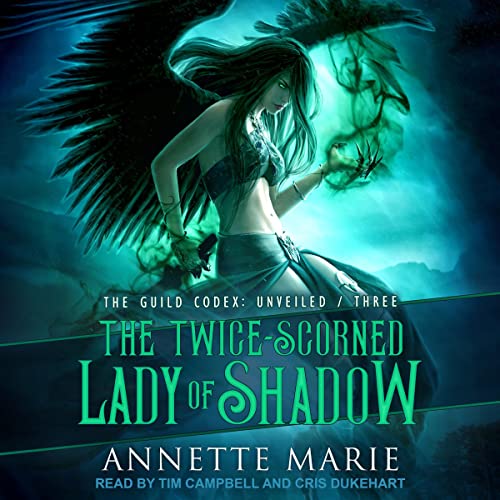 The Twice-Scorned Lady of Shadow
by
Annette Marie
Narrator:
Cris Dukehart
,
Tim Campbell
Series:
The Guild Codex Unveiled #3
Published by
Tantor Audio
on June 28, 2022
Genres:
Urban Fantasy
Length:
7 hours, 37 minutes
Format:
Audiobook
Source:
Publisher
Goodreads
Amazon
, 
Audible
, 
Audiobook





'm learning to embrace who and what I am, but there's one thing I can't face: the night Zak betrayed me. But even with the mysteries of our shared past hanging between us, I can't turn Zak away when he asks for my help.

Powerful fae are going missing, and when he tried to investigate, Lallakai vanished too. Now he wants me to venture with him into the territory of the Shadow Court, but its bloodthirsty courtiers don't welcome meddling druids.

Danger is gathering around us, seen and unseen. As we uncover incomprehensible clues about the missing fae, we realize this nightmare runs deeper than we imagined, and unveiling it means delving into the past—our past.
Guild Codex Unveiled  series is a different aspect of the Guild Codex Spellbound world.  I thought this was going to be Zak's story but really it is his and Saber's stories.  I have read all of the Spellbound  and Warped series. I would say you can read Unveiled without Spellbound and Warped  first but I wouldn't.   I really prefer to read in order, yes,  but there is also background on the world, the guilds and some of the characters which is really helpful if you ever have first book in a series issues. PLUS  the other series are awesome!
The Twice-Scorned Lady of Shadow picks up right were the previous book ended. It begins with the ordinary tasks Saber handles at the rescue where she volunteers. Zak disappeared on her again and she's unhappy with him. It also has her going to her new guild, The Crow & Hammer!    Saber is uncertain how to deal with people there.  She really hasn't ever had any friends or allies.   It was fun to see Tori and the gang there.
Zak turns up there and she is shocked to find he knows Tori and her friends.  He says he needs Saber, shares with her that Echo and Lallakei are missing.  Saber knows he saved her and Rikr so they go to help him find his consort and Echo.
I won't spoil what happens but they go to save Lallakai and as I've always known, she's not trustworthy.  It turns out she is part of the Court of Shadows whose territory is adjacent to Echo.
Contrasting the present day story of her rescue,  Zak's chapters tell us the history 10 years ago and why he left Saber then.  Eventually, Saber hears the whole story.  The reason Zak's people are missing is an old enemy, one Lallakai was supposed to kill years ago and didn't.   Zak has to face the pain and fear from that time, and Saber is supportive of him.  The enemy has taken over the Court of Shadows.
The ending is a bit of a cliffhanger and leaves me furious at Lallakai.  I am worried for Zak and Saber.  Thankfully, I won't have to wait too long as The Unbreakable Bladesong Druid is projected to be released September 9.
Narration:
Cris Dukehart is the original narrator for Tori in the Spellbound  and Robin in the  Demonized series.  She is back now for Unveiled.  Since most of the story is Saber's voice, this fits well.   Dukehart is one of my favorite narrators.   Now Tim Campbell is narrating the chapters which are from Zak's point of view.  I found it weird because the voice naturally is very different than Cris Dukehart's voice for him.  I was able to listen at my usual 1.5x speed.
Listen to a clip: HERE
Rating Breakdown
Plot
Writing
Characters
Narration (Audio)
Overall:
Latest posts by Anne - Books of My Heart
(see all)
Reading this book contributed to these challenges:
Related Posts