Review copy was received from NetGalley. This does not affect my opinion of the book or the content of my review.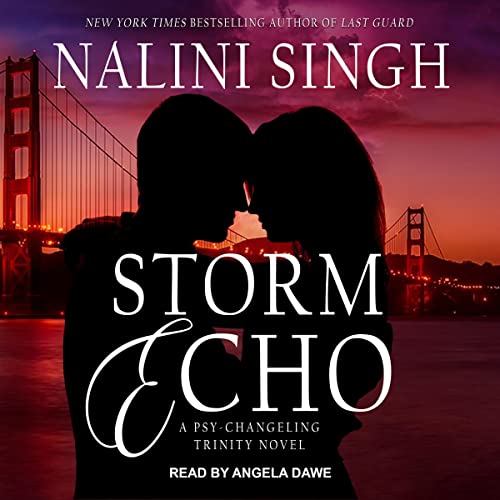 Storm Echo
by
Nalini Singh
Narrator:
Angela Dawe
Series:
Psy-Changeling Trinity #6
,
Psy-Changeling #21
Published by
Berkley
,
Tantor Audio
on August 9, 2022
Genres:
Paranormal Romance
,
Urban Fantasy
Pages:
384
Length:
10 hours, 52 minutes
Format:
Audiobook
,
eARC
Source:
NetGalley
Goodreads
Amazon
, 
Audible
, 
Audiobook
, 
Barnes & Noble
, 
Apple






Silence has fallen. The Psy are free to feel emotion. Free to love. But Silence was never a prison for Ivan Mercant. The biggest threat to his future lies dormant in his brain—a psychic monster that wants only to feed. And now, the brutal leash he's kept on that monster is slipping. He prepared for this day, for the end of Ivan Mercant . . . but that was before he met Lei.

As primal as she is human, this wild changeling brings color into his life, laughter to his soul. Then the dream shatters in a rain of blood, in silent bodies in the snow. Lei is gone. Vanished without a trace . . . until he meets strangely familiar eyes across a busy San Francisco street.

Soleil Bijoux Garcia is a healer who has lost everything. She exists in a world of desolate aloneness . . . till the day she finds herself face-to-face with a lethal stranger. The animal who is her other half knows this man, but her memories are tattered fragments. Sorrow and a need for vengeance are all that drive her. Her mission? To kill the alpha of the DarkRiver leopard pack.
The Psy-Changeling Trinity the spin off series to Psy-Changeling. Overall,  it is like one big series.  I didn't and wouldn't read the later books without the foundation of the first series.  Singh has a style which is a great blend of paranormal romance and urban fantasy.  Each book has a romantic couple and we get great development of those two characters as well as their family and friends.  There is also an overall story arc, the urban fantasy part of her style, which carries on throughout the series.
In Storm Echo, we have Ivan Mercant who has a rough backstory but is part of the tight Mercant family now. He is Psy and so you would think he wouldn't have any experience with emotion but he wasn't really raised in the traditional Silence protocol. Plus Arwen Mercant is an E Psy so he has been exposed to more emotions.  Both Silver and Arwen are connected to the bears, so Ena has also spent time with the bears.  No one who spends time with bears can be truly silent.
"Stop talking to bears! They're a bad influence."
Lei is a cat and I don't want to say much here, because I don't want to spoil anything.  Suffice it to say, we do get back to visiting Dark River, and get to see some of our favorite characters there.  I love the development of her and Ivan's history and characters, and the magical way they connect.  It's so heartwarming but develops slowly.
The overall plot with parts of the Psy Net failing, the Trinity learning to work together more, the anchors connecting with each other, the problems with the Architect and Ming, is a very slow progress.  That would be my only difficulty with the series is the plot parts feel like they always happen in the last 10% of the book with the bulk of the pages devoted to character and romance development.  That's a generalization, of course.
Singh is a master, though, and the books are brilliant.  I love every minute of the story, and all aspects.  I'd only like to see the plot move along just a bit more in each one.  I enjoy these SO much and can't wait to learn about the next couple and further developments in the Trinity world.
Narration:
Angela Dawe does an amazing job with this series.  I read the earlier books for the Read-along, but when I buddy read the Psy-Changeling Trinity books I tried the audio version and loved it.  Her performance brings all the characters to life and all her voices sound right for the characters.  I was able to listen at my usual 1.5x speed.
Listen to a clip:  HERE
Rating Breakdown
Plot
Writing
Characters
Narration (Audio)
Overall:
Latest posts by Anne - Books of My Heart
(see all)
Reading this book contributed to these challenges:
Related Posts