Review copy was received from Author. This does not affect my opinion of the book or the content of my review.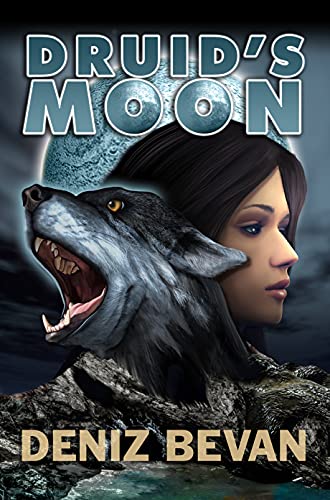 Druid's Moon
by
Deniz Bevan
on September 20, 2022
Genres:
Paranormal Romance
Pages:
192
Format:
eARC
Source:
Author
Goodreads
Amazon
, 
Barnes & Noble




Beauty to his Beast…

Lyne Vanlith, an archaeologist who seeks a logical explanation to any mystery, discovers an ancient Druidic curse on her first dig. When the signs foretold by the curse descend on her, Lyne can't find a reasonable interpretation.

And that's even before a Beast rescues her from a monstrous sea-creature. She drops a grateful kiss on the snout of the Beast, who transforms into a man, Frederick Cunnick, Baron of Lansladron. Lyne is meant to be Beauty to his Beast—and break the curse forever.

Now both spellkeeper and monster are targeting Lyne. She must take up her legendary role, to defeat the curse and save Frederick—and herself. Instead of logic, for the first time, Lyne must trust her heart
An archeologist intern discovers a manuscript at the Cornwall coastal dig site and unleashes magical signs, an old curse, and this facts-driven woman faces the inexplicable of living out a fairytale-like adventure and romance.
I didn't catch it when I read the blurb and decided I wanted to read Druid's Moon, but this is a Beauty and the Beast retelling full of Druid prophecy, a family curse, werewolf beast, a unique use of the Rose, and, Lyne, a clear-eyed archeologist for Beauty, and a few unique twists with the Octopus villain needing to be defeated and something of a sacrificial theme for how Frederick became the Beast.  I love fairytale retellings and the Beauty and the Beast plot so I was even more excited as the story unwinds.
Druid's Moon was vague not in the plot, but in the backdrop of the story.  The reader is dropped into the story and has a myriad questions as events transpire which I didn't mind and even like as a way of getting my attention.  Some are answered as the story unfolds, but there is much left unexplained or left vague in general terms.  There is a curse, but why and how?  Lyne is Frederick's Beauty, but why and how even with the family legacy.  The Council?  It's there, but not a lot of explanation. And, so on.  I could enjoy the immediate story, but I was distracted as my brain chewed on the under-developed background mysteries.  Still, one does get caught up in the action sequences once Lyne and Frederick start working together to break the curse.
I loved getting the alternating narration between Lyne and Frederick's POV.  Particularly, Frederick's.  He struggles to hold onto his human reasoning against the Beast's nature even when he is at his lowest.  Lyne struggles with reason vs the inexplicable and it takes her a bit to buy in that she is 'Beauty' in the manuscript and must face off against Octopus with Frederick.  I was cheering for them both.
An easy read and exciting fairytale retelling that other fans of this niche fantasy romance genre might consider for the unique way of presenting the tale.
Related Posts