Vampire Academy
by
Richelle Mead
Series:
Vampire Academy #1
on August 16, 2007
Genres:
Fantasy
,
Young Adult
Pages:
340
Format:
eBook
Source:
Purchased
Goodreads
Amazon
, 
Audible
, 
Libro.fm
, 
Barnes & Noble
, 
Apple






Lissa Dragomir is a Moroi princess: a mortal vampire with a rare gift for harnessing the earth's magic. She must be protected at all times from Strigoi; the fiercest vampires - the ones who never die. The powerful blend of human and vampire blood that flows through Rose Hathaway, Lissa's best friend, makes her a dhampir. Rose is dedicated to a dangerous life of protecting Lissa from the Strigoi, who are hell-bent on making Lissa one of them.

After two years of freedom, Rose and Lissa are caught and dragged back to St. Vladimir's Academy, a school for vampire royalty and their guardians-to-be, hidden in the deep forests of Montana. But inside the iron gates, life is even more fraught with danger... and the Strigoi are always close by.
Back in the 2000's there seemed to be a glut of YA vampire series on the market.  I feel like I couldn't get enough of them!  Of course, I had my favorites, but it was the Vampire Academy series by Richelle Mead that topped my list.  I have read and listened to this series several times, but the new TV adaptation of the series motivated me to do so again this month.  Despite the name, this series is about so much more than a school for vampires.  There is adventure, friendship, true love, and plenty of kickass fight sequences.  Each book is complex and detailed without being stuffy or difficult to follow.  The characters are multi-faceted and believable as people.  The mythology is well-developed over the course of the books as well.
Rose Hathaway is the scrappy, badass warrior whose mission in life is to protect her royal best friend, Lissa Dragomir.  Lissa is Moroi, a living vampire with magical abilities, and Rose is Dhampir, part human, part Moroi, with super strength and enhanced healing.  After hiding in the human world for two years, the friends are caught and returned to St. Vladimir's Academy; a boarding school where Moroi and Dhampir kids are trained in magic and combat and most importantly, kept safe from the Strigoi; evil dead vampires that prey on the living.  Rose is mentored by Dimitri, a legend among Dhampirs; while Lissa struggles to fit in with the 'Royals' and live up to her dead family's reputation.  Lissa befriends the snarky Christian, and together they strive to understand Lissa's strange abilities.  However, something is not quite right, and instead of Strigoi, the danger seems to be from within St. Vladimir's.  It is up to Rose and Lissa, with help from their friends, to solve the mystery before someone is killed.
Vampire Academy, serves to introduce the reader to the mythology and primary characters in the story.  As a whole, this book is by far the most YA of the lot.  A lot of the detail about the world is simply 'told' and communicated in the most straightforward manner.  Many of the themes center around the typical high school drama, but that doesn't diminish from the interesting plot.  It also serves as a baseline for Rose and Lissa to mature.  The story is told from Rose's point of view; however the author cleverly employs a tactic that allows the reader to see through Lissa's eyes as well.
I really loved Rose's sassy attitude, and constant ability to get herself in and out of scrapes.  Dimitri, Dimka for short, is one of my all time favorite heroes.  I name my electronic devices after my book boyfriends; my iPad is named Dimka.  I love his Russian back story and modern day cowboy style.  The chemistry between him and Rose is off-the-charts.  Rose's rebellious, cocky attitude is the perfect foil to the loyal, dedicated Dimitri.
---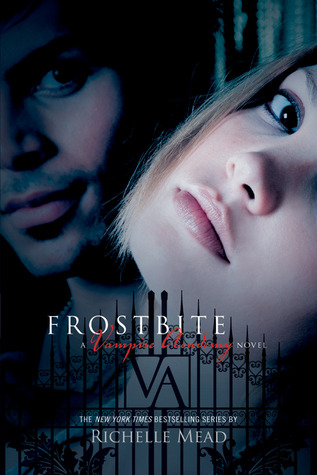 Frostbite
by
Richelle Mead
Series:
Vampire Academy #2
on May 11, 2008
Genres:
Fantasy
,
Young Adult
Pages:
340
Format:
eBook
Source:
Purchased
Goodreads
Amazon
, 
Audible
, 
Libro.fm
, 
Barnes & Noble
, 
Apple






Rose loves Dimitri, Dimitri might love Tasha, and Mason would die to be with Rose...

It's winter break at St. Vladimir's, but Rose is feeling anything but festive. A massive Strigoi attack has put the school on high alert, and now the Academy's crawling with Guardians—including Rose's hard-hitting mother, Janine Hathaway. And if hand-to-hand combat with her mom wasn't bad enough, Rose's tutor Dimitri has his eye on someone else, her friend Mason's got a huge crush on her, and Rose keeps getting stuck in Lissa's head while she's making out with her boyfriend, Christian! The Strigoi are closing in, and the Academy's not taking any risks... This year, St. Vlad's annual holiday ski trip is mandatory.
Frostbite opens with a bang and keeps delivering on the action.  There is something up with the Strigoi.  For safety reasons, the students of St. Vladimir's are required to spend their holidays at a posh ski resort in Idaho. Lissa seeks to learn more about Spirit and understand its effects.  Rose and the other Dhampirs are restless and hatch a plan to do something about the Strigoi threat on their own, with disastrous results.
Much of Frostbite is used to develop Rose and Lissa's characters and further cement their friendship.  Christian plays a significant roll and we get more than cameo appearances from Mason, Eddie, and Mia.  Like the first book, it is pretty contained.  There are over-arching themes, but for the most part, the main plot is tidily wrapped up at the end.  The best part of Frostbite is the introduction of Adrian Ivashkov, the slick, Moroi playboy that is just a little bit crazy.  This book is a little darker than the first book in the series, and the overall themes are starting to mature.  There is a palpable tension building throughout the entire book that keeps the reader engaged and waiting for what will happen next.
---
Shadow Kiss
by
Richelle Mead
Series:
Vampire Academy #3
on November 13, 2008
Genres:
Fantasy
,
Young Adult
Pages:
446
Format:
eBook
Source:
Purchased
Goodreads
Amazon
, 
Audible
, 
Libro.fm
, 
Barnes & Noble
, 
Apple






It's springtime at St. Vladimir's Academy, and Rose Hathaway is this close to graduation. Since Mason's death, Rose hasn't been feeling quite right. She has dark flashbacks in the middle of practice, can't concentrate in class, and has terrifying dreams about Lissa. But Rose has an even bigger secret... She's in love with Dimitri. And this time, it's way more than a crush.

Then Strigoi target the academy in the deadliest attack in Moroi history, and Dimitri is taken. Rose must protect Lissa at all costs, but keeping her best friend safe could mean losing Dimitri forever.
The malevolent effects of Spirit, foreshadowed in Frostbite, are the focus of Shadow Kiss.  Rose struggles to deal with her personal and academic relationships; haunted by grief, bursts of rage, and hopeless longing for Dimitri.  She's also dealing with ghosts, trying to pass her field training course, and support Lissa.  Shadow Kiss is nonstop from start to finish.  This book is where the story branches out beyond the typical YA tropes and the plot for the rest of the series starts to take shape.  A visit to the Moroi Royal Court gives the reader a chance to see what life is like for Moroi and Dhampirs outside of the bubble of St. Vladimir's.
I think this is my favorite and least favorite book in the series.  I think it is the first time I have ever actually thrown a book across a room upon completion.  I strongly urge anyone reading Shadow Kiss to have the next book on hand to begin immediately.
---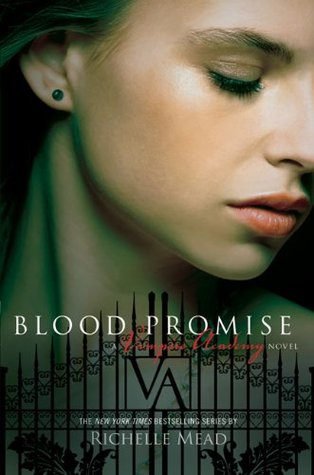 Blood Promise
by
Richelle Mead
Series:
Vampire Academy #4
on August 25, 2009
Genres:
Fantasy
,
Young Adult
Pages:
524
Format:
eBook
Source:
Purchased
Goodreads
Amazon
, 
Audible
, 
Libro.fm
, 
Barnes & Noble
, 
Apple






Bound by love, but sworn to kill...
The world thought Dimitri was dead. And to a certain extent, he was. But I hadn't been able to forget a conversation he and I had once had. We'd both agreed that we'd rather be dead - truly dead - than walk the world as Strigoi. It was time to honor our words.

Guardian Rose Hathaway's life will never be the same. The recent attack on St. Vladimir's Academy devastated the entire Moroi world. Many are dead. And, for the few victims carried off by Strigoi, their fates are even worse. A rare tattoo now adorns Rose's neck; a mark that says she's killed far too many Strigoi to count.

But only one victim matters... Dimitri Belikov. Rose must now choose one of two very different paths: honoring her life's vow to protect Lissa—her best friend and the last surviving Dragomir princess—or, dropping out of the Academy to strike out on her own and hunt down the man she loves. She'll have to go to the ends of the earth to find Dimitri and keep the promise he begged her to make. But the question is, when the time comes, will he want to be saved?

Now, with everything at stake—and worlds away from St. Vladimir's and her unguarded, vulnerable, and newly rebellious best friend—can Rose find the strength to destroy Dimitri? Or, will she sacrifice herself for a chance at eternal love?
Rose is out in the real world.  She turned 18, left St. Vladimir's without graduating, determined to fulfill a promise she made to Dimitri.  Her commitment takes her to Russia, where Strigoi abound and she puts her hard-won fighting skills to the test.  She makes her way to a Dhampir community, and is faced with what her life might have been like had she not been raised at St. Vladimir's.  But she eventually returns to her mission, and eventually locates Dimitri.  At the same time, Lissa is struggling with Spirit-induced madness, and feels increasingly isolated.  Without Rose, her anchor, she's adrift and behaving with uncharacteristic recklessness.
Rose faces death on a daily basis, and at one point, it seems like she just wants to surrender to the hopelessness of her situation.  The sinister, 'Evil' Dimitri was an excellent twist.  I think my emotions were on a roller-coaster while reading this book and the action didn't seem to stop.
Adrian plays a significant roll, as he is connected to Rose through Spirit dreams.  I love his flirty, irreverent attitude.  It is in Blood Promise that the author introduces the Alchemists, specifically Sydney Sage, who will eventually be the primary character in Ms. Mead's spinoff series.  There is also the mysterious benefactor, Abe, known as the snake in Russia.
---
Spirit Bound
by
Richelle Mead
Series:
Vampire Academy #5
on May 18, 2010
Genres:
Fantasy
,
Young Adult
Pages:
494
Format:
eBook
Source:
Purchased
Goodreads
Amazon
, 
Audible
, 
Libro.fm
, 
Barnes & Noble
, 
Apple






Salvation has its price . . .
The words stunned Adrian for a moment, but he kept going. "You're lying. What you're describing is impossible. There's no way to save a Strigoi. When they're gone, they're gone. They're dead. Undead. Forever."
Robert's next words weren't directed at Adrian. They were spoken to me. "That which is dead doesn't always stay dead...."

After a long and heartbreaking journey to Siberia, Dimitri's birthplace, Rose Hathaway has finally returned to St. Vladimir's—and to her best friend, Lissa Dragomir. It's graduation, and the girls can't wait for their real lives outside the academy's cold iron gates to finally begin. But even with the intrigue and excitement of court life looming, Rose's heart still aches for Dimitri. He's out there, somewhere.

She failed to kill him when she had the chance, and now her worst fears are about to come true. Dimitri has tasted her blood, and she knows in her heart that he is hunting her. And if Rose won't join him, he won't rest until he has silenced her . . . forever.

But Rose can't forget what she learned on her journey—whispers of a magic too impossible and terrifying to comprehend. A magic inextricably tied to Lissa that could hold the answer to all of Rose's prayers, but not without devastating consequences. Now Rose will have to decide what—and who—matters most to her. And in the end, is true love really worth the price?
There is a lot going on this book.  It sounds strange to say that this is the least realistic book of the series when speaking about a paranormal universe.  Spirit Bound is a set of loosely connected missions undertaken by Rose, Lissa, et al.  Their success or failure will ultimately determine the fates of the Dhampirs and the Moroi (as a whole), which is a lot to swallow for kids just graduated from high school.  The Moroi Royal Court, the politics, and Queen Tatiana are significant players in this installment and while the book ends with a pretty big cliff-hanger (although not as emotionally wrenching as in Shadow Kiss), I wasn't entirely surprised by the ending.
I feel like the characters' development is pushed the farthest in this book.  The players all seem to be putting their personal goals to the side for the greater good or to help others.  Foreshadowing in the previous books leaves one with the impression that Lissa's struggle with Spirit would ultimately be the salvation of the Moroi.  Dimitri's ordeal, while heartbreaking, breathes a little bit of hope into what seems to be a never-ending battle against evil.
---
Last Sacrifice
by
Richelle Mead
Series:
Vampire Academy #6
on December 7, 2010
Genres:
Fantasy
,
Young Adult
Pages:
608
Format:
eBook
Source:
Purchased
Goodreads
Amazon
, 
Audible
, 
Libro.fm
, 
Barnes & Noble
, 
Apple






They come first.

My vision was growing dimmer, the blackness and ghosts closing in. I swore it was like I could hear Robert whispering in my ear: The world of the dead won't give you up a second time. Just before the light completely vanished, I saw Dimitri's face join Lissa's. I wanted to smile. I decided then that if the two people I loved most were safe, I could leave this world.

The dead could finally have me.

Rose Hathaway has always played by her own rules. She broke the law when she ran away from St. Vladimir's Academy with her best friend and last surviving Dragomir princess, Lissa. She broke the law when she fell in love with her gorgeous, off-limits instructor, Dimitri. And she dared to defy Queen Tatiana, leader of the Moroi world, risking her life and reputation to protect generations of dhampir guardians to come.

Now the law has finally caught up with Rose - for a crime she didn't even commit. She's in prison for the highest offense imaginable: the assassination of a monarch. She'll need help from both Dimitri and Adrian to find the one living person who can stall her execution and force the Moroi elite to acknowledge a shocking new candidate for the royal throne: Vasilisa Dragomir.

But the clock on Rose's life is running out. Rose knows in her heart the world of the dead wants her back...and this time she is truly out of second chances. The big question is, when your whole life is about saving others, who will save you?
With a title like Last Sacrifice, I was pretty convinced that Ms. Mead would be killing off every character that I loved.  I will shamelessly admit that I read the last chapter first just to be sure, and I am happy to report that there is an HEA for Rose, Dimitri, Lissa, and Christian.  I hope that isn't too much of a spoiler for anyone.
Last Sacrifice is another book of connected adventures.  Prison breaks, road trips, and visits with the vampiric equivalent of hillbillies are just a fraction of what is going down.  While Rose and Dimitri are out trying to protect Lissa's place in the Moroi government, Lissa, Christian, and Adrian are trying to prove Rose's innocence.  The "Final Showdown" is dramatic and satisfying and wraps up several plot points nicely.
There are a few threads left hanging, but many of those are setup for the Alchemist-centered spin-off series.  The one sad point was Adrian, who I felt deserved a little better treatment.
The characters have grown so much in such a short amount of time.  I think this is why the series appeals to me, despite being YA.  The characters are thrust into an adult world with only moderate preparation.  They can either sink or swim.  While there might be a few moments of floundering, they seem to rise to the occasion.  Each character doesn't waste their talents or opportunities.
But I think it is the love story that keeps me coming back for rereads time and again.  I love the passion and resilience exhibited by both Rose and Dimitri.  I think Ms. Mead thoroughly captures the emotional journeys traveled to end up together.
Related Posts